Third dose of Oxford-AstraZeneca vaccine generates 'strong' immune boost, study finds
Booster jabs could be used to top up waning immunity levels or provide greater protection against different Covid variants
Samuel Lovett
Science Correspondent
Monday 28 June 2021 15:43 Comments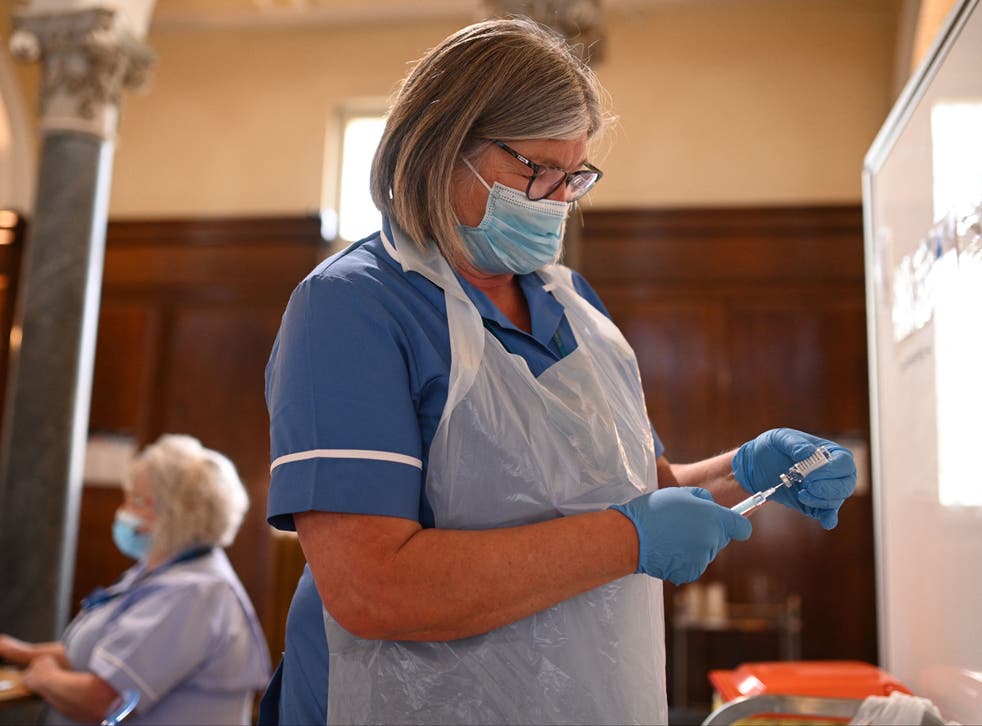 A third dose of the Oxford-AstraZeneca vaccine induces a "strong" immune boost against Covid-19 and its different variants, a new study has shown – though scientists remain unsure if booster jabs are imminently needed.
The administration of a third jab more than six months after the second shot raises the number of antibodies within the blood back to the same levels seen in the wake of double-dose vaccination.
Scientists also recorded an increase in antibodies capable of neutralising the Alpha, Beta and Delta variants – the latter two of which are known to be capable of partially escaping the vaccine response.
Despite the findings, Professor Teresa Lambe, the senior author of the study, said "it is not known if booster jabs will be needed".
Internally, ministers are working under the assumption that a third dose will be required for the over 50s and clinically vulnerable, according to one Whitehall source.
Antibody levels against Covid-19 in fully vaccinated people were found to wane over the course of more than 300 days, while T-cells – which seek out and kill infected cells within the body – also dropped off after 182 days, the Oxford study showed.
However, both Prof Lambe and Professor Sir Andrew Pollard, lead investigator of the Oxford vaccine trial, said real-world data demonstrated that vaccinated people are being protected against serious disease, hospitalisation and death.
Even though "we are seeing a drop of antibody titres (levels) … there's obviously another aspect of the immune response at play," said Prof Lambe.
With two doses currently preventing more than 90 per cent of hospital admissions with Covid, Prof Pollard said it is "difficult to say" whether a third jab could add a few more percent.
"We would expect immunity start to wane over time because that does happen," he added. "We won't go back down to zero but the levels you can measure in the blood will be lower over time.
"But our immune systems are a bit too clever for us to just look at those numbers. The immune system remembers that we've been vaccinated. So even if we meet the virus some months later, the immune system will remember it, kick in and make stronger immune responses again and hopefully that will protect most people from severe disease."
For the study, volunteers aged 18-55 years who were enrolled in the early clinical trials of the Oxford vaccine last year were invited back to receive a third jab.
In total, 90 participants were given a booster jab 30 weeks after their second jab, leading to a "substantial increase" in antibodies and inducement of a "strong boost" in immunity against Sars-CoV-2, the virus that causes Covid-19. T-cell responses were also boosted after a third dose.
Prof Pollard said the study's findings offered "greater clarity" on the correlate of protection – or, the measurable sign that a person is immune to a pathogen – that is needed to prevent symptomatic infection. "But what we don't know is how long, if you reach that correlate, that will last over time and whether you need to boost to sustain it or not," he said.
"Boosters are much more about if protection gets lost over time – and we don't know that – but if it does, could you boost? And the answer to that from these data is yes, you could.
"There's no indication today that we need boosters, and it is something where we need to keep looking at the data and make decisions as the months go by, about whether that protection that we have is lost."
Regarding the Beta variant, which has been causing the most concern among scientists given its ability to evade parts of the immune response, Prof Lambe said it is difficult to say what "specific level of neutralising antibody is needed" and there is not yet the clarity of data.
The study also found that a longer delay of up to 45 weeks between the first and second dose of the Oxford-AstraZeneca vaccine leads to an "enhanced" immune response, generating higher antibody levels compared to the shorter dosing intervals.
UK news in pictures

Show all 50
"When there's a prolonged interval, perhaps in countries where there's limited vaccine supply, a long interval of 15 to 25 weeks, and even 40 to 45 weeks between dose one and dose two, you get a very strong antibody induction," said Prof Lambe.
"That's very encouraging for countries where there may be limited supply in the short term."
Prof Pollard said a longer delay gives the immune system more time to "mature" and produce a "slightly better" response later on.
"But there is a trade-off," he added. "Having two doses is better than one dose, and so if there is a lot of transmission in the population and you have a lot of supply of vaccine, giving two doses seems to make sense.
"But if you have insufficient supply even having one dose will have a huge impact on reducing hospitalisations and deaths, so the priority would be getting the first dose into as many people as possible."
Register for free to continue reading
Registration is a free and easy way to support our truly independent journalism
By registering, you will also enjoy limited access to Premium articles, exclusive newsletters, commenting, and virtual events with our leading journalists
Already have an account? sign in
Join our new commenting forum
Join thought-provoking conversations, follow other Independent readers and see their replies