Booster jabs approved by medicines regulator – but No 10 continues to wait for JCVI decision
Both AstraZeneca and Pfizer vaccines 'can be used as safe and effective booster doses', says Medicines and Healthcare products Regulatory Agency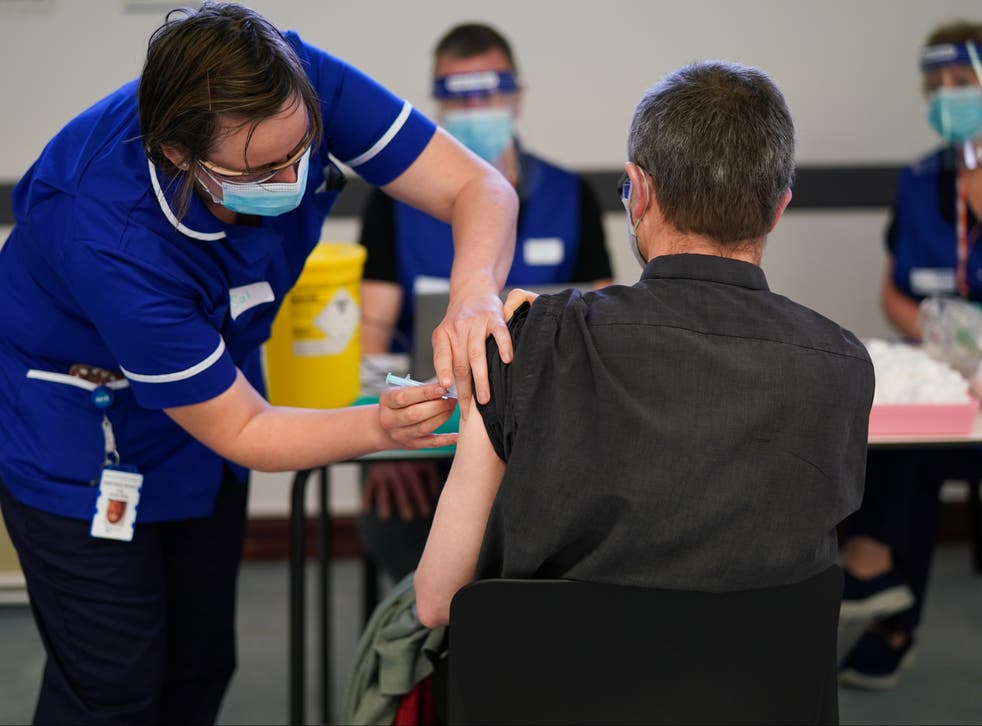 The UK's medicines regulator has given approval for the AstraZeneca and Pfizer vaccines to be used as booster jabs, paving the way for an autumn programme that could see millions of Britons administered with a third dose against Covid-19.
Following a review, the Medicines and Healthcare products Regulatory Agency (MHRA) concluded that both vaccines "can be used as safe and effective booster doses" – though scientific advisers are continuing to debate to whether third jabs will be needed, and for which groups.
The Joint Committee for Vaccination and Immunisation (JCVI) met on Thursday to assess the latest data from a study investigating the possible benefits of booster jabs, but it is understood that Downing Street is not expecting a final decision today.
One source close to the JCVI told The Independent that it's a "likely" a recommendation will be made next week, though other figures have suggested the advisory group could pass its advice on to the government by the end of Friday.
The new MHRA guidance says Pfizer boosters can be given to anyone, regardless of which doses they had previously. However, AstraZeneca boosters will only be given to those who previously had the AstraZeneca jab.
"This is an important regulatory change as it gives further options for the vaccination programme, which has saved thousands of lives so far," said Dr June Raine, chief executive of the MHRA.
"It will now be for the JVCI to advise on whether booster jabs will be given and if so, which vaccines should be used."
The NHS has begun preparations to deliver millions of third doses within the next two weeks, while GPs were invited to sign up for the programme last month.
Health secretary Sajid Javid has said he is "confident" that booster jabs will be approved, though the scope and scale of the programme is likely to be determined by the outcome of Thursday's JCVI meeting.
Members of the advisory committee were tasked with reviewing preliminary findings from Southampton University's ongoing Cov-Boost study, which is investigating the effectiveness of a third dose in "topping up" the immunity levels of double-jabbed people.
The research is looking at seven vaccines in total, but the early data set to be passed to the JCVI will only relate to the AstraZeneca, Pfizer, Moderna and Johnson & Johnson jabs – all of which have been approved for use in the UK.
The final results of the Cov-Boost study are "some weeks away", said Professor Saul Faust, chief investigator of the study. However, the interim data passed to the JCVI will "relate to the vaccines they can logistically recommend to be deployed in any autumn campaign", he added.
Whether booster vaccinations are needed is an open question, especially as countries such as Britain and the US plan third doses when millions of people across the world remain unvaccinated and vulnerable to Covid-19.
Earlier this week, the World Health Organisation (WHO) called on rich countries with large supplies of vaccines to hold back from launching booster programmes until the end of the year.
The WHO's director-general said the UK and other wealthy countries should be giving more vaccines to the poorest nations before offering their own citizens booster jabs.
"I will not stay silent when companies and countries that control the global supply of vaccines think the world's poor should be satisfied with leftovers," Tedros Adhanom Ghebreyesus told a news conference.
Rich countries have also offered to donate 1 billion vaccine doses to other countries, but less than 15 per cent of those doses have "materialised", Dr Tedros said. "We don't want any more promises. We just want the vaccines."
Global Justice Now also warned on Thursday that "gobbling up" vaccine supplies in the UK while low-income countries have vaccinated less than 2 per cent of their populations would be "dangerous" and "morally abhorrent".
UK news in pictures

Show all 50
"A large UK booster programme right now would fly in the face of the WHO's advice on how to end this pandemic," said Nick Dearden, director of the UK campaign group.
A Department of Health and Social Care spokesperson said: "We continue to prepare for an autumn booster programme to ensure those most vulnerable to Covid-19 have protection extended ahead of winter and against new variants.
"Any booster programme, including which vaccines might be recommended for use, will be based the final advice of the independent JCVI."
Join our new commenting forum
Join thought-provoking conversations, follow other Independent readers and see their replies