Ministers accused of failure to help most deprived as Covid infections fall far slower in poorest areas
Greater financial support needed for country's poorest communities, say Labour and Liberal Democrats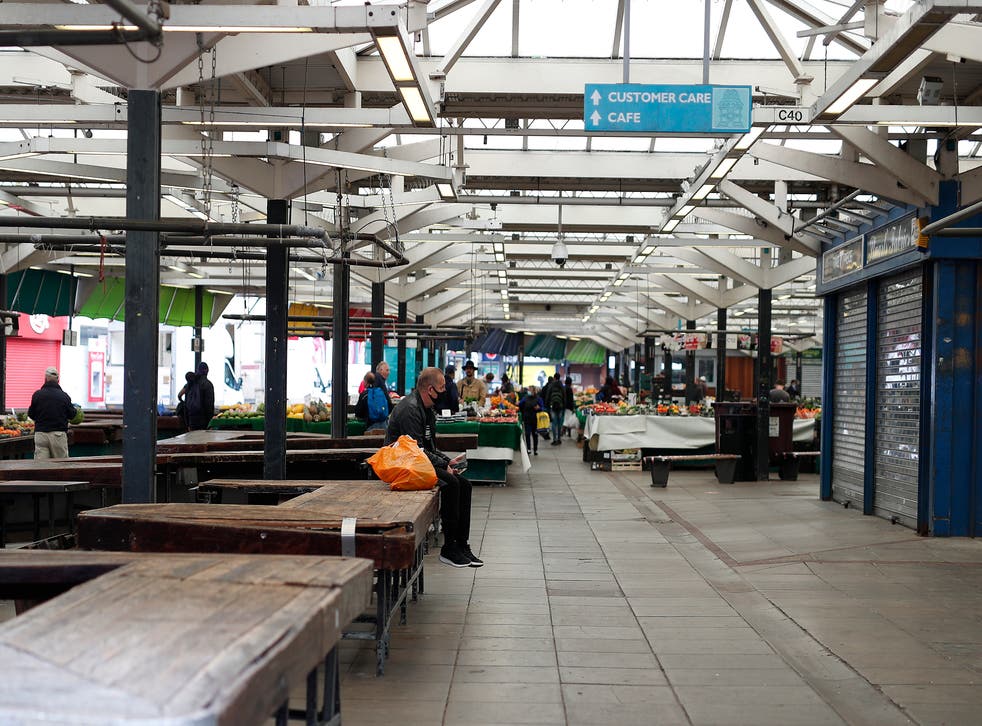 Ministers have been accused of failing to do enough to tackle the impact of coronavirus on the poorest in society as statistics show infections are falling more slowly in the country's most deprived areas.
Analysis has found that seven out of nine regions in England saw an uneven fall in Covid cases between the richest and poorest areas throughout January. In Yorkshire and Humber, which had the starkest disparity, cases in affluent areas were falling almost four times as quickly.
Labour and the Liberal Democrats said greater financial support is needed for the country's most deprived communities, where there is an overrepresentation of poorly-paid key workers who have been unable to stay at home during lockdown, leaving them more vulnerable to Covid-19.
"There is no doubt that Covid has preyed on existing inequalities in our society," Justin Madders, shadow health minister, told The Independent. "The precarious and low-paid nature of many jobs in this country is putting people in an invidious position."
He said the "biggest hole" in the government's strategy was the "continual failure to ensure people are financially supported to self isolate".
Figures from the Office for National Statistics show there are 10.9 million key workers in Britain, only around 14 per cent of which are able to work from home. Many are low paid or on zero-hour contracts, meaning they cannot afford to self-isolate or quarantine without financial help.
Government payments worth £500 are available for those told to self-isolate, but Labour said eligibility was "restrictive", with only one in eight people qualifying for the scheme.
The northwest, east of England, and Yorkshire and Humber saw the greatest disparities in infection rates between their least and most deprived areas, according to analysis conducted by Colin Angus, a senior research fellow and health inequalities modeller at the University of Sheffield.
Between 8 and 22 January, case rates fell by 47.9 per cent in the least deprived 10 per cent of areas in Yorkshire and Humber, and by just 12.1 per cent in the most deprived 10 per cent.
In the northeast, case rates in the least deprived areas fell by 52.2 per cent compared to 31.5 per cent in the most deprived.
By contrast, rates in London decreased by just over half across all deprivation groups – 51.3 per cent in the least deprived and 56.2 per cent in the most deprived. However, the distribution of cases across the capital have been heavily concentrated in the city's poorest areas from the earliest stages of the pandemic.
"These statistics show the pandemic has magnified every inequality in British society," Munira Wilson, MP for Twickenham and the health and social care spokesperson for the Lib Dems, told The Independent. "The heroes of this crisis, the nurses, supermarket staff and the carers, are on the wrong side of the growing divide.
"This report shows once again the problems we all know about but that, for some unknown reason, the government refuses to do anything about."
Experts argue the current lockdown, which is less restrictive than the one enforced last spring, has helped fuel these "concerning" trends to the detriment of society's poorest and most vulnerable.
"You can see mobility is up from the spring, people are moving around more," Linda Bauld, a professor of public health at University of Edinburgh, told The Independent.
"The definition of key workers has been expanded so there are many more people in school, but the key feature is employment. People who are still going out to work because they can't work from home and their employees aren't supporting them are disproportionately those that are lower paid. "If you have to go to work, then you're not benefitting from the public health measures in place."
Dave Finch, a senior fellow at the Health Foundation, pointed to construction as one example of a sector that largely shut during the first lockdown but has remained open this time around.
"Now it seems to be continuing," he told The Independent. "You've got things like click and collect being available. It's less of a lockdown. By default if things are less locked down, you're increasing that risk of transmission. And the jobs where it's less locked down are again going to be overrepresented in more deprived areas, so that could play a role in the trends we're seeing."
Earlier this week, figures from the Office for National Statistics showed that men in elementary occupations – such as factory workers, security guards and taxi drivers – had the highest rate of death from Covid-19 in England and Wales up to December last year. Many of these jobs have continued throughout all three lockdowns.
UK news in pictures

Show all 50
The latest figures from Imperial College London's React study – one data source used by the government to judge the progress of the epidemic – showed that those living in large households or deprived neighbourhoods were more likely to test positive than others.
Even so, many from these communities are unwilling to come forward for screening or self-isolate, as was revealed in the mass testing pilot conducted in Liverpool last year.
Labour said it has been calling for self-isolation payments for "all who need it" as a "matter of urgency". Research suggests only one in eight qualify. The Lib Dems said there must be a "comprehensive package" of practical and financial support.
Mike Hawking, head of policy at the Joseph Rowntree Foundation, said some people who weren't eligible for the centralised payments system had benefitted from discretionary funding provided to councils by Downing Street. "But a lot of that cash has now run out," he told The Independent. "The government should urgently top up that pot of money."
A government spokesperson said: "We are absolutely committed to supporting the lowest-paid families through the pandemic and beyond to ensure that nobody is left behind.
"That's why we've targeted our support to those most in need by raising the living wage and spending billions to safeguard jobs and boost welfare support.
"We're in the most difficult phase of the pandemic – and every 30 seconds someone is admitted to hospital with Covid. That is why we are once again asking people to stay at home, protect the NHS and save lives.
"We continue to monitor the data and keep restrictions under review."
Register for free to continue reading
Registration is a free and easy way to support our truly independent journalism
By registering, you will also enjoy limited access to Premium articles, exclusive newsletters, commenting, and virtual events with our leading journalists
Already have an account? sign in
Register for free to continue reading
Registration is a free and easy way to support our truly independent journalism
By registering, you will also enjoy limited access to Premium articles, exclusive newsletters, commenting, and virtual events with our leading journalists
Already have an account? sign in
Join our new commenting forum
Join thought-provoking conversations, follow other Independent readers and see their replies