NHS trust bows to pressure in reinstating full sick pay for cleaners and porters
Exclusive: During peak of winter wave, outsourced staff at West Hertfordshire Hospitals NHS Trust were unable to access full financial support when struck down with coronavirus or told to self-isolate
Samuel Lovett
Wednesday 10 March 2021 18:33 Comments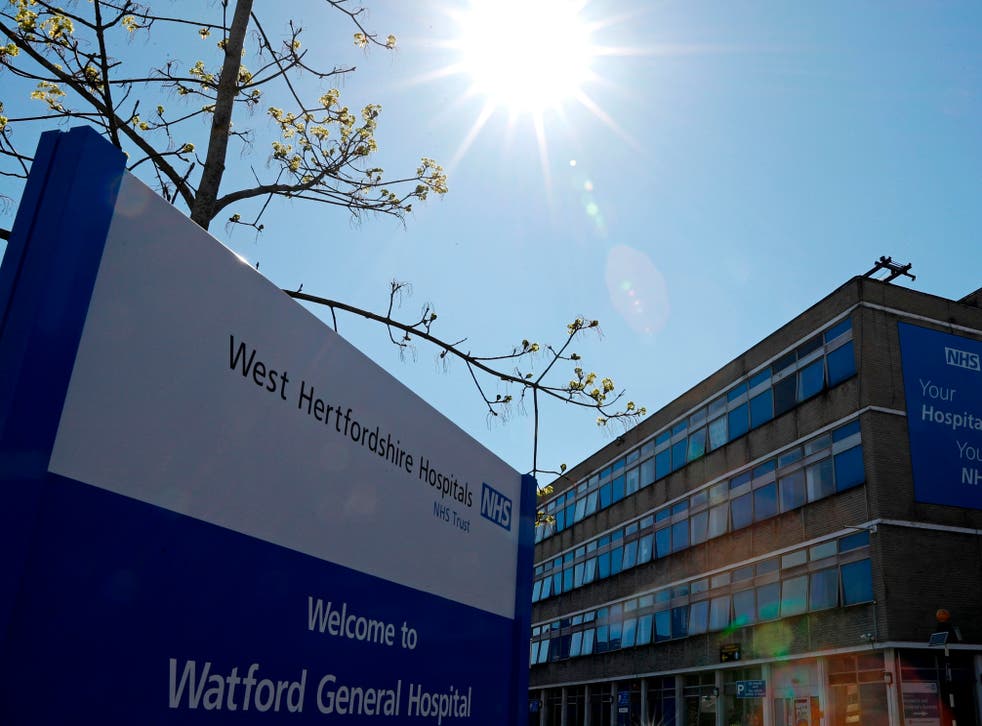 An NHS trust has agreed to reinstate full sick pay for its outsourced cleaners, porters and caterers, after The Independent revealed that staff were offered limited financial support while absent due to Covid-19.
From 1 October to 22 February – during the peak of the winter wave – West Hertfordshire Hospitals NHS Trust and its provider Mitie did not fund full sick pay for supply staff struck down with coronavirus or told to self-isolate.
Some returned to work before their self-isolation period was over due to financial hardship, and two West Herts sources claimed that management at Mitie, which was recently named a top 50 inclusive UK employer, pressured supply staff to carry on working when potentially infected with Covid-19.
At the time Mitie said it had "strict measures in place" to ensure compliance with government guidance.
Now, West Herts has agreed to reinstate sick pay and backdate it to the start of October, when it was cut after the government withdrew strict guidance on the maintenance of payments to suppliers.
The Independent understands that £30,000 is due to be paid out by the trust to Mitie's 400 employees across Watford General Hospital, St Albans City Hospital and Hemel Hempstead Hospital.
One domestic cleaner at West Herts described the U-turn as "brilliant", adding: "It is what we deserve, to be treated as our NHS colleagues."
Another welcomed the development and said they had "struggled when I was off with Covid-positive and could not afford to pay for food or rent".
At the time of The Independent's initial report, Labour called for an investigation into the case, adding that it "sums up the indifference government and those companies that specialise in outsourcing have to the health and welfare of the lowest paid".
GMB London, which represents many of Mitie's staff at West Herts, said its members now felt "recognised with the same dignity and respect as their NHS colleagues".
"Hospital cleaners and porters are frontline key workers, risking their lives to protect us all," a spokesperson told The Independent.
"The GMB have been campaigning against the use of statutory sick pay in the NHS long before this pandemic but given the infection control implications of facing a financial penalty for self-isolating, the use of statutory sick pay is irresponsible.
"The government must step in to stamp out the use of statutory sick pay in our publicly funded institutions, otherwise other cleaners and porters might find themselves having to choose between feeding their families or self-isolating."
Both West Herts and Mitie initially refused to cover the costs of full sick pay, leaving cleaners and porters struggling on statutory sick pay, after the government told all public bodies in September that it would be withdrawing its supplier relief instructions.
This is official guidance that urges local authorities, such as NHS trusts, to ensure suppliers continue to be paid for their services, even if they have been switched off as a result of Covid-19. It does not provide funding but explains how these bodies can maintain cash flow to their contractors.
To help cover full sick pay for supply staff, NHS trusts had been able to access top-up funding via NHS Improvement – though this centralised pot of money has now been cut, according to a Whitehall source.
UK news in pictures

Show all 50
Despite the huge surge in cases and deaths recorded this winter, no new supplier relief instructions have been issued from the government, which says that "any future payments to suppliers for additional [Covid] costs will be at the discretion of the local contract holder".
As a result, the decision was taken at West Herts to end full sick pay for outsourced staff, before it changed its policy following The Independent's investigation, announcing that these costs would now be covered by the trust.
Throughout the pandemic, other NHS trusts and contractors have stepped in to ensure their cleaners, porters and kitchen staff have been provided with full sick pay when forced to self-isolate, according to the GMB Union.
Hilda Tavolara, GMB London regional organiser, said the West Herts U-turn was "a big win for GMB members". She added: "We cannot leave people on the front line at risk. This move by the trust is a big step forward. However, more work needs to be done across the sector, let's protect those who protect us."
A spokesperson for West Hertfordshire Hospitals NHS Trust said: "We value all staff who work on our hospital sites, whether or not they are trust employees. Our cleaners, porters, catering staff and other colleagues have been an integral part of our response to the pandemic and we are grateful for all their hard work. We are delighted that all affected staff have now been reimbursed."
Mitie said it had strict measures in place to ensure government guidance is followed and "unwell colleagues do not return to work before they are recovered." A spokesperson added: "This process includes close monitoring of all health-related absences and is supported by a clinical team. All colleagues are paid in line with the terms of their contracts."
Register for free to continue reading
Registration is a free and easy way to support our truly independent journalism
By registering, you will also enjoy limited access to Premium articles, exclusive newsletters, commenting, and virtual events with our leading journalists
Already have an account? sign in
Join our new commenting forum
Join thought-provoking conversations, follow other Independent readers and see their replies