Covid patients 'head to toe' on trolleys in A&E spark warnings over 'lethal' situation
'Corridor nursing shouldn't be happening but there is nowhere else to put the patients'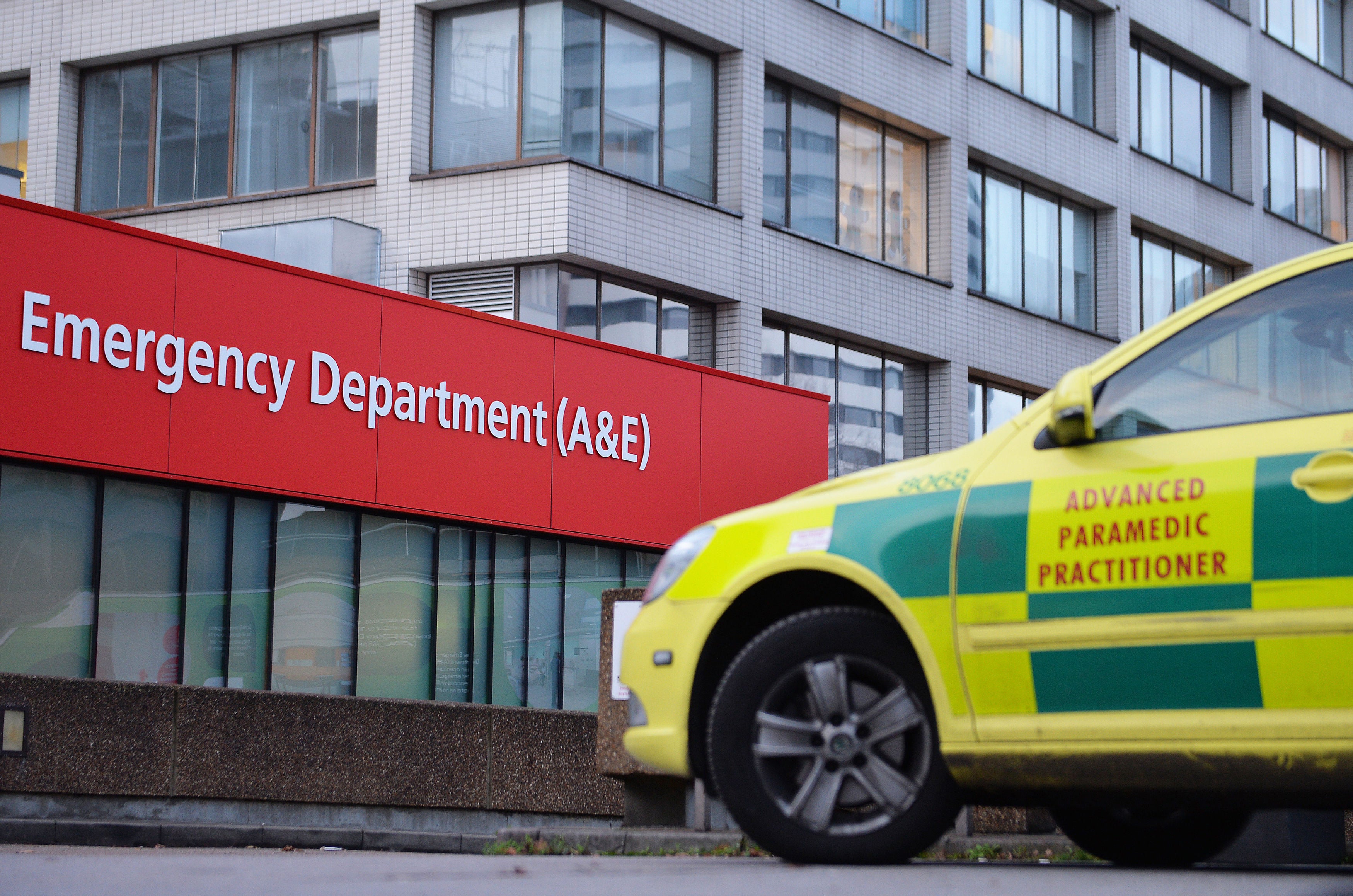 Patients, including those with the coronavirus, are being kept "head to toe" on trolleys in accident and emergency departments in Manchester, with some forced to wait up to 40 hours for a bed.
The "dangerous" situation has sparked warnings from the president of the Royal College of Emergency Medicine over the "potentially lethal" crowding of patients in A&Es across the country this winter. 
Katherine Henderson said she was "absolutely terrified" by what was happening in some departments. She said she had warned NHS England about the dangers of crowding patients in A&E but that not enough action had been taken.
She told The Independent: "Crowding in A&E is unsafe, but with coronavirus it is potentially lethal. We have said this endlessly to NHS England.
"Everyone agrees crowding is bad, but what they're not doing is translating that into action."
After hearing of the situation in Manchester, she added: "Exactly what we said should not happen is happening. I am absolutely terrified by this. What more can I do? I have highlighted this risk everywhere I can over the past few months."
She said the NHS had an estimated 9,000 fewer beds than it needed, with Covid-19 meaning that many more had been closed to maintain distance between patients.
Despite these pressures on beds and ambulances delivering patients to A&E, the answer was not to settle for clustering patients in corridors, she said. "It is utterly unacceptable."
Hospitals in Greater Manchester reported more than 1,300 Covid patients on wards in the region on Wednesday. Hospitals have already started cancelling non-urgent surgery and appointments to try and free up beds and staff, with the city's Nightingale Hospital preparing to take its first patients.
On Wednesday, the UK death toll from Covid-19 passed 50,000, with 595 deaths reported over the last 24 hours.
The Independent has seen documented reports of Covid-positive patients being forced to mix with other members of the public because of a lack of space and beds at North Manchester General Hospital. Incident reports also warn of understaffing and long delays.
One nurse said: "I've seen 20 patients head-to-toe on trolleys on our corridor. We were cohorting nine patients confirmed as Covid positive on trolleys, which makes every person on that corridor a contact, but for some reason this doesn't seem to count in A&E.
"It's risking the spread of Covid throughout the hospital. Corridor nursing shouldn't be happening, but there is nowhere else to put the patients. Every night this week, there have been patients on the corridor."
One patient spent 40 hours in the A&E department waiting for a bed. The nurse added: "People are scared because we are actively putting patients at risk of this disease. I signed up to keep people alive and safe; this is not what I signed up for. It is heartbreaking."
At one stage, after a severe shortage of staff, nurses from other parts of the hospital were redeployed, but some of them had never worked in A&E before.
The nurse said: "There seems to be a reluctance to accept how bad it is. There is no real action. We need help but the management are not forthcoming with their plans."
An incident reported on 9 November and seen by The Independent stated: "Department full to capacity. Full escalation in process from 7.30am. Patient care compromised and department dangerous."
It said the department was three nurses short, adding: "Covid-positive patient in the waiting room exposing 30 members of the public. Three Covid-positive patients in the corridor exposing other patients and staff. No social distancing."
A second severe incident report for 9 November said there were 88 patients in the A&E, with the longest stay being one day and six hours.
It added: "No beds, no capacity in department, 15 patients on corridor, with one triage nurse and three care support workers."
It said the unit was unable to offload four patients from ambulances that were waiting outside.
At the Royal Oldham Hospital, consultants have clashed with managers over the pressure on A&E.
The situation reached a head when doctors in A&E wanted to declare a black alert. Managers refused, claiming it wouldn't help, but doctors said the managers didn't want to be the first in the region to declare an incident.
One clinician said: "My hospital is on its knees. There are multiple episodes of crowding patients in A&E including suspected Covid on the emergency department corridors. We have had several 24-hour waits for a bed. We've had more 12-hour waits in two weeks than I've seen in a year."
In the five days to 28 October, the hospital had more than 60 patients waiting beyond 12 hours, with seven 24-hour waits.
Senior clinicians met with managers on 6 November after a letter signed by consultants was sent to management raising concerns over the lack of support.
A senior clinician at Wythenshawe Hospital said pressure on the wards there was reaching a tipping point. Emails passed to The Independent show concerns over the level of sickness among patients on wards, and concerns that junior doctors needed more senior consultants to support them.
Some clinics have been cancelled to free up senior doctors to look after patients.
One member of staff said: "We have been left to get on with it ourselves. It feels like we have been neglected and abandoned. Morale is rock bottom. There are level-two patients, who would normally be treated on intensive care and we are looking after them on wards and we don't have the ability to really look after them as well as if they were in ITU [intensive treatment unit]. It puts a real strain on the nursing staff.
"We are absolutely shattered and still getting harassed about targets."
Dr Julia Patterson, from the EveryDoctor group, said: "For several years now, very sick patients have been treated in NHS corridors at the peak of winter pressures, (usually in January and February). This is always unacceptable to healthcare workers; it is an undignified and unsafe way of treating patients.
"The current situation in Manchester is more terrifying than ever. During the winter, the burden of illness, particularly respiratory illnesses like flu, increases. But we wouldn't usually be forced to practice 'corridor medicine' in November. Some of these sick, vulnerable patients have Covid-19, and some do not, and due to cramped conditions staff have no way of safely separating patients to prevent the spread of the virus."
She added: "The government must act immediately to put plans in place to re-deploy staff and make more space available to care for the escalating number of Covid-19 patients."
Jane Eddleston, joint medical director at Manchester University NHS Foundation Trust, said: "We have recently reduced non-urgent elective care, in order to boost our ability to treat the increased numbers of Covid patients we are seeing, and opened additional ICU capacity across our hospitals in line with our surge plans and agreed modelling."
A spokesperson for the Greater Manchester Health and Social Care Partnership, which includes all NHS hospitals in the city region, said: "Our hospitals are now treating more Covid patients than at the peak of the first wave and, as a result of this, a number of non-urgent operations will be temporarily delayed – we are contacting the affected patients.  
"Urgent and emergency care, including cancer treatment and operations, will continue as normal and it's important that anyone with concerns continues to come forward for help and treatment. This is why it's so important that everyone follows guidance to minimise the spread of the virus – wear a face covering in enclosed spaces, wash your hands more frequently and minimise your contact with people outside your immediate household."
A spokesperson for NHS England said: "Targeted investment is helping hospitals boost their A&E capacity and treat patients safely by separating Covid and non-Covid beds. The NHS is also investing further in the 111 service, including direct booking into A&E for the first time, to ensure all patients who need it can see the right clinicians in the right setting."
Join our commenting forum
Join thought-provoking conversations, follow other Independent readers and see their replies