Labour calls on government to implement NHS recovery plan as hospital waiting lists grow
'Leaving patients in limbo waiting for surgery risks their condition worsening ... and loss of life,' says shadow health secretary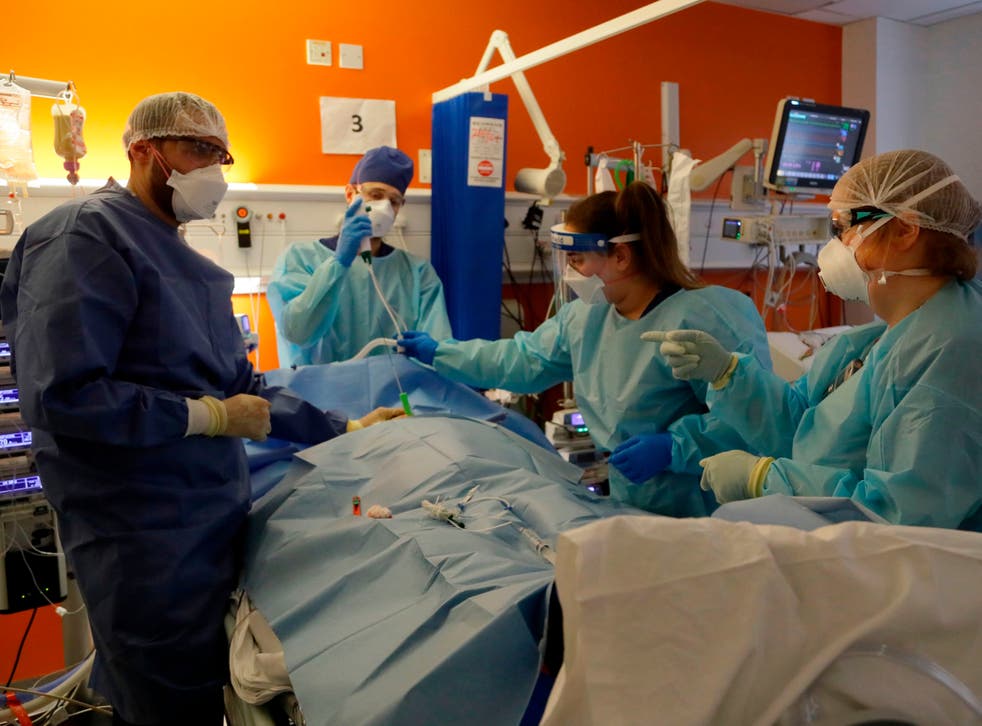 Ministers have been urged to implement a clear recovery plan to bring down the country's patient waiting lists that have ballooned to record-breaking levels as a result of disruption from the pandemic.
Labour has warned that thousands of people waiting for hospital treatment are at risk of permanent disability and losing their livelihoods, and has demanded government action.
Some 387,885 patients in England are waiting more than a year for hospital treatment, according to NHS data. This has increased month-on-month since March of last year when the UK was first placed into lockdown.
A year ago, in February 2020, the number of people having to wait more than 52 weeks to start treatment stood at just 1,613.
In total, 4.7 million patients in England are waiting for some form of treatment or healthcare service – the highest figure since records began in August 2007.
A breakdown of the data shows that more than 22,000 patients are waiting for gynaecology appointments, some 4,500 people are waiting for cardiology appointments and over 3,700 are waiting for brain surgery.
Thousands of surgical procedures were cancelled or postponed throughout the UK's lockdowns as resources were turned to treating Covid patients, while treatment and check-ups for cancer, heart disease and other fatal conditions have also been disrupted.
As lockdown restrictions start to ease, and with Britain through the worst of its winter wave, Labour is now calling for an NHS recovery plan to tackle the issue of England's waiting lists.
Shadow health secretary Jonathan Ashworth has said the government needs to publish a quarterly update from ministers on the action being taken to bring down waiting times.
He is also demanding a pay rise for NHS staff, and for the government to ensure the health service has the workers and equipment to deliver cancer care, surgery and mental health care that patients require.
He has also urged ministers to strengthen the NHS constitution, which gives patients the right to access services within maximum waiting times, to eliminate waiting times over 52 weeks.
"Leaving patients in limbo waiting for surgery risks their condition worsening, leading to permanent disability, loss of livelihood and, tragically for some, loss of life," Mr Ashworth said.
"Labour will be using our voice and vote in parliament to demand action to bring waiting lists down and deliver the very best cancer and mental health care."
He also highlighted how "years of underfunding and cutbacks meant we entered the crisis with waiting lists growing and targets for cancer treatment missed".
The number of people in England being seen by a specialist for suspected cancer following an urgent referral by their GP was 174,624 in February 2021. This is an 8 per cent drop from the same period last year, and only a 2 per cent increase on January's figures.
Meanwhile, 22,935 people started treatment for cancer in February – a fall of 6 per cent compared to last year. Throughout the pandemic, 370,000 fewer people than usual have received cancer care.
Performance against the 62-day cancer waiting times target also fell to its worst level on record in February. Just 69.7 per cent of patients started treatment within 62 days of an urgent GP referral, against the target of 85 per cent.
Sara Bainbridge, head of policy at Macmillan Cancer Support, told The Independent: "It's deeply concerning that Covid-19 continues to cast a long shadow over people living with cancer.
"It's vital that cancer services continue to be prioritised and that those with cancer are not forgotten. The NHS needs urgent and sustained investment for its workforce, to ensure dedicated staff are able to provide the best care for cancer patients, now and in the future."
Join our new commenting forum
Join thought-provoking conversations, follow other Independent readers and see their replies