Omicron: Hospital workers in England are told to get their own lateral flow tests amid shortage
'The government needs to prioritise NHS staff for tests' says scientist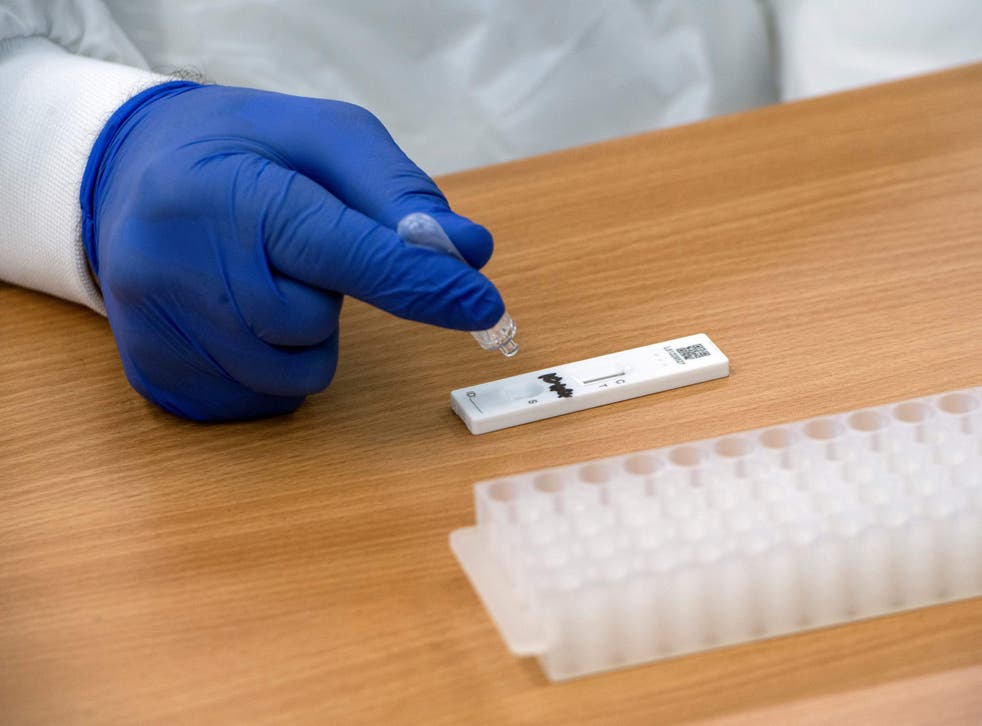 Hospital workers in England are being told to get their own lateral flow devices (LFDs) despite being expected to test twice-weekly for work.
A change in guidance over the summer means hospitals are no longer stockpiling rapid tests for their own nurses and doctors.
With the NHS website suspending delivery of LFDs on Monday, it leaves hospital staff vulnerable to infection from the omicron variant.
"I'm working in the emergency department now," one nurse at a Bristol hospital told The Independent. "I'm very anxious about catching it and just tried to order some but was told there are no more available."
Another nurse, who works in Leicester, said: "I haven't had any luck getting hold of lateral flows via the government website. I'm running low on tests at the moment and don't know when I'll be able to order more."
According to multiple sources, NHS England asked trusts over the summer to move away from supplying tests for staff directly. Instead, healthcare workers should acquire their LFDs via the government website, bosses were told.
This policy change was partly driven by the limited willingness of staff to take the tests and wider reluctance to record results, one senior national testing source told The Independent.
But with staff now struggling to get hold of the rapid tests, which provide a Covid result in up to 30 minutes, experts have warned that healthcare workers could be left more vulnerable to infection from omicron if they're unable to regularly test themselves.
Dr Peter English, a former consultant in communicable disease control at Public Health England, said the apparent lack of lateral flow tests was "very concerning".
"If staff don't get tested, then - given that this variant is so much more infectious, and can infect people with prior immunity (even if few get seriously ill) - there will inevitably be more transmission from staff member to staff member, and from staff members to patients," he added.
"And given that many patients will be particularly vulnerable, this could have a serious effect on hospital length of stay, admissions, etc."
The government has said there is a "ready supply" of LFDs. Due to "exceptionally high demand" for the tests, health officials explained, the ordering of tests "has been temporarily suspended to fulfil existing orders."
However, in some parts of the country, pharmacists have reported difficulties in ordering the test kits for a number of days.
One source close to Test and Trace said the UK had the manufacturing capacity and suggested that the lack of available tests could be the result of logistical issues, coupled with high demand.
Azeem Majeed, a professor of public health at Imperial College London and NHS consultant, said the surge in demand for the home test kits - thought to be driven by fears around omicron - will create "a problem for frontline health staff, as we have to test twice each week".
"The government needs to prioritise NHS staff for the tests and staff in settings such as care homes and schools," he added.
"The whole point of the twice weekly tests for NHS staff is to pick up people who may be infected so they can be removed from frontline practice and reduce the risk of infection for patients."
Any loss of frontline staff due to the limited availability of lateral flow tests, hindering the ability to identify cases and control the spread of the virus in hospitals, would be "catastrophic", especially at a time when omicron is "sweeping the country," said Dr Layla McCay, director of policy at NHS Confederation.
UK news in pictures

Show all 50
However, she said the organisation was "reassured" that the government "is putting in place extra measures to ensure testing packs can be delivered to everyone without delay".
The Independent also understands that at least one NHS trust in the East of England has stopped offering routine PCR tests, which are more reliable than the lateral flow devices, for all staff or those identified as a possible contact of someone with Covid.
"Staff should make use of their nearest NHS testing centre - or book online, or they can book by calling 119," said the trust's guidance, which came into force from the end of October.
In the eventuality of a hospital outbreak, the trust said it would still provide PCR tests for staff. "These changes have been introduced to help the trust focus on patient testing and to add capacity across our services," bosses told staff.
A separate source suggested some trusts had begun to move away from in-house PCR testing due to the demands on staffing needed to take the swabs and process results.
Register for free to continue reading
Registration is a free and easy way to support our truly independent journalism
By registering, you will also enjoy limited access to Premium articles, exclusive newsletters, commenting, and virtual events with our leading journalists
Already have an account? sign in
Register for free to continue reading
Registration is a free and easy way to support our truly independent journalism
By registering, you will also enjoy limited access to Premium articles, exclusive newsletters, commenting, and virtual events with our leading journalists
Already have an account? sign in
Join our new commenting forum
Join thought-provoking conversations, follow other Independent readers and see their replies