Government exploring possibility of reintroducing masks and social distancing in winter
Experts have also warned that baseline Covid measures and restrictions will be needed again for a potentially challenging winter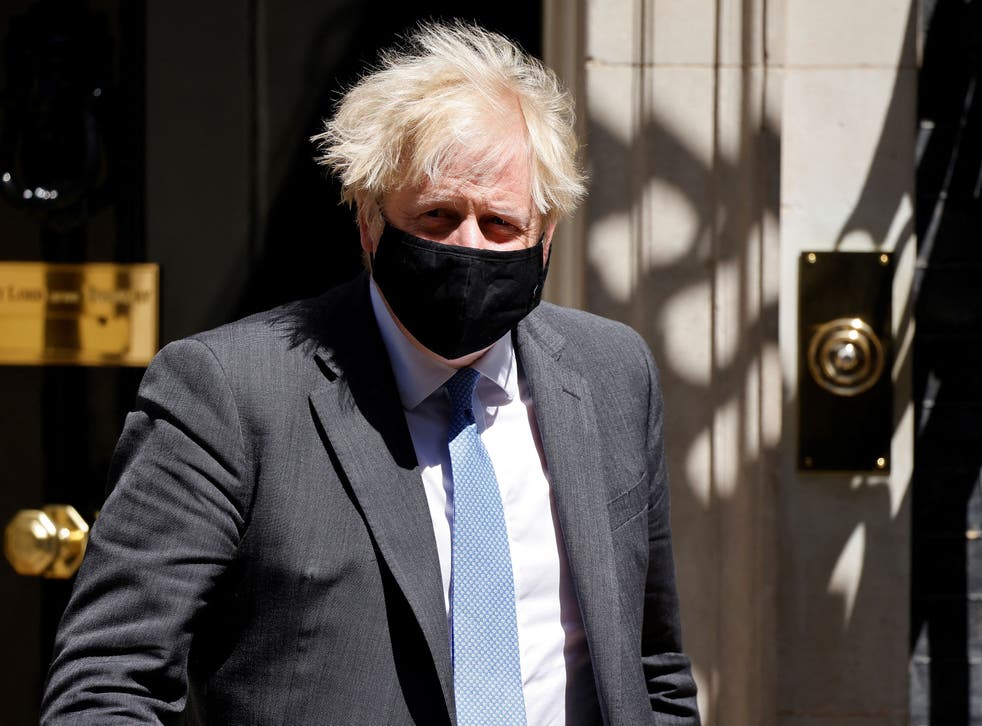 Government officials have been discussing the possibility of reintroducing baseline Covid restrictions for the winter in the eventuality of a significant wave of cases, The Independent understands.
Downing Street has publicly stated its hope that 19 July, when all measures are set to be lifted, will be the start of an "exciting new journey" for the UK.
But, internally, officials under Michael Gove, the Cabinet Office minister, are operating on the assumption that masks, social distancing and working from home guidance could return by the end of the year if Britain is overwhelmed by a major surge in cases and hospitalisations.
Discussions on the matter were raised during a Whitehall Covid meeting held last week, while Professor Chris Whitty, chief medical officer for England, told the cabinet on Monday that the UK is set to face a difficult winter.
The prime minister has also indicated that "extra precautions" may remain in place to protect against Covid-19 when he relaxes restrictions later this month.
One Whitehall source said the government was being "overly cautious" in exploring its options for the winter, having repeatedly stressed that there will be no more lockdowns in the future.
Jonathan Van-Tam, the deputy chief medical officer for England, also stressed on Wednesday that getting through the winter without returning to any lockdown measures was "heavily dependent" on ensuring vaccine protection is kept high, both through the ongoing vaccine rollout and the proposed booster programme.
The government's Scientific Advisory Group for Emergencies (Sage) has meanwhile conducted new modelling on the trajectory of the pandemic without any restrictions in place, which is due to be published soon, The Independent understands.
This is likely to inform any further decision-making on whether masks or social distancing will be needed again in the months to come.
Downing Street has been examining the potential continuation of limited coronavirus measures, as well as Covid-19 certification, since February. Overseen by Mr Gove, the review is expected to be published before 19 July.
Nonetheless, Sajid Javid, the new health secretary, has already vowed to bring England's lockdown to an end next month, telling MPs on Monday that the country would have to "learn to live" with the virus.
However, experts have warned that not all restrictions should be eased from 19 July amid the continuing rise in infections – cases surged by 73 per cent last week – and said that mask-wearing and social distancing will probably be needed for winter.
Kamlesh Khunti, a professor of vascular medicine at Leicester University and Sage member, said he believed that "we shouldn't abandon distancing and face masks completely", arguing that the latter should become adopted in UK culture in a similar way to in east Asian countries. "It's not a big ask especially when you're indoors," he said.
"If we stop it, people will feel like it's not going to be needed for the future, which is perhaps giving the wrong message. We may see a surge during the winter months."
Prof Khunti said the UK still remained vulnerable to another significant wave due to the high transmissibility of the Delta variant, incomplete vaccination coverage, and the fact that the jabs do not provide 100 per cent protection against Covid-19.
"There is vaccine escape, and we haven't got anywhere near herd immunity yet," he added. "For all those reasons, we've seen that rates are increasing even now. That's without loosening all restrictions. I do think we need to be really cautious about this."
Scientists are also concerned by the impact that a resurgence in flu will have over the winter. Prof Anthony Harnden, the deputy chair of the Joint Committee on Vaccination and Immunisation (JCVI), recently warned that influenza "could be potentially a bigger problem this winter than Covid".
The vast majority of experts believe the UK will also be forced to grapple with other respiratory illnesses, such as RSV, rhinovirus and parainfluenza, that commonly surge during the winter months, placing the NHS under considerable strain.
Nonetheless, suppressing and minimising the impact of a future Covid wave remains the overall priority for the government and NHS. Alongside the reintroduction of limited restrictions, health officials are also examining whether a booster will be needed for the clinically vulnerable and over-50s.
This is seen as a leading option in softening the blow of Covid-19 this winter, though the JCVI is still accumulating data on whether immunity fades to the point that a third dose is required to "top up" protection.
Professor Danny Altmann, an immunologist at Imperial College London, said he would support a return to mitigation measures later this year but argued that the "terms of engagement" with Covid-19 have now shifted, with the link between infection and severe disease weakened as a result of the vaccines.
However, this shouldn't justify the argument to "forget all about Covid and let rip", even if not as many people are now dying from virus, he said.
UK news in pictures

Show all 50
"I'm not one of the people who thinks this virus has an infinite ability to keep mutating. It is limited and can't keep transforming itself forever," Prof Altmann said.
"On the other hand, I can envision some mutations that would be devastating for the current vaccines we have. If you're letting rip, easing on restrictions, percolating virus in the lungs of every secondary child in the country, you're setting yourself up to go back to square one.
"As scientist then, why would I not want to see mitigation measures to the max in place in the coming autumn and winter?"
When asked for comment, a Cabinet Office spokesperson highlighted the ongoing social distancing review being led by Mr Gove. It reads: "The results of the review will help inform decisions on the timing and circumstances under which rules on 1m-plus, masks and other measures may be lifted. The review will also inform guidance on working from home."
Join our new commenting forum
Join thought-provoking conversations, follow other Independent readers and see their replies