Inhaled asthma drug shortens Covid recovery and could be 'significant for world,' study finds
Hope that GPs will be able to start treating Covid patients at home with cheap and readily available medicine
Samuel Lovett
Science Correspondent
Monday 12 April 2021 19:28 Comments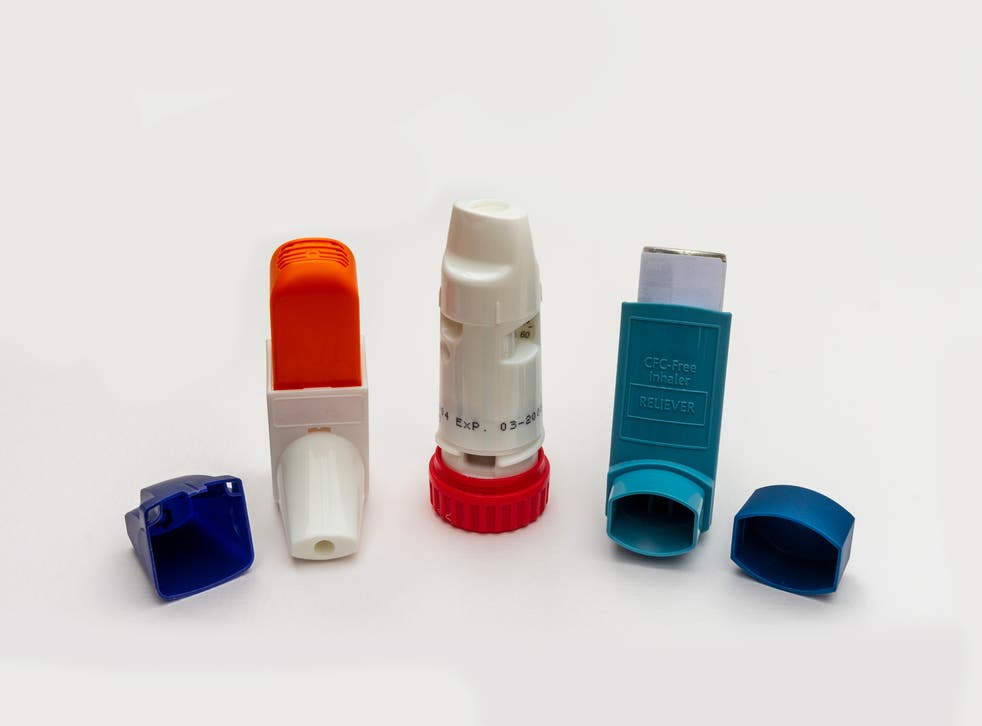 Leer en Español
An inhaled drug commonly used for asthma has been shown to shorten the recovery time of Covid-19 sufferers who do not need hospital treatment – a development that has been described as a "significant milestone" in the fight against coronavirus.
British scientists from Oxford University have found that budesonide, an anti-inflammatory medicine, can help accelerate recovery in the over-50s by an average of three days.
The readily available drug, administered via a cheap inhaler twice a day for up to 14 days, can be prescribed through GPs, raising hope that doctors will be able to start treating Covid-19 patients at home early in their illness.
The NHS has issued new guidance saying the medicine should be considered for patients on a "case-by-case basis".
Experts have hailed the interim findings from the UK's Principle trial as a major breakthrough in treating Covid-19 outside of hospital.
Oxford's Professor Gail Hayward, a co-principal investigator in the trial, told a media briefing: "I think this does have significant implications for the world as this is the first time a treatment has been shown to be beneficial for patients in their community.
"The majority of patients who get Covid are in the community. Something that can help them feel better three days sooner is significant."
For the Principle study, 751 people with symptomatic Covid-19 were treated with budesonide at home over a 14-day period. Their progress was compared with 1,028 patients who were assigned the usual standard of NHS care alone.
The patients were drawn from two groups vulnerable to severe Covid: those aged over 65, and those aged between 50 and 64 with comorbidities, including a weakened immune system, heart disease and lung disease.
Of those who received the asthma drug, the results showed the estimated median time to self-reported recovery was 3.01 days shorter than the control group.
Professor Chris Butler, joint chief investigator of the trial and a primary care professor, said the drug "helps people at higher risk of worse outcomes from Covid-19 recover quicker, stay better once they feel recovered, and improves their wellbeing."
Professor Richard Hobbs, joint chief investigator, said: "Unlike other proven treatments, budesonide is effective as a treatment at home and during the early stages of the illness. This is a significant milestone for this pandemic and a major achievement for community-based research."
Some 32 per cent of those taking budesonide in the trial, compared to 22 per cent of the usual care group, recovered within the first 14 days of their treatment. They were followed up for a total of 28 days.
Scientists involved in the study have said they intend to continue assessing patients to determine whether budesonide also prevents the development of long Covid in those who have been infected with coronavirus.
"We are only presenting data for 28 days of follow-up," said Prof Butler. "We will in due course be following these people for longer and will be able to talk about long Covid more comprehensively in due course."
There are also some early indications that the drug can prevent hospitalisation with Covid-19.
Among patients who had completed all 28 days of study follow-up, 8.5 per cent of those treated with the drug had been hospitalised as a result of their symptoms. This compares to 10.3 per cent of patients in the standard care group.
However, researchers say that since fewer people than expected were admitted to hospital in the trial, and with cases and admissions to hospital continuing to drop in the UK, the interim analysis – published as a pre-print – cannot prove whether budesonide reduces hospital admissions.
The trial was stopped on 31 March after researchers became confident that the drug was capable of improving recovery time. Their findings are drawn from data up to 25 March, meaning the results are not fully complete.
UK news in pictures

Show all 50
As soon as all remaining patients have completed their follow-up and a full analysis has been completed, detailed results on time to recovery and hospitalisations will be published.
Those treated with inhaled budesonide were asked to inhale 800 micrograms twice a day for 14 days and were followed up for 28 days. The researchers said not everyone in their study will have taken the medication for 14 days, as people tend to stop doing so when they feel better.
According to the data, 80 per cent of trial participants used budesonide for at least seven days.
Oxford's Professor Mona Bafadhel, a consultant respiratory physician, said it was likely the medicine's anti-inflammatory qualities helped to accelerate recovery from Covid-19. She said it was "possible" the drug also reduces viral replication.
Professor Stephen Powis, NHS England national medical director, said: "We are delighted to see these trial results for a medicine that could help people with Covid-19 recover more quickly at home instead of being admitted to hospital.
"While we await final trial results, GPs may wish to consider prescribing inhaled budesonide where there is a medical benefit to patients following a shared decision conversation."
Led by Oxford University, the Principle study is the world's largest randomised trial of community-based treatments for Covid-19.
Researchers said they now intend to start assessing the impact of budesonide on Covid patients who are aged 18 and over and have comorbidities or shortness of breath.
However, Dr Penny Ward, a visiting professor in pharmaceutical medicine at Kings College London, said the trial needed to be improved for future research.
"The budesonide study was randomised but was open label, so that both patients and investigators were aware of treatment assignment," she said.
"In trials with a high degree of self reporting of subjective outcomes, this design is sub optimal, and a placebo-controlled study would have been preferable to ensure unbiased assessment by patient and investigator."
Register for free to continue reading
Registration is a free and easy way to support our truly independent journalism
By registering, you will also enjoy limited access to Premium articles, exclusive newsletters, commenting, and virtual events with our leading journalists
Already have an account? sign in
Register for free to continue reading
Registration is a free and easy way to support our truly independent journalism
By registering, you will also enjoy limited access to Premium articles, exclusive newsletters, commenting, and virtual events with our leading journalists
Already have an account? sign in
Join our new commenting forum
Join thought-provoking conversations, follow other Independent readers and see their replies