Just 0.67% of Covid vaccine doses wasted during first month of national rollout, analysis shows
Exclusive: Between 8 December and 8 January, 156,262 doses of the Pfizer/BioNTech jab were administered across 40 hospital vaccination hubs – and only 1,055 shots were wasted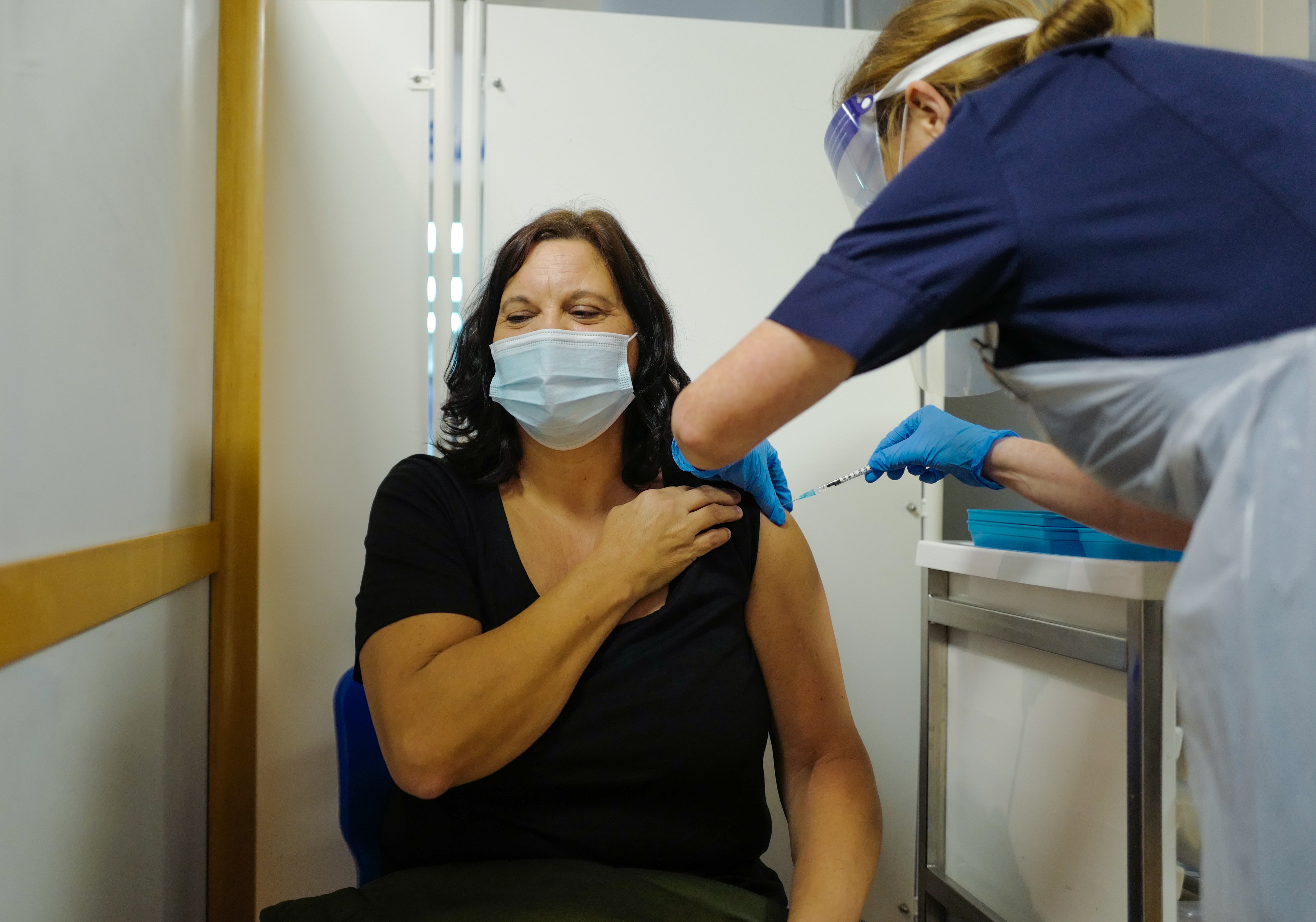 Just 0.67 per cent of doses were wasted during the first month of England's coronavirus vaccine rollout, new analysis suggests, further highlighting the ongoing success of the national rollout.
Between 8 December and 8 January, 156,262 doses of the Pfizer/BioNTech jab were administered across 40 hospital vaccination hubs, according to NHS data obtained through freedom of information (FoI) requests.
A total of 1,055 shots were wasted or discarded by these trusts over the same period – the equivalent of 1 in every 150 doses, or 0.67 per cent.
Reasons given for wastage included: dropped or contaminated vials; human error in the preparation process; expired stock; leftover doses; and faulty syringes.
The low figures point to the efficiency and streamlined nature of the UK's vaccination programme, which has delivered 12.2 million first doses administered to date.
More than 50 hospital hubs across Britain were responsible for driving the early stages of the national rollout given the logistical challenges surrounding the Pfizer vaccine, the first to be approved for use by the UK's medicines regulator.
Supplies are delivered in batches of 975 doses, which need to be transported at -70C and used up within five days of thawing – demands which GPs cannot meet.
Local surgeries have instead been largely responsible for administering doses of the Oxford/AstraZeneca vaccine.
This is the first time that detailed data on vaccine wastage has been made available, after The Independent sent out FoI requests to more than 70 hospital trusts in England.
Thirty-nine trusts responded while 29 provided information on their rollouts. Last month, health secretary Matt Hancock refused to say whether the government intended to publish figures showing wastage rates in the UK.
According to the data reviewed by The Independent, the lowest rates were recorded by North Tees and Hartlepool NHS Foundation Trust, Maidstone and Tunbridge Wells NHS Trust, Liverpool University Hospitals NHS Foundation Trust and Kingston Hospital NHS Foundation trust.
All four trusts said not a single dose was wasted or discarded by staff at their hospital hubs during the first month of the rollout.
In contrast, Calderdale and Huddersfield NHS Foundation Trust reported one of the highest wastage rates. Of the 4,097 doses that were administered in the month up to 7 January, a further 135 were wasted – the equivalent of one in every 31 doses, or 3.2 per cent.
When explaining the wastage, the trust said: "Vaccines have been discarded as a result of human error in dilution, expired stock or being unsuitable for use as a result of cloudy preparation." 
A similar rate was recorded at Walsall Healthcare NHS Trust, where 12,825 doses were administered and 390 were discarded.
It said black particles were identified in a "high number" of vials and that errors in the preparation process meant some doses had to be thrown away.
University Hospitals of Leicester NHS Trust said that 37 doses were wasted after the vials were "accidentally dropped, thus rendering it unusable". It administered 6,606 doses in the first month of the national rollout.
Salford Royal NHS Foundation Trust, which delivered 4,160 jabs and wasted 95, said it had reported a "repeated issue" to senior NHS officials whereby defects in the syringes made it "difficult to draw up [a] full dose or administer doses".
"Incorrect final volume in syringe," was another issue noted by the trust. "Due to nature of product you are not allowed to go back into the vial and correct the volume once the needle has been withdrawn so the dose must be discarded (often during training of new staff)."
One insider at Conquest Hospital, in Hastings, said it was "more difficult than you think" in trying to ensure all 975 doses of the Pfizer vaccine are administered in the specified time frame, given the challenges posed by last-minute cancellations or staffing shortages.
In those instances where supplies are left over at the end of the day, attempts are made late in the evening to draft in NHS members or hospital patients, the Conquest source said. "When we can't use all the doses up in the time allowed, whatever is spoilt has to be destroyed," they added.
Munira Wilson, MP for Twickenham and the health and social care spokesperson for the Liberal Democrats, said it was a "testament to everyone" involved in the national rollout that so few doses have been wasted.
"NHS staff and volunteers have worked tirelessly to get as many people vaccinated as efficiently and safely as possible," she told The Independent. "I know from my visit to vaccination hubs, how hard vaccinators are working to ensure every last drop of vaccine is used.
"We simply could not have vaccinated so many people without the hard work of NHS staff and the thousands of volunteers who have stepped forward to help. The Liberal Democrats and I want to thank everyone who has made this possible – the whole country owes them a huge debt of gratitude."
Dr Kit Yates, a senior lecturer in mathematical sciences at the University of Bath and a member of Independent Sage, said it was "really good news" that the early rates from the rollout were "well below the NHS's five per cent maximum tolerated wastage level".
"Strategies including substitute pools – allowing willing stand-bys to receive doses destined for individuals who don't turn up for their appointment – or overbooking – as often practised by airlines to ensure their flights are full – may have kept levels of wastage to a minimum," he told The Independent. 
"Mass vaccination centres have allowed supply to be matched with demand more easily. They allow for the more efficient use of the multi-dose vials in which the vaccine is delivered and may also help to reduce 'closed vial wastage' by facilitating safe transportation reliable storage."
He warned, however, that it may become harder to maintain such low levels of wastage as the vaccination programme progresses through the next priority groups and starts to deliver doses to patients.
"The requirement to match individuals to the manufacturers of the vaccines they received first may preclude excess vaccine doses being given to certain individuals on a stand-by list dependent on the first dose they received," he added. 
NHS England said it was unable to verify the data and therefore could not provide comment.
Join our commenting forum
Join thought-provoking conversations, follow other Independent readers and see their replies