NHS trusts in London preparing to make Covid vaccinations compulsory for workers, leaked email reveals
Leaked letter reveals trust aims to to unilaterally change NHS staff contracts to require vaccinations
Shaun Lintern
Health Correspondent
Thursday 15 April 2021 13:23 Comments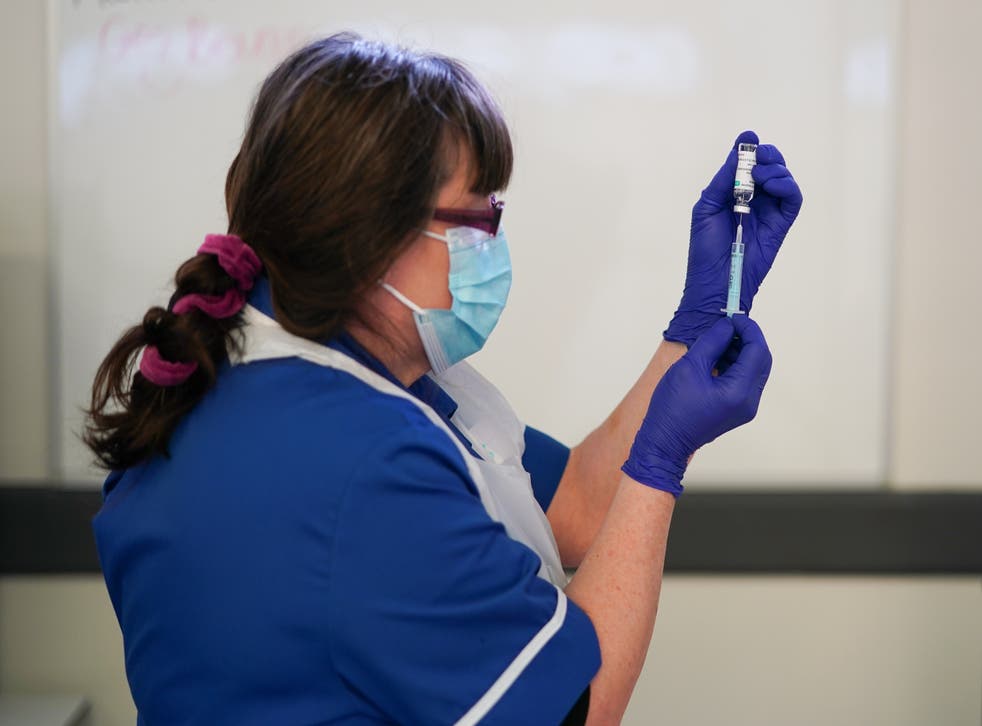 A major NHS trust in London has discussed making vaccinations against coronavirus a contractual requirement for all its staff, according to a leaked email seen by The Independent that also reveals other trusts may follow suit.
The letter to staff at the Chelsea and Westminster Hospital Foundation Trust, signed by the chief executive Lesley Watts, has not yet been sent to staff but has been shared with dozens of senior NHS bosses across London for them to "adapt and use in your trusts."
Adding a contractual requirement for a vaccination to employment contracts would constitute a change in terms and conditions for staff and is likely to be legally difficult to enforce.
A copy of the letter, seen by The Independent said some of the trust's 6,000 staff had "chosen" not to be vaccinated and it urged them to change their mind.
It said: "We will need to take into account your vaccination status in your occupational risk assessment and this may impact the range of duties you undertake and indeed the environment in which you work."
The letter went on to say: "We will be making Covid vaccination mandatory for all our employees and it will form part of the employment contract."
It was discussed on a telephone call between London NHS chiefs last week. One insider who was on the call said the decision to send the letter had already been made and was confirmed by Lesley Watts herself in the discussion.
The source said: "The Chelsea and Westminster CEO said they're planning to send it and encouraged other trusts to adapt and use the same letter."
On Monday, an email including the draft letter, was sent to NHS chiefs across the northwest London region including bosses at the London Ambulance Service, Imperial College Healthcare Trust, and Hillingdon Hospitals Trust.
It said: "Please find attached the vaccination letter Lesley discussed at the CEO call, for you to adapt and use in your trusts as needed."
The move towards mandatory vaccination surprised some on the call due to the likely legal problems the trust will face trying to enforce the rule.
The hospital has since said there was no intention to make vaccines compulsory for staff but the trust spokesman refused to explain why the letter had been written in the first place, why it had been shared among other senior London NHS figures and why people on the call with the chief executive were told it was happening.
In an article examining the implications of mandatory vaccinations of NHS staff, Michael Wright, partner at Hill Dickinson law firm said: "If an employer intends to make vaccination mandatory, this will amount to a change in terms and conditions.
"Employers must usually inform and consult with a recognised trade union about major changes in the workplace and changes to employees' terms and conditions regarding pay, hours of work and holidays.
"Without agreement the employer would be faced with either unilateral imposition of the change, or terminating and offering re-engagement on the new terms. Both options carry significant legal risks."
He also warned NHS trusts could face a challenge under Human Rights Act legislation or staff could bring a judicial review against the NHS trust due to the lack of consultation.
The leaked letter emerged as the Department of Health and Social Care announced plans to consult on proposals to make vaccination among care home staff a requirement.
Under plans care home companies would be required to ensure only vaccinated staff were deployed to care for vulnerable staff.
The Chelsea and Westminster Trust chief executive said in a statement released after this story was first published saying: "There is no intention to mandate vaccination of our staff, and no such communication has been sent to our staff.
"We are proud that staff vaccination rates at the trust are among the highest in London, and we are strongly encouraging anyone who hasn't had the vaccine to come forward to help keep themselves and patients safe."
Updated at 1pm on 15 April to include details of the trust chief executive's statement. The trust declined to provide further clarification on why the letter was written and shared with other chief executives.
Register for free to continue reading
Registration is a free and easy way to support our truly independent journalism
By registering, you will also enjoy limited access to Premium articles, exclusive newsletters, commenting, and virtual events with our leading journalists
Already have an account? sign in
Join our new commenting forum
Join thought-provoking conversations, follow other Independent readers and see their replies