UK businesses and scientists sceptical over Covid vaccine certificate proposals
Downing Street rules out requirements for proof of vaccination but says 'up to businesses' over what rules to introduce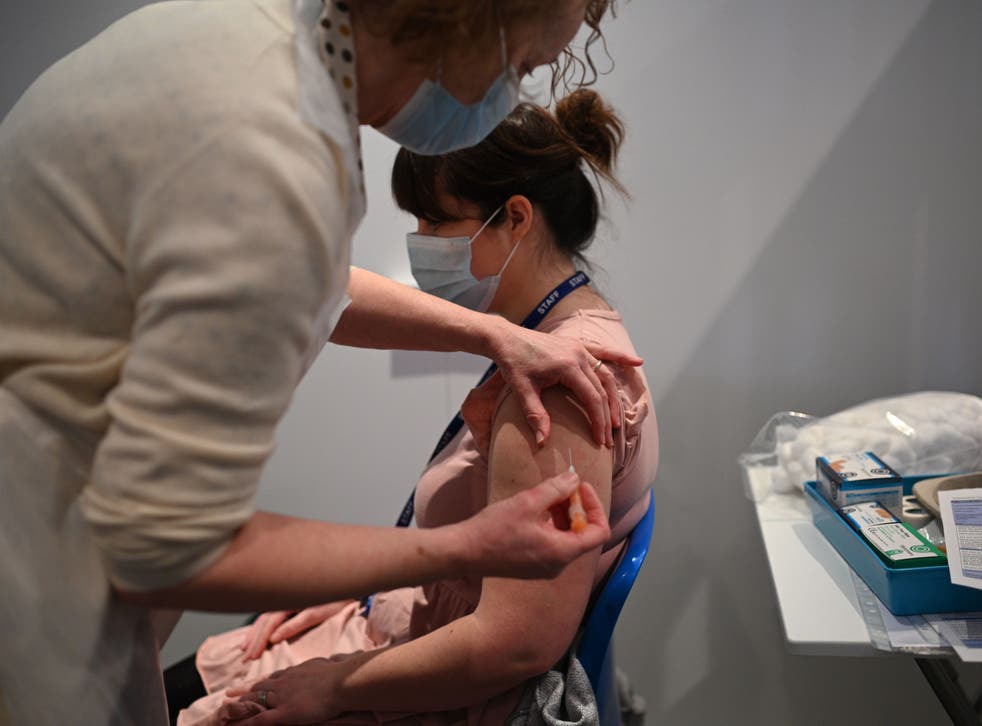 The notion of "vaccine certificates" has been met with scepticism by British businesses and scientists, as authorities consider their options for moving out of the current lockdown and reopening society.
After reports that some cinemas have begun striking private deals to use vaccine passports to allow them to reopen their doors in the months ahead, the government ruled out adopting a similar scheme for the wider economy.
However, the vaccine minister Nadhim Zahawi said it was "up to businesses" what rules to introduce – despite previously dismissing the idea of vaccination certificates as "discriminatory".
The proposal has also been put forward as a prerequisite for those working in care homes, while some countries, such as Greece, have previously suggested they could waive Covid quarantine restrictions from May for arrivals who can prove they have been vaccinated.
Mr Zahawi said the government could facilitate vaccine passports for international travel if required by other countries.
British business groups and scientists have separately raised their concern over the prospect of vaccination certificates, with some arguing that the proposal is not appropriate, and that widespread rapid testing offers the most reliable means to kickstart the economy.
UKHospitality, a leading trade association within the sector, said it was "not in favour" of the domestic use of vaccine certificates.
"The government has been clear that it has no plans to issue vaccine passports and we do not believe that these are appropriate in a high street hospitality setting where we have already taken steps to mitigate risks," chief executive Kate Nicholls told The Independent.
An IT firm called Verifiable Credentials says it has already agreed a tie-up with one UK theatre and cinema complex for a trial of technology to provide proof of vaccine.
Electronic certificates would be verified by the NHS and stored in a digital wallet on a smartphone – then combined with a purchased ticket to generate a QR code that would allow entry.
"We're more positive on the idea of rapid testing, we just basically need to know more about how it would work – particularly if it helps businesses like nightclubs, which have just been shut for a year, get open again," Ms Nicholls added.
On Monday, the prime minister Boris Johnson said that rapid turnaround coronavirus tests could be used to allow the reopening of the "toughest nuts to crack" in the economy, including nightclubs and theatres.
He said there is a role for the lateral flow tests, which provide results within minutes but have been criticised for returning too many false results, and suggested they could be used in combination with the vaccine rollout.
"I think that will be the route that we that we go down and that businesses will go down," he added.
UKHospitality called for more clarity on the government's plans for mass testing in workplaces and the community, saying it wanted to know "if people could have a test in advance".
Night Time Industries Association said a vaccination certificate would not be a viable option for the sector as not enough young people will have been inoculated at the point lockdown is lifted.
"They're looking at April to vaccinate all over-50s. The core age groups at a lot of our venues are considerably younger than that. It's going to be very difficult to get them through that vaccination process in time," chief executive Mike Kill told The Independent.
"Unless we know when and if those people are going to be vaccinated it's very difficult to say whether a health passport would work. Are we just talking about attaching a QR code to a ticket to show that someone is safe to come in?"
He also said that rapid testing offered the best hope for reopening businesses within the UK's night time and hospitality industry.
"We need to know what the timeline is for reopening; we need to know what the benchmarks are for us to move to the next stage," Mr Kill added. "At the moment we are left hanging, not part of a consistent strategy. It's boom and bust, open and close, which is not good for anyone in the long term."
Beyond the UK, the Danish Ministry of Health announced last November it is working on official documentation to show whether or not a person has received a Covid jab. 
The Australian airline Qantas has meanwhile said passengers must be vaccinated against Covid-19 before boarding a flight, once supplies are made available. Alan Joyce, the airline's chief executive, said he believed a vaccine would become "a necessity" for international travel.
UK news in pictures

Show all 51
Dr Alexander Edwards, an associate professor in biomedical technology at the University of Reading, said that proof of vaccination against other diseases is already required when entering certain countries, pointing to the example of yellow fever.
However, he said there were too many scientific unknowns at play to commit to the idea of introducing vaccine certificates to the wider economy.
"It comes down to how much data we have and how much we need," he told The Independent. "If we have transmission reduced by a vaccine, it's pretty likely that it's going to be a proportional reduction – that it won't prevent all transmission.
"We therefore need to somehow decide what is an acceptable level of risk. If you have a restaurant that is open, that individual might be twenty times less likely to transmit Covid if they've been vaccinated than if they hadn't, but do we accept to be an acceptable risk in a restaurant?
"I suspect you can only make decision about reopening hospitality venues based on a bigger consideration of risks to the community, such as the local infection rate, than just something like a vaccine certification scheme."
Stephen Evans, professor of pharmacoepidemiology at the London School of Hygiene & Tropical Medicine, said there was also a "danger of giving false reassurance" through the proposed scheme.
"We've seen evidence of fabricated test results and there's every reason to expect forgeries of vaccine passports," he told The Independent.
A recent survey of 6,000 people in Britain found that nearly two-thirds (59 per cent) have reservations about vaccine passports. 
Some 73 per cent of people feel they will be useful tool against the spread of the virus, according to the poll conducted by Piplsay, a global consumer insights platform.
Join our new commenting forum
Join thought-provoking conversations, follow other Independent readers and see their replies