Evidence 'very mixed' on using vaccine passports to increase uptake, says Sage member
Downing Street is pushing ahead with plans to introduce health passes for large indoor venues and mass gatherings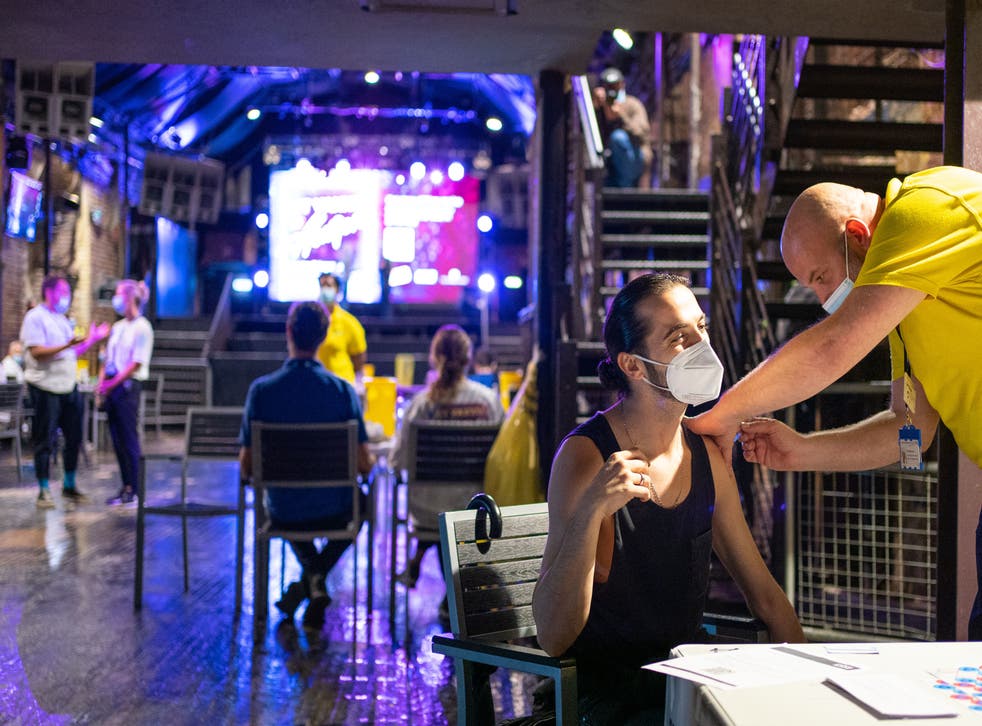 The evidence is "very mixed" on whether vaccine passports can encourage wary members of the public to get fully jabbed, a leading scientific adviser to the government has said.
Professor Neil Ferguson, a member of the Scientific Advisory Group for Emergencies (Sage), said that restricting entry to nightclubs and other large indoor venues to vaccinated individuals only will help to reduce Covid transmission.
However, he warned that vaccine passports could "harden" the views of people reluctant to get double jabbed and "may well not be very effective" at increasing uptake. It is for politicians, and not scientists, to ultimately decide on such a policy, Prof Ferguson added.
The comments follow cross-party criticism raised against the government after it confirmed plans to press on with the introduction of vaccine passports for large indoor venues and mass gatherings, despite previously pledging not to implement the measure.
Vaccines minister Nadhim Zahawi said on Sunday that introducing such a requirement within these settings is the "right thing to do" to ensure the whole economy remains open and avoid another national lockdown.
Prof Ferguson, an epidemiologist at Imperial College London, said it is "understandable that we demand vaccination as a risk mitigation strategy" when it comes to foreign travel, but that within our own borders different measures can be taken.
During an online conversation with Bronwen Maddox, director of the Institute for Government, he said that restricting entry to nightclubs to only the double-jabbed "will reduce the risks of transmission in those venues".
But he added: "I think the evidence is very mixed as to ... whether that's an effective strategy.
"I think, in some sense coercion often hardens people's views and if somebody is resistant to being vaccinated, these sort of measures may well not be very effective at increasing vaccine uptake. In the people more in the middle who haven't quite got round to [getting a jab], it may well have an effect."
Prof Ferguson, whose modelling was instrumental to the UK going into lockdown in March 2020, said he has "some sympathy" for requiring health and care workers to be vaccinated, due to the risks posed to people they look after.
UK news in pictures

Show all 50
He said: "As for the broader societal, ethical, political question of 'Should we be coercing people to have a particular medical treatment?' I think that's a very difficult one.
"I think I would probably draw a distinction between NHS frontline healthcare workers and care workers, where I think the risks posed to vulnerable people in their care are such that I have some sympathy with requiring such people, you know, their carers to be vaccinated, compared with other measures for instance around nightclubs."
He said alternative risk mitigation measures for such environments with mass gatherings could include using lateral flow tests.
He added: "But these things are subtle judgments and really not scientific judgments, they're really political judgments."
Prof Ferguson also said that he expected the UK's four chief medical officers to approve use of the Pfizer vaccines for 12- to 15-year-olds, after the vaccines watchdog opted against a recommendation.
"I think there are population benefits in vaccinating that age group," he said. "Vaccinating that age group would drive down transmission in the population as a whole, it would protect the more vulnerable."
Join our new commenting forum
Join thought-provoking conversations, follow other Independent readers and see their replies