Pregnant women to be offered Covid vaccines after research shows jabs are safe
'This move will empower all the pregnant women in the UK to make the decision that is right for them,' says expert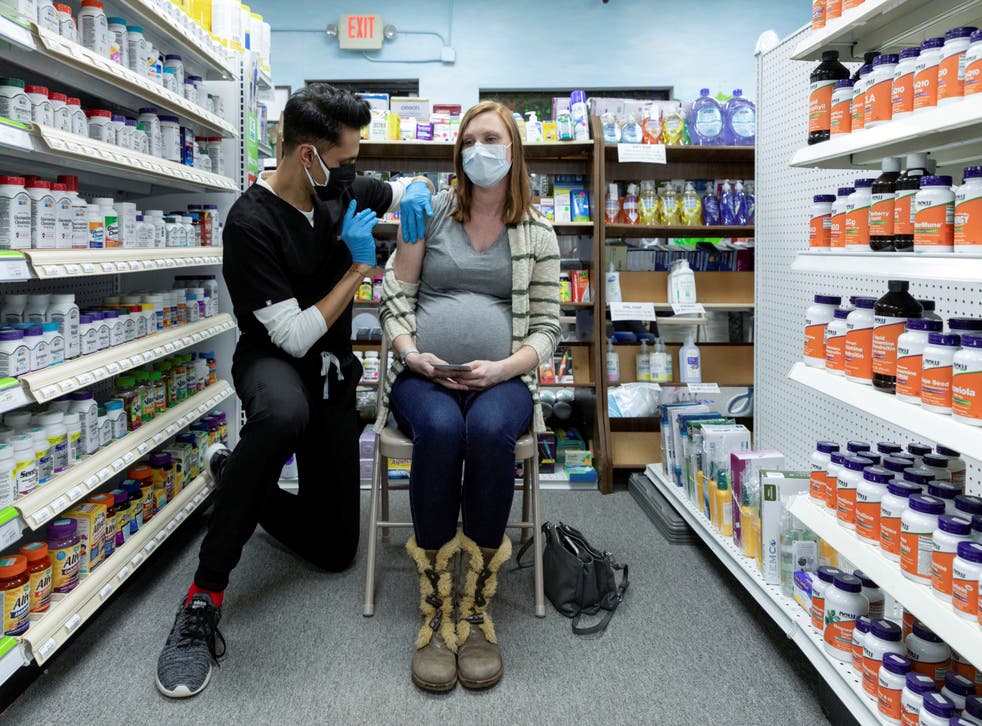 Pregnant women are to be offered a Covid vaccine, government scientists have said, in a move welcomed by experts and campaigners.
In a departure from its previous stance, the joint committee on vaccination and immunisation (JCVI) said that expectant mothers should receive the jab at the same time as the rest of the population after data from the US showed around 90,000 pregnant women have been vaccinated without any safety concerns being raised.
The JCVI added it would be "preferable" for pregnant women to be offered the Pfizer or Moderna vaccines where possible. The decision not to recommend the AstraZeneza vaccine was not due to blood clot concerns, but a result of a lack of relevant data for the jab.
"There is no evidence to suggest that other vaccines are unsafe for pregnant women, but more research is needed," said a statement issued by the Department of Health and Social Care on Friday.
Around 700,000 women give birth in England and Wales every year. Women are thought to be at a greater risk from severe Covid in later pregnancy and infected women are two to three times more likely to give birth prematurely.
Experts said the updated advice on vaccines would "empower all the pregnant women in the UK to make the decision that is right for them".
Professor Wei Shen Lim, Covid-19 chair for JCVI, said: "We encourage pregnant women to discuss the risks and benefits with their clinician – those at increased risk of severe outcomes from Covid-19 are encouraged to promptly take up the offer of vaccination when offered.
"There have been no specific safety concerns from any brand of Covid-19 vaccines in relation to pregnancy. There are more real-world safety data from the US in relation to the Pfizer-BioNTech and Moderna vaccines in women who are pregnant – therefore, we advise a preference for these to be offered to pregnant women."
Dr Mary Ramsay, head of immunisation at Public Health England, said the data "provide confidence" that vaccines can be offered to pregnant women.
It is thought the vaccine rollout has saved at least 10,000 lives and has helped cut emergency admissions for the over 80s by 75 per cent.
The husband of Mary Agyeiwaa Agyapong, a nurse who died after contracting the coronavirus days after giving birth, said he hoped the extension of vaccines to pregnant women would prevent other families suffering the pain his family had endured.
"I lost my wife, and she has left two kids behind. No family would want to see their pregnant wife go to hospital and not come home with her baby," Ernest Boateng told The Guardian. "If we are confident that these vaccines are going to be safe and it's the best clinical decision then that is something we all want, we all want to see pregnant women protected. I welcome anything that is positive to make sure we are offering pregnant women the best support. But even with a vaccine we still need to keep other measures to help pregnant women – they need protecting."
The new advice was welcomed by the Royal College of Obstetricians and Gynaecologists (RCOG) and the Royal College of Midwives (RCM).
Dr Edward Morris, president of the RCOG, said: "Vaccination offers pregnant women the best protection from Covid-19, which can be serious in some women.
"We believe it should be a woman's choice whether to have the vaccine or not after considering the benefits and risks and would encourage pregnant women to discuss with a trusted source like their GP, obstetrician or midwife, or a healthcare professional in a vaccination centre.
"This move will empower all the pregnant women in the UK to make the decision that is right for them, at the same time that the non-pregnant population in their age group receive protection from Covid-19."
Dr Mary Ross-Davie, director for professional midwifery and Covid-19 vaccine lead at the RCM, said: "Ultimately it will be a woman's choice and midwives and obstetricians will be there to support them to make an informed decision that is right for them.
"It is now vital that the national vaccination programme, GPs and maternity services are supported to develop systems and procedures that support women who wish to have the vaccine to have it as easily as possible."
In January the World Health Organisation dropped guidance warning against vaccinating pregnant women. Its updated advice said there was was still "very little data" available to assess vaccine safety in pregnancy but no reason to "believe there will be specific risks that would outweigh the benefits".
Helen Donovan, the Royal College of Nursing's professional lead for public health nursing, said: "For ethical reasons, a vaccine trial involving pregnant women is not an option. But real-world data has now informed how we can take the UK's Covid-19 vaccine programme further.
"We encourage women to talk to their midwife if they have any concerns around having the vaccine."
Join our new commenting forum
Join thought-provoking conversations, follow other Independent readers and see their replies