'This can change everything': Hope and high spirits as Covid vaccine sites open their doors across England
More than 100 centres across England have begun administering the Covid vaccine – a week after it was first made available in UK hospitals. Samuel Lovett went to meet some of those at the front of the line to get their first doses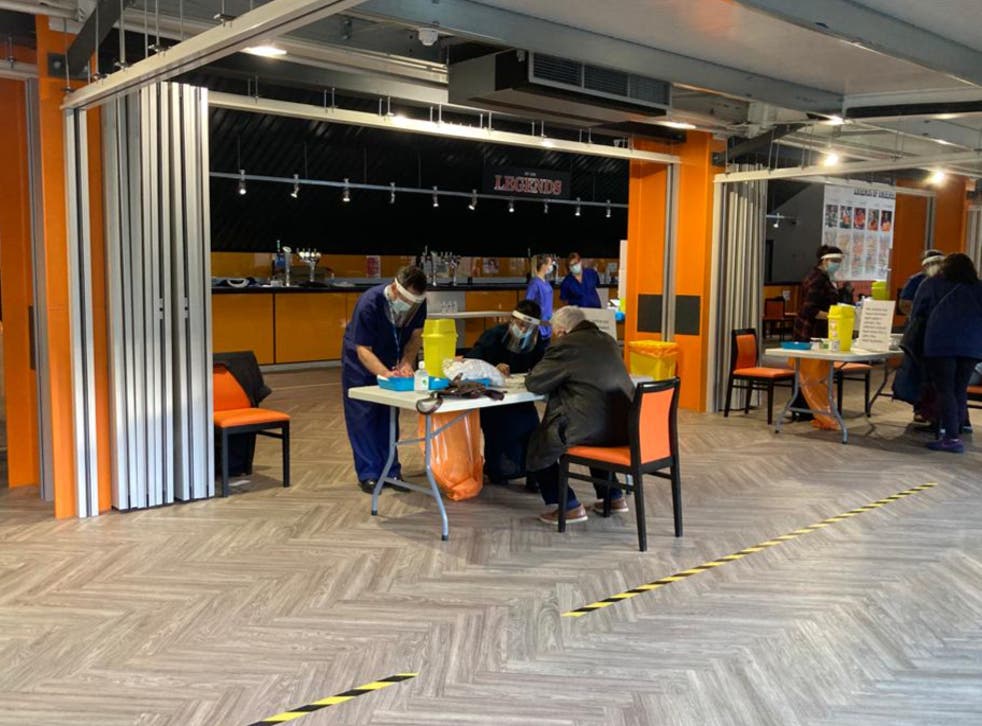 June Pleass may have another vaccine dose to come, but the 86-year-old grandmother from Harrow is already thinking of getting her life back on track. "I'll be out on the town after I've had my second jab," she laughs, drawing a smile from all those in earshot.
Under observation for any side-effects – but feeling "absolutely fine" – she's one of roughly 350 people to have received their first dose of the Covid-19 vaccine here at The Hive Stadium in north London – home to Barnet FC and, for now, one of the capital's first GP-led vaccination clinics.
The site opened its doors to Harrow's most vulnerable residents on Tuesday, as the NHS continues to expand its nationwide vaccination programme. More than 100 centres across England, based largely in local surgeries, have begun administering doses – a week after the vaccine was first made available in UK hospitals.
"It feels good to play my part," says Pleass, who suffers from a heart condition and spent 20 weeks shielding during the earlier stages of the pandemic. The vaccine, she adds, means she can look forward to some degree of normality in the new year.
"I'm delighted quite honestly. If no one had gotten a vaccine with all the previous diseases we've faced, we'd be in the dark ages still."
She's also full of praise for the efficiency of the vaccination site, its staff – who have been drafted in from nearby GPs – and the seamlessness of the whole operation, led by Dr Meena Thakur, clinical director for Harrow East Primary Care Network.
"The speed at which it's been done, you can give nothing but praise," Pleass tells The Independent. "I was called on the Friday morning by my surgeon to see whether I was willing. I said yes. Saturday evening at 5.45pm, I had a telephone call giving me an appointment. And now I'm here. It's brilliant."
The clinic is being run out of the west stand of The Hive, in one of the stadium's many bar areas. Five separate vaccination stands – each manned by two NHS staff – have been set up, with another five due to be added on Thursday to double the site's capacity.
According to Christine Bushell, the training lead for all primary care nurses in Harrow, staff here have perfected the process of questioning patients and then administering the dose in just 7.5 minutes.
A first supply of 975 vaccine doses were delivered to the centre on Tuesday morning, with another load set to arrive later this week. The intention is to get through each batch in three and a half days, meaning staff will need to vaccinate roughly 350 people per day.
"It's been really exciting," Bushell tells The Independent. "There's so much we're tweaking as we go along. Our IT systems were a bit slow to start with, which caused an initial queue early on and meant it took time to take peoples' details. The actual vaccinating has been the easy bit."
It hasn't been easy getting to this stage, though. Dr Thakur says her network was only notified a week and a half ago that it had been selected as a wave-one site for the national rollout, at which point she approached Barnet FC to see if they'd be willing to get involved. "It was all hands on deck, 24 hours, 7 days a week, trying to get this stadium set up," she tells The Independent. "To convert it into a mini hospital in a way, a GP-led vaccination centre, has been a lot of work logistically. There's also lot of training to be done behind the scenes, particularly on the Covid vaccine and also the infection control and life support training we've had to do."
Dr Thakur says that local GP practices have had to release some of their nurses to help out at the site, while some of her colleagues have taken on extra shifts to ensure the centre is fully staffed.
After that, it was a case of getting patients on board and booked in. Harrow has more than 10,000 residents aged 80 and over, so people had to be prioritised on factors including whether they could physically make it to the centre, if they have certain health conditions, such as diabetes, or are from an ethnically diverse background, making them more vulnerable to the virus.
There were also fears that vaccine hesitancy could hinder the rollout. "We were concerned there was going to be a lot of reluctance from people about the vaccine," Dr Thakur says. "In meetings we've had with patients, for everyone who said they'd have it, there was someone who said they wouldn't or were anxious. It seemed to be 50/50."
But such concern quickly dissipated at the sight of a long queue snaking around the side of the stadium on Tuesday morning, with local residents eager to roll up their sleeve and receive the vaccine. "It was so heartening to see," she says. "I just hope that continues."
The team here are under no illusions that this is day one of a long process that will stretch well into 2021 and beyond. Already, the GP side of the national vaccination programme has been hit by delays.
One surgery in Kent was forced to cancel 80 vaccination appointments set for Monday after a delivery was postponed. A GP in Southport, Merseyside cancelled 128 appointments for the same reason.
Dr Thakur says some of primary care network colleagues have been hit with similar issues, calling into question whether the government will be able to keep to its timeline of vaccinating the entire population by the end of April.
"The vaccine is trickling in," says Dr Thakur. "We don't know when we're going to get it. It was only Sunday I was told we were going to get it today for sure. I know I'm getting the second batch on Thursday. If I'm getting anymore this side of Christmas, I don't know. There's been lots of delays."
Hopes continue to be pinned on the vaccine developed by Oxford University, which is currently being assessed by the regulators. This particular candidate, of which the UK has pre-ordered 100 millions doses, can be stored at normal fridge temperature, meaning it does not pose the same logistical challenges.
"For this programme, we're waiting for the AstraZeneca vaccine to come in so we can go to our most vulnerable patients, our care home and housebound patients, who we're not currently able to vaccinate," says Dr Thakur.
But despite such uncertainty and challenges, spirits remain high here in this corner of north-west London. "I think by Easter it'll be a very different world again," says Bushell. "Once we've protected our vulnerable people, we'll all be able to relax a little bit. This can change everything."
Register for free to continue reading
Registration is a free and easy way to support our truly independent journalism
By registering, you will also enjoy limited access to Premium articles, exclusive newsletters, commenting, and virtual events with our leading journalists
Already have an account? sign in
Register for free to continue reading
Registration is a free and easy way to support our truly independent journalism
By registering, you will also enjoy limited access to Premium articles, exclusive newsletters, commenting, and virtual events with our leading journalists
Already have an account? sign in
Join our new commenting forum
Join thought-provoking conversations, follow other Independent readers and see their replies