Covid vaccines have prevented nearly 100,000 deaths in England, official figures suggest
The latest estimates also indicate that 82,100 hospital admissions have been averted, along with up to 24.4 million infections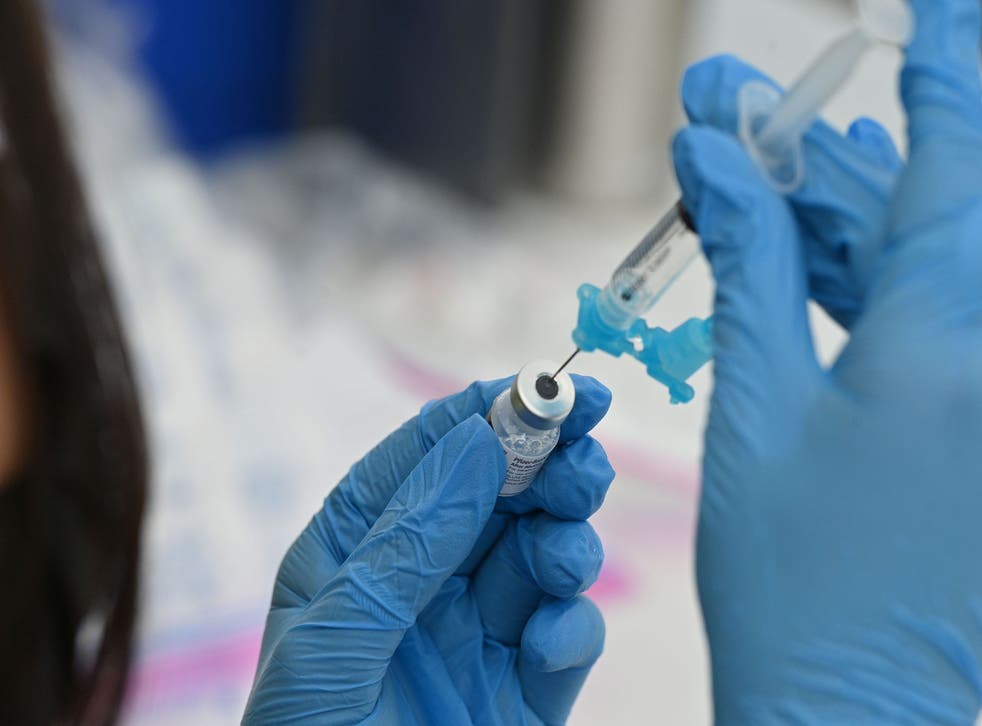 The Covid-19 vaccines are estimated to have prevented nearly 100,000 deaths in England, official figures suggest.
Between 91,700 and 98,700 fatalities have been avoided since the national rollout began in early December last year, Public Health England said.
The latest estimates also indicate that 82,100 hospital admissions have been averted, along with up to 24.4 million infections.
Dr William Welfare, Covid-19 incident director at PHE, said: "The pandemic is not over but vaccination is weakening the link between infection and serious illness."
A total 73,982,159 vaccines have been given in England, according to government data, including 39,771,795 first doses and 34,210,364 second doses.
It comes as the Joint Committee on Vaccination and Immunisation continues to weigh up the benefits of offering Covid booster jabs to people in the UK.
The vaccines watchdog met on Thursday to discuss the matter but, due to a lack of clear and definitive evidence, has yet to reach a conclusion on which groups to vaccinate with a third dose, and whether the wider programme is needed at all.
There are concerns within the JCVI that pushing booster jabs on the public could also dent wider vaccine confidence, discouraging people from coming forward for future vaccinations, one source said.
"We must stress the need for all eligible adults to have two Covid vaccines wherever possible to protect themselves and to reduce transmission to others," the source added. "This is still much more important than consideration of boosters."
As a result of the ongoing discussions, it's expected the autumn programme will no longer start at the beginning of next month, as initially envisioned by health officials.
In June, the JCVI told ministers to start planning for the roll out of boosters ahead of a feared winter wave. If those recommendations are eventually enforced, the clinically vulnerable, frontline health workers, care home residents and those living with immunosuppressed individuals will all be invited to receive a third dose.
New figures from the Office for National Statistics have meanwhile shown that 94.2 per cent of adults in the UK are now likely to have Covid-19 antibodies, although levels might be dropping among older age groups.
An estimated 92.8 per cent of 75 to 79-year-olds in England had Covid-19 antibodies in the week beginning 26 July, down from 94.4 per cent a month earlier.
For people aged 70 to 75, the figure has dropped from 94.9 per cent to 92.9 per cent over the same period. For those aged 80 and over it has fallen from 92.9 per cent to 92.4 per cent.
A similar trend is evident in the other UK nations.
The estimates are based on a sample of blood tests taken from people in private households, and do not apply to healthcare settings and care homes.
Paul Hunter, professor of medicine at the University of East Anglia, said falling antibody levels in older age groups "does not mean that people who have been antibody-positive, but then become negative, lose all protection."
"The evidence is that protection against severe disease, though never 100 per cent, will last rather longer than antibody protection against infection," he added.
Separately, case rates in England remained "stable" in the week up to 15 August, according to PHE's latest surveillance report.
Infections were highest in those aged 20 to 29, with a 7-day rate of 610.3 per 100,000 population, and lowest in 80-year-olds and above, at 460.7 per 100,000.
Yorkshire and the Humber has the highest seven-day case rate (362.9), while the East of England has the lowest (265.2).
The hospital admission rate for England has risen slightly in the latest week, from 6.93 per 100,000 to 6.75. Hospitalisations continue to be highest in those aged 85 and above.
PHE also said that the number of pregnant women getting vaccinated against Covid-19 has risen by a fifth in recent weeks.
UK news in pictures

Show all 50
It follows a concerted effort by health officials to reassure expectant mothers about the safety of the jabs.
A total of 62,311 women, who reported they were pregnant or could be pregnant at the time of receiving the vaccine, had come forward and received their first dose by the end of July, PHE said.
The number is up by 10,587 from 18 July, when data released for the first time suggested only around one in 10 pregnant women might have had a first dose.
PHE said that, of the latest total figure, 43,737 pregnant women had received their second dose.
Join our new commenting forum
Join thought-provoking conversations, follow other Independent readers and see their replies