Diabetes-detection dogs help patients avoid serious blood sugar crashes, first large trial finds
Detection dogs spotted 83 per cent of more than 4,000 episodes of unacceptably high or low blood sugar during trial, and provided a quicker alert than other monitors in some cases
Alex Matthews-King
Health Correspondent
Tuesday 15 January 2019 19:55 Comments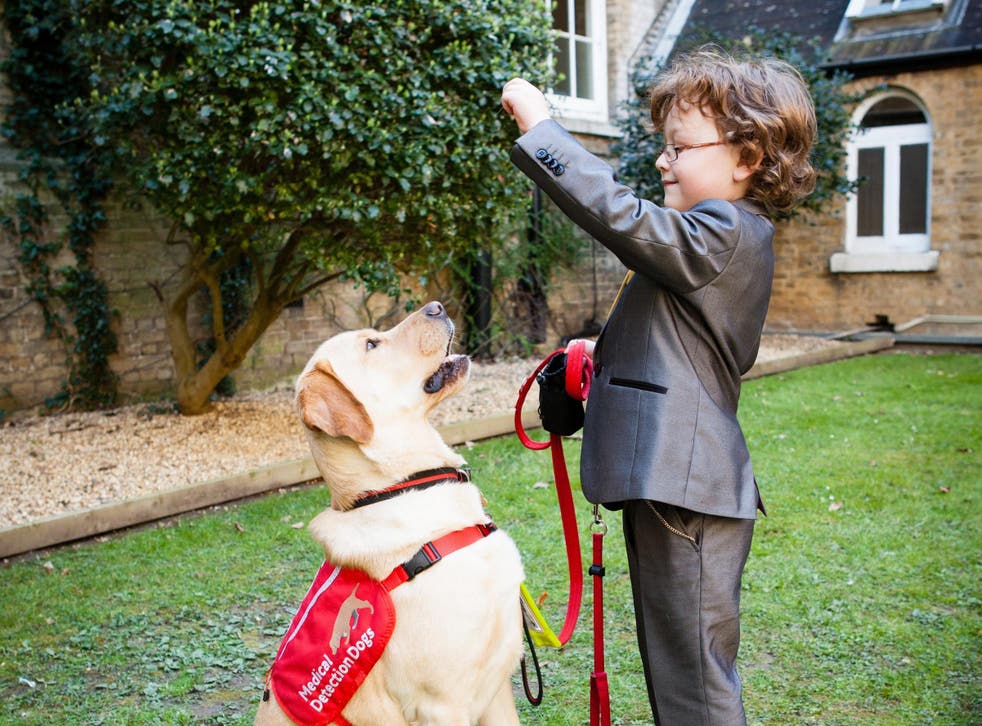 Dogs trained to sniff out life-threatening blood sugar crashes in people with type 1 diabetes have been shown to effectively spot the condition, which can render patients unconscious, in the first large-scale trial of its type.
The University of Bristol research found medical detection dogs were able to spot 83 per cent of more than 4,000 episodes of hypoglycaemia (low blood sugar) and hyperglycaemia (high blood sugar), minimising the risk of harmful health complications.
They can be particularly effective in monitoring patients who might have unexpectedly low glucose levels at night or for young people who are less able to keep track of their blood sugar with a conventional device.
This was the case for Archie, who was diagnosed with type 1 diabetes just after his first birthday and, after years of night-time hypoglycaemic attacks, was paired with two-year-old Labrador Domino, by charity Medical Detection Dogs (MDD).
"Before Domino we were in a void, we never knew where to turn, we were unsettled," Archie's mum Jayne said. "He has brought sunshine into our lives – he is the last piece of the jigsaw. Now we are sleeping more, relaxing and feeling like a whole family."
While Archie has a carer at school to check his blood sugar, Domino takes over the role at night and is his constant companion when the family are out, providing more than 1,300 alerts since arriving in 2015.
"He is my best buddy and he helps me feel safe," Archie says. "If I'm not well he'll tell mummy and daddy and I won't have to go to hospital. I can eat, go to bed and feel safe and happy."
The Bristol study found the dogs "vastly improved" their owners' quality of life by giving them peace of mind over their condition as well as other psychological benefits.
"Our study provides the first large-scale evaluation of using medical detection dogs to detect hypoglycaemia," said lead author Dr Nicola Rooney from the university's Bristol Veterinary School.
Some patients with type 1 diabetes are now eligible for wearable blood sugar monitors which provide a constant reading of glucose levels, but while no system is perfect Dr Rooney said the dogs sometimes outperformed these devices.
"Both can be important aspects of a diabetes care package," she told The Independent. "Reports and records suggest that in some instances the dog is ahead of devices – dogs can alert parents in a different room, and they have added benefits of not being invasive and fulfilling social functions as well.
"Some owners have anecdotally reported that the buzzing of a machine alert merely reminds them that they had something wrong with them.
"In contrast, being able to interact with a dog who is alerting them to a glucose rise or drop promotes some happiness in what is otherwise a recurring and burdensome event."
Support free-thinking journalism and attend Independent events
Where blood sugar falls outside of an acceptable range, the medical detection dogs are trained to alert their owners through nuzzling or licking so they can take an insulin injection to reduce blood sugar or eat something to boost it.
Dr Claire Guest, chief executive and co-founder of MDD, said: "The findings are fantastic news for all those who are living with type 1 diabetes and other conditions."
The charity was set up in 2008 and trains the animals in tandem with NHS trusts and families. It has trained dogs to support patients with seizures, nut allergies and other conditions.
It also trains dogs for detecting other biological substances and diseases, such as malaria.
Register for free to continue reading
Registration is a free and easy way to support our truly independent journalism
By registering, you will also enjoy limited access to Premium articles, exclusive newsletters, commenting, and virtual events with our leading journalists
Already have an account? sign in
Join our new commenting forum
Join thought-provoking conversations, follow other Independent readers and see their replies