District nursing crisis 'means Boris Johnson's NHS plan is undeliverable'
Staff forced to work a day of unpaid overtime every week – but health officials warn nurses already working at full capacity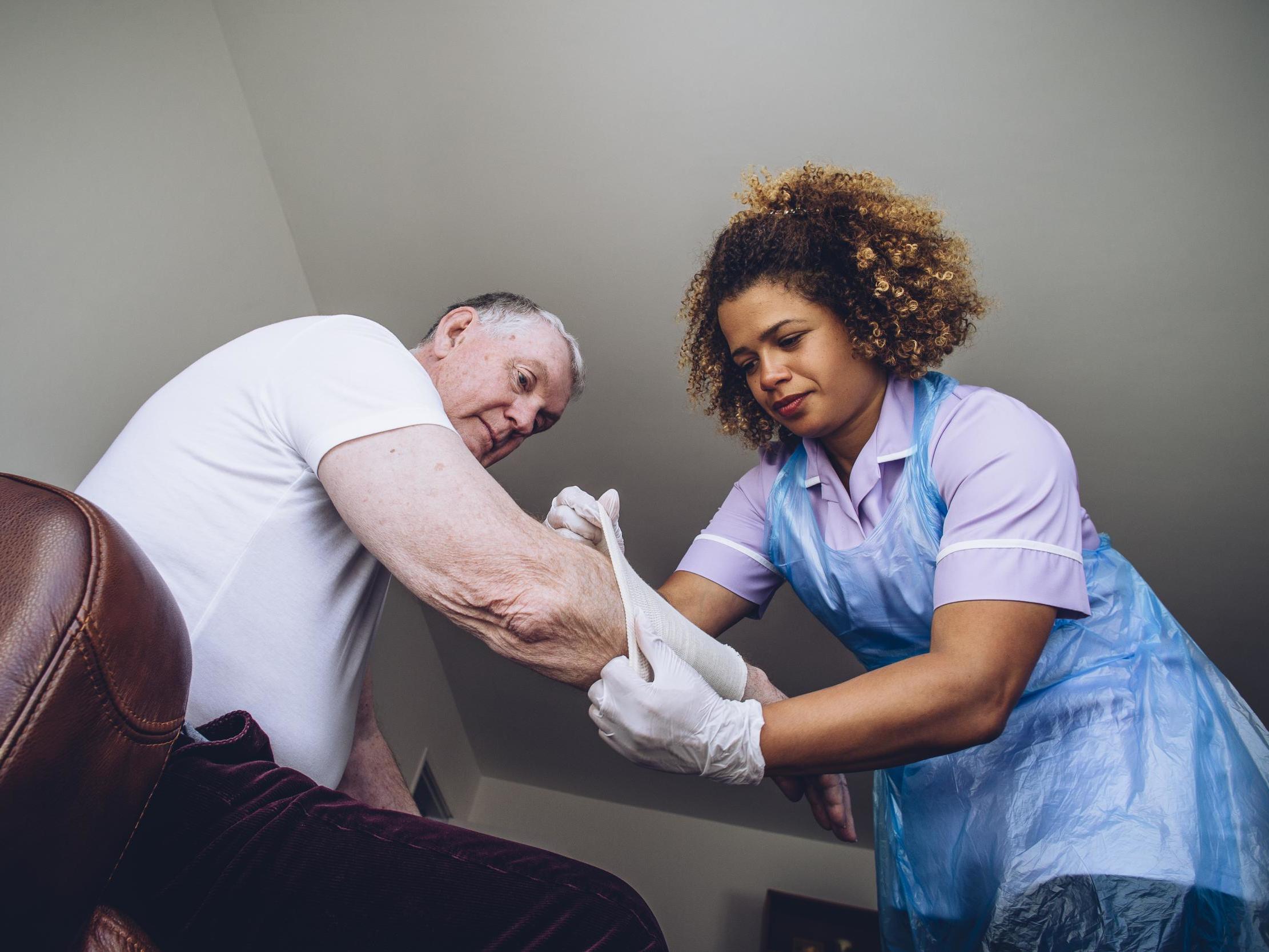 Community nurses are being forced to delay patient care on a daily basis as health leaders warn the government's plans for the NHS are undeliverable without significant investment.
New data has revealed district nurses, who deliver complex care in people's homes to help them recover and stay out of hospital, are being forced to work an extra day of unpaid overtime every week to try to meet the relentless demand for their services.
Three-quarters of teams have vacancies and recruitment freezes and since 2010 the number of NHS district nurses has dropped from more than 7,000 to just over 4,000 in the past 10 years.
The problem is now becoming so severe NHS bosses have been told their plans to transform the way the NHS works by caring for more patients at home will fail without the number of district nurses in training being doubled.
Crystal Oldman, chief executive of the Queen's Nursing Institute (QNI), said: "District nursing is the backbone of nursing services in the UK. Every village and town will have access to a district nurse.
"But the pressures we are under mean that without a coherent workforce plan for district nursing the NHS long-term plan will be undeliverable.
"Hospitals already under pressure would be under even greater pressure if people can't be cared for in their own homes and communities."
Dr Oldman warned the numbers of district nurses being trained every year had been held at just 500 for three years. That number needed to be at least doubled, she said.
"The NHS has missed the opportunity to recognise the value of district nurses."
The QNI, a charity which supports community nursing, has now launched a new data observatory to track trends in community nursing and in its first survey of more than 2,800 district-nurse team leaders it found evidence of major pressure on the service posing a direct threat to patient safety.
According to the data, 48 per cent of teams were delaying either visits or care on a daily basis with 75 per cent reporting their teams have vacancies and frozen posts.
Other findings include:
Almost 30 per cent of teams had a caseload of more than 400 patients
One in five are working a day or more of unpaid overtime every week
A third of nurses had no support staff for help with admin tasks
60 per cent are aged over 45 and nearly half plan to retire or leave their jobs in the next six years
Professor Alison Leary, director of the new International Community Nursing Observatory said: "Right now, with district nursing, we are seeing a perfect storm with a set of circumstances that – if left untended, without intervention from government, directly threaten patient safety.
"We need to seriously address what that crisis will look like for local communities in the future and what such a shortage of qualified district nurses will mean for people in our community with complex care needs who desperately need caring for at home."
Liz Alderton has been a district nurse for more than 32 years and leads a team of nurses working in northeast London.
She told The Independent: "The volume of work has increased incredibly. People are being discharged much earlier from hospital and staying at home with far more complex needs.
"My nurses really are working at full stretch all the time and there is no capacity to do extra."
Ms Alderton said on one day in November she had 12 nurses for 170 visits to patients that day with the team having to do extra by the day's end after an agency nurse failed to turn up.
"There is no slack. The pressure is really intense. There are always things we haven't done," she said.
Join our commenting forum
Join thought-provoking conversations, follow other Independent readers and see their replies