Doctors 'being pressurised into manipulating patient records to meet A&E targets'
Exclusive: Senior managers are encouraging doctors to participate in 'fraudulent' activity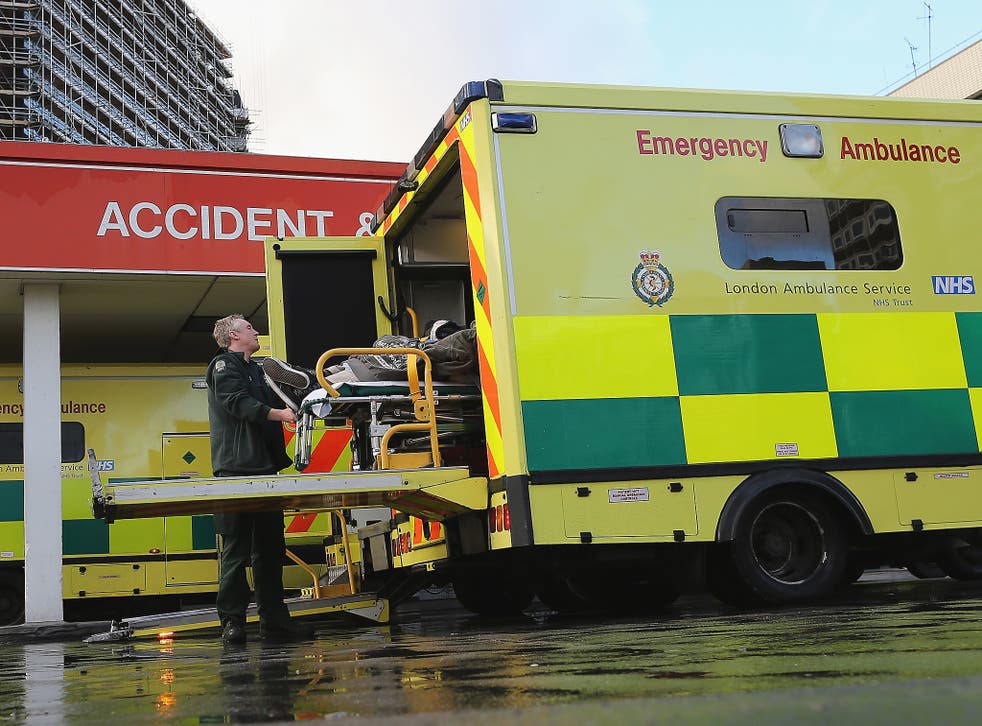 NHS doctors are being pressured into manipulating patient records to ensure hospitals do not miss waiting-time targets, according to frontline medics.
Senior managers are allegedly encouraging doctors to participate in fraudulent activity and whistleblowers say patient safety is being put at risk as trusts look to avoid breaches.
Hospitals are expected to have treated, assessed or discharged patients within four hours of entering A&E, and no patient should wait longer than 12 hours before being admitted to a ward, according to government rules.
A breach of 12-hour targets has resulted in financial penalties from NHS England and an A&E doctor from the north of England said pressure is often applied to ensure the target is not missed.
The doctor said on one occasion instructions were given by a senior member of staff to make alterations to a patient's records to "find a reason to change the admittance time".
The request was refused as it was "fraudulent" and there were no medical reasons to make the changes.
Meanwhile, an A&E consultant from the south of England said there were various ways to manipulate the statistics, including moving patients around the computer system to give the impression they had been relocated to elsewhere in the hospital.
Jeremy Corbyn accuses Theresa May of committing the NHS to 'death by a thousand cuts'
"This results in the computer system saying one thing about the location of a patient, while the reality is different. This sometimes leads to confusion," the consultant told The Independent. "It is also common practice to discharge patients and then readmit them to 'reset the clock'."
Labour's Shadow Health Minister, Justin Madders MP, described the revelations as "shocking" and said it had "direct implications for patient care".
"Jeremy Hunt must urgently explain why frontline clinicians, already under unprecedented pressure, are being pushed into 'manipulating' data to avoid missing nationally mandated targets and if he was aware of these appalling actions.
"During the worst winter crisis on record, in which bed occupancy has consistently reached 10 per cent higher than safe levels, what's needed is an urgent funding settlement and not more Tory failure," Mr Madders said.
The steps being taken to avoid breaching the targets have also been described as a "risk to safety", and a junior doctor working in A&E added that decisions were being taken based purely on targets as opposed to medical reasons.
"There is a huge amount of pressure around the hospital to reach the target and what happens is the most important patient becomes the one who is reaching their target time," the doctor told The Independent. "It's a risk to safety as it puts a lot of pressure on".
Dr Amar Mashru, an A&E registrar, said: "The definition of both is variable between hospitals and is manipulated at every level, from the Department of Health to the bed manager's clipboard. Of course it is – the ramifications of not doing so are too severe for all involved.".
Health news in pictures

Show all 40
Dr Taj Hassan, the president of the Royal College of Emergency Medicine, said A&E statistics did not provide an accurate picture of waiting times and added that "staff should never be put in a position where they are asked to compromise the quality of data being collected".
"The 12-hour wait statistics for England in no way reflect the actual time the patient is kept waiting and we suspect that the number of breaches is actually much higher than is being reported. The college has long argued for this metric to be changed to start at the moment the patient arrives," Dr Hassan said.
Hospitals have their own methods of lowering the recorded waiting times and Doncaster and Bassetlaw Teaching Hospitals offer a ticketing system to reduce the time that is declared.
Patients take a number when they enter the A&E and when it is called they register at the desk – which is when the clock starts ticking.
One doctor from Doncaster told The Independent that at times patients could be waiting for two hours before they are called to register – a period which is excluded from the statistics.
David Purdue, chief operating officer at Doncaster and Bassetlaw Teaching Hospitals, said the trust was fully compliant with all national guidelines.
"When the emergency department becomes busy, a queue may form. To address this we increase the number of reception desks and have also introduced a ticketing system in order that patients can comfortably sit down before being called for their observation," Mr Purdue said.
An NHS England spokesperson said: "Latest figures from hospitals show a 10 per cent drop on last winter in long waits for admission from decision to admit, but if any individual has concerns about data recording they can refer them to their hospital's independent Freedom to Speak Up Guardian who can investigate."
Join our new commenting forum
Join thought-provoking conversations, follow other Independent readers and see their replies