Patients at risk with doctors at 'breaking point' and looking to quit in unprecedented numbers, GMC warns
Doctors adopting 'risky and unsustainable' compromises to maintain patient care and looking to quit NHS in 'unprecedented numbers', regulator says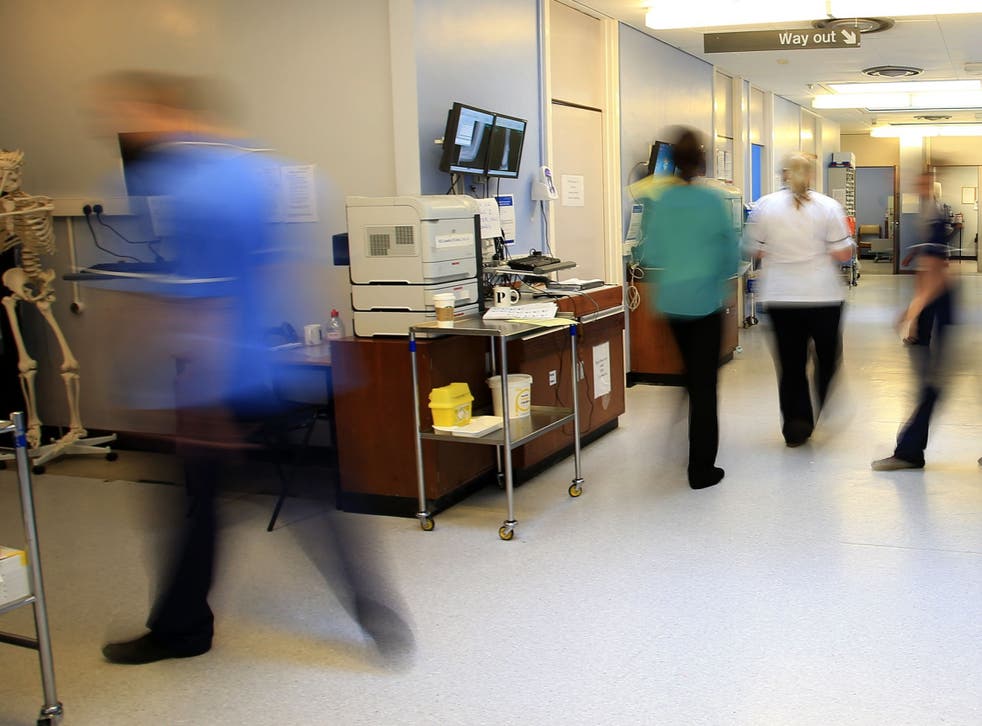 Patient safety is being put at risk by doctors on the "brink of breaking point" thanks to out of control NHS pressures, the UK's medical regulator has warned.
Ministers are running out of time to act as patient numbers continue to rise and staff are forced to make "risky compromises" to training and care, the General Medical Council (GMC) said.
With doctors at the limit of what can be done safely, the GMC warns doctors are looking to quit the health service in "unprecedented numbers".
In its report on the state of medical training and practise, a survey of more than 2,600 doctors revealed one in five are considering quitting Britain to work abroad in the next three years.
A similar number are considering working part time and many more are eyeing up early retirement, despite being in the middle of their career.
"The UK is running out of time to prevent a significant decline in workforce numbers, which risks patient safety," the authors said.
"The health system now faces a decline in what can be offered and how it is offered by doctors who are prioritising and compromising their work in an effort to maintain standards of care for their patients."
It sets out that doctors are adapting to cope with pressures but warns these strategies are "risky or unsustainable".
"The medical profession is at the brink of a breaking point in trying to maintain standards and deliver good patient care," the report adds.
A rising number of patients with complex health conditions along with a shortage of experienced staff and an unprecedented funding squeeze have heaped further pressure on the NHS.
To cope with the pressures, medical teams are neglecting training and adopting strategies which "prioritise immediate patient care and safety", such as making an unnecessary referrals or bypassing clinical checklists in order to get through the workload, it added.
Meanwhile doctors "acting up" or "acting down" – performing duties beyond or below their expertise – is becoming "normalised", the report adds.
The poll found that 21 per cent of 45 to 54-year-old doctors and two-thirds of 55 to 64-year-olds, intend to retire early, which the GMC said was particularly "concerning".
This comes against the "uncertainties of Brexit", with nearly one in 10 doctors in the UK originally from a European Union nation.
UK news in pictures

Show all 50
The British Medical Association (BMA) said this was the "spectre on the horizon" which could significantly undermine the NHS workforce in a matter of months.
"Demand for the NHS is rocketing, and patients are often suffering from a number of complex conditions, which is having a huge effect on doctors' workloads. Indeed, as this report finds, the majority are now working beyond their rostered hours at least once a week – a situation that is completely unsustainable," BMA chair Dr Chaand Nagpaul added.
Sir Terence Stephenson, chairman of the GMC, said: "Doctors are telling us clearly that the strain that the system is under is having a direct effect on them, and on their plans to continue working in that system.
"We've heard from doctors who are referring patients on to other parts of the system because they don't have the time to deal with their issues, understandably moving the pressure on to other parts of the service.
Support free-thinking journalism and attend Independent events
While pressures vary across the nation, the GMC wants a UK-wide workforce plan to ensure the right skills are in the right place.
A Department of Health and Social Care spokesperson said: "Doctors are the backbone of the NHS and there are currently record numbers providing patients with excellent, safe care.
"We are committed to improving doctors' work-life balance by expanding flexible working schemes and e-rostering and we are ensuring the NHS has the doctors it needs now and in the future through a 25 per cent increase in training places and opening five new medical schools.
"The government has secured the rights of all EU citizens in the UK and our dedicated EU doctors are among the first to be able to secure their settled status – underlining our commitment to them."
Register for free to continue reading
Registration is a free and easy way to support our truly independent journalism
By registering, you will also enjoy limited access to Premium articles, exclusive newsletters, commenting, and virtual events with our leading journalists
Already have an account? sign in
Register for free to continue reading
Registration is a free and easy way to support our truly independent journalism
By registering, you will also enjoy limited access to Premium articles, exclusive newsletters, commenting, and virtual events with our leading journalists
Already have an account? sign in
Join our new commenting forum
Join thought-provoking conversations, follow other Independent readers and see their replies