Families urged to contact inquiry into maternity deaths at NHS trust
Families urged to come forward with concerns about maternity care at East Kent hospital trust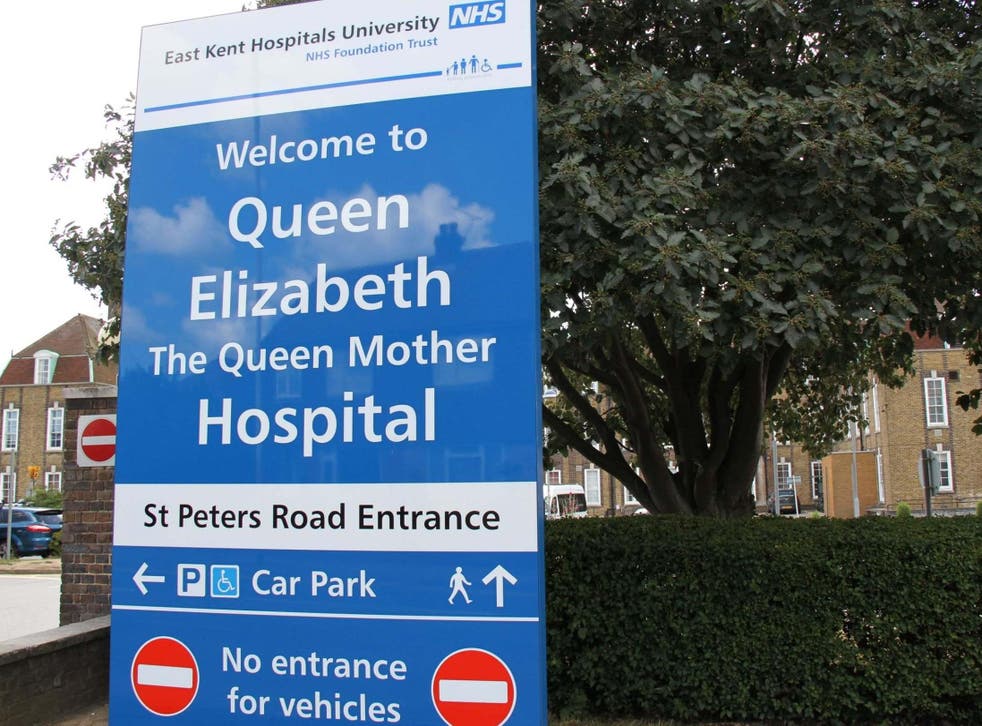 Parents who may have suffered poor maternity care at a scandal-hit NHS hospital have been urged to come forward to help an independent inquiry investigating avoidable deaths.
Dr Bill Kirkup, who is leading the inquiry into safety concerns at East Kent Hospitals University Trust has encouraged families who have concerns about the care they received to speak out.
He said parents could remain anonymous and their stories would be treated with confidence.
Dr Kirkup was asked to lead an investigation into the hospital after concerns over baby deaths after The Independent revealed the trust had seen more than 130 babies over a four-year period suffer brain damage as a result of being starved of oxygen during birth.
Concerns about the safety of maternity care at the trust's Queen Elizabeth, the Queen Mother, Hospital in Thanet prompted a review by the RCOG in 2016 which found a group of consultants who repeatedly refused to work evenings and weekends were leaving less experienced staff on their own. It also highlighted a poor safety culture with staff unwilling to raise concerns.
Health news in pictures

Show all 40
These failings were repeated in the case of Harry Richford more than a year later. An inquest into his death in January this year ruled he died as a result of neglect.
After his case was reported, more families have come forward complaining about the care they received.
In a message to families affected by care at the trust since 2009 Dr Kirkup, who led the inquiry into a major maternity scandal at the University Hospitals of Morecambe Bay in 2015, said: "As the chair of the investigation I would like to invite any families who wish to share their experience of the maternity and neonatal services at East Kent Hospitals during this time period to contact the investigation to talk about this.
"The investigation is looking at individual cases where there has been a preventable or avoidable death; a concern that the death may have been preventable or avoidable; a damaging outcome for the baby or mother; or where there is reason to believe the circumstances shed light on how maternity services were provided or managed or how the trust responded when things went wrong."
He added he would also be considering how the trust responded to "signals that there were problems" and how it engaged with regulators like the Care Quality Commission.
Dr Kirkup added: "I know the death of a child or mother, or their injury during childbirth, is a very distressing event in a family's life. I also know that sharing such experiences can be difficult and traumatic. We will listen compassionately and sensitively and will take steps to ensure all families that come forward feel appropriately supported.
"I will therefore make arrangements for any families to share with the Investigation their experience in private and to remain anonymous, if you would prefer to do so."
A spokesman for the East Kent Hospitals University Trust said: "We welcome the independent investigation and we will do everything we can to help Dr Bill Kirkup and his team."
Anyone wishing to contact the inquiry can email contact@iiekms.org.uk or call 01233 227709.
Register for free to continue reading
Registration is a free and easy way to support our truly independent journalism
By registering, you will also enjoy limited access to Premium articles, exclusive newsletters, commenting, and virtual events with our leading journalists
Already have an account? sign in
Register for free to continue reading
Registration is a free and easy way to support our truly independent journalism
By registering, you will also enjoy limited access to Premium articles, exclusive newsletters, commenting, and virtual events with our leading journalists
Already have an account? sign in
Join our new commenting forum
Join thought-provoking conversations, follow other Independent readers and see their replies