Mother-of-three becomes first woman in UK to have double hand transplant
'It is the normal things I am looking forward to most, being able to brush my daughters' hair and hold their hands,' says Tania Jackson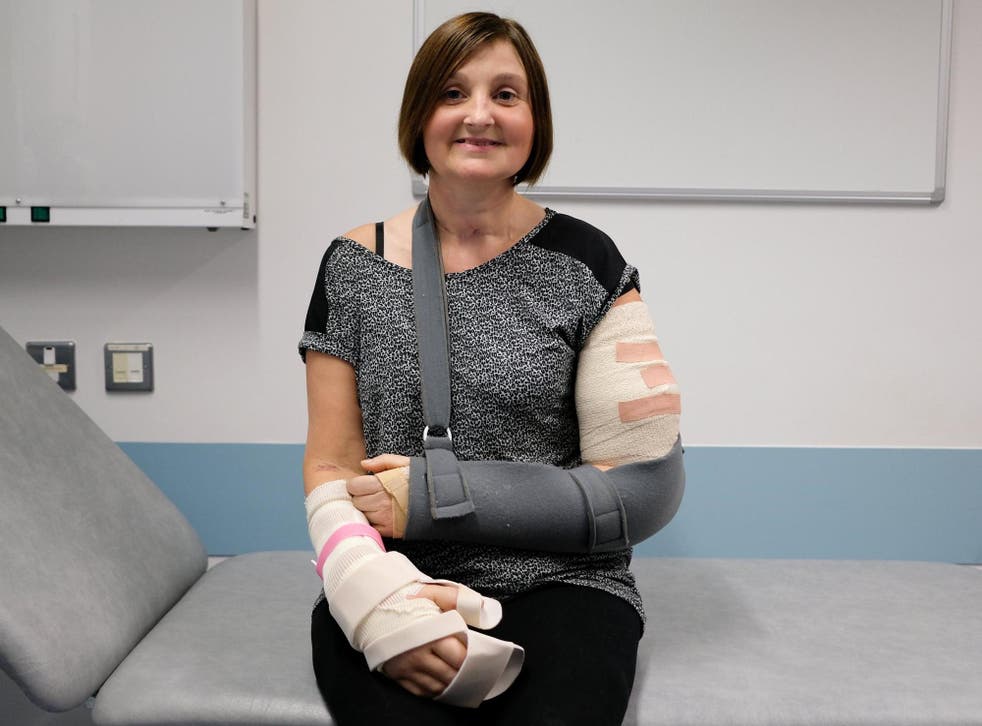 A mother-of-three who nearly died from sepsis has become the first woman in the UK to have a double hand transplant.
Tania Jackson, 42, said she was "excited for the future" after undergoing the successful 15-hour operation at Leeds General Infirmary last month.
The beauty therapist from Hull had spent two years on the waiting list for the procedure to replace her amputated left hand, part of her left arm and most of her right hand.
"I have all sort of emotions," she said. "It was such a major breakthrough. I can't wait to get my life back again and be independent.
"It is just the normal things I am looking forward to most, being able to brush my daughters' hair and hold their hands."
Ms Jackson, who has suffered from ulcerative colitis since her twenties, became seriously ill in March 2015 when her blood became infected.
She was taken to hospital by her husband Andrew, 40, after her stomach bloated and her fingers and toes started to turn black.
Doctors decided to wait and see if they could save as much of her limbs as possible but were eventually forced to remove the affected areas to save her life.
"There were parts of my fingers that were alright but the whole of my right hand was black and shrivelled," said Ms Jackson.
"It was making me ill so they had to operate."
She was still recovering in intensive care when she saw a television programme about Corinne Hutton, the first woman to be placed on the hand-transplant register.
Ms Jackson was added at the specialist unit at Leeds General Infirmary (LGI) in early 2016 and wore prosthetics while waiting for a donor to become available.
The call finally came last month and, following surgery, Ms Jackson is hoping to regain full function of her hands within the next two years..
UK news in pictures

Show all 50
Professor Simon Kay, a consultant plastic surgeon who has carried out the operation on five patients at LGI, said he believes the operations will become more common as more patients recover.
"We had the technology to carry out the procedure thirty years ago but nobody thought the drugs would prevent rejection [of the hand]. We thought it was impossible.
"We now have what I believe is one of the top three units in the world. I am enormously proud of everyone and it has been a privilege to lead the team of 30 people."
Professor Kay also paid tribute to the "real heroes" who donated their limbs. "No transplants are possible without the courage of the patients who donate," he said. "They are amazing people."
The UK's first hand transplant was carried out at LGI in December 2012. Four years later Chris King, who lost both hands in an accident involving a metal pressing machine at work, became the first to have a double hand transplant.
SWNS
Register for free to continue reading
Registration is a free and easy way to support our truly independent journalism
By registering, you will also enjoy limited access to Premium articles, exclusive newsletters, commenting, and virtual events with our leading journalists
Already have an account? sign in
Register for free to continue reading
Registration is a free and easy way to support our truly independent journalism
By registering, you will also enjoy limited access to Premium articles, exclusive newsletters, commenting, and virtual events with our leading journalists
Already have an account? sign in
Join our new commenting forum
Join thought-provoking conversations, follow other Independent readers and see their replies