Grenfell tower fire victims 'spitting black tar' after inhaling smoke, says London nurse
At least 12 people died and 74 were rushed to six hospitals in devastating blaze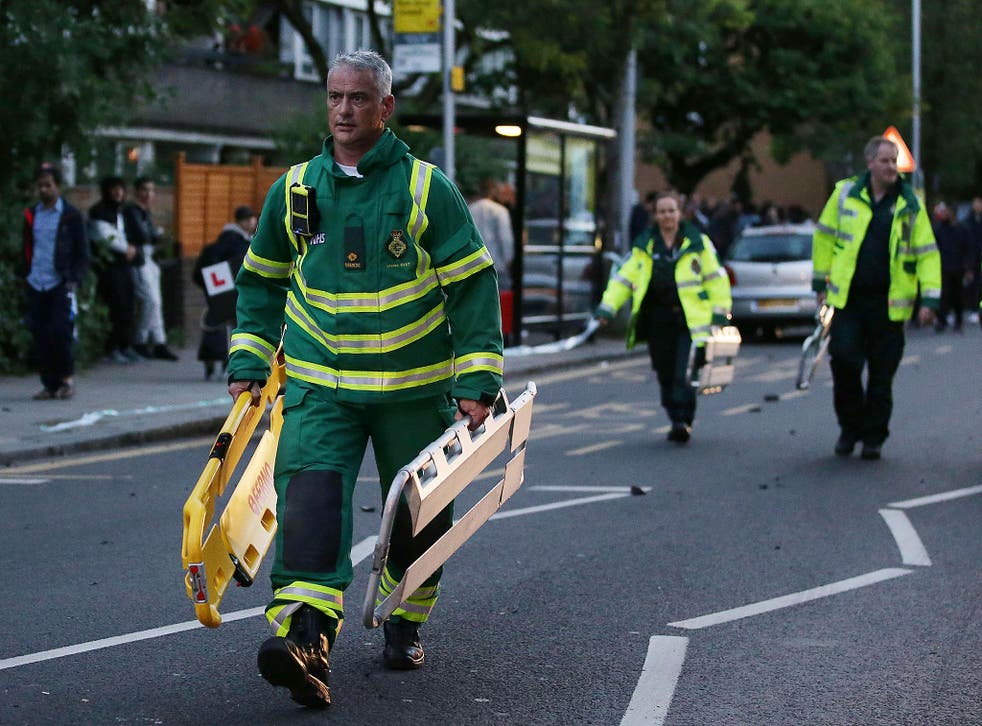 Victims of the Grenfell Tower fire were "spitting out black tar" after inhaling smoke from the burning tower block, a nurse who treated patients at the scene has said.
At least 12 people died and 74 were rushed to six hospitals as the devastating blaze ripped through the 24-storey building in Latimer Road in west London.
The death toll is expected to rise as investigators trawl through the wreckage in the search for other victims in the tower's 120 flats when the fire started just before 1am on Wednesday morning.
Nurse Simone Williams said she had treated victims outside the building, where people were "coming out shouting that it was too hot", reported The Times.
"A lot of the injuries were smoke inhalation, people were spitting out black tar that had gone on their lungs," Ms Williams, who works at University College Hospital, told the newspaper.
When alerted of the disaster, hospitals prepared treatments for cyanide poisoning, fearing toxins released by foam in old furniture in the fire may have been inhaled by the victims.
Dr Malcolm Tunnicliff, clinical director for emergency and acute care at King's College Hospital in south London, said the hospital had "lots of cyano kits – which contain the antidote to cyanide poisoning – ready and waiting to give people".
The hospital dealt with 12 casualties from the fire, a mixture of children and adults, who arrived by 3.45am, said Dr Tunnicliff. Tests showed none of them had been poisoned, which he described as a "relief".
Grenfell Tower continues to smoulder 24 hours after start of fire
However, all the patients had injuries caused by smoke inhalation, some of which were "very serious", with some patients suffering "critical injuries" to their airways and lungs, the doctor told The Guardian.
Smoke inhalation is the most frequent cause of death in indoor fires, and injuries caused by breathing in smoke often take a day or longer to become apparent. Heat can damage the lungs, gases can lead to suffocation and the smoke can also irritate the lungs and airways.
Dr Vinod Diwakar, medical director for NHS England in London, thanked staff who "have been pulling out all the stops in caring for the patients affected".
Hospitals are continuting to treat patients, 18 of whom are in a critical condition.
The fire comes just over a week after NHS staff helped keep all 48 victims taken to hospital after the terrorist attack at London Bridge alive.
London Mayor Sadiq Khan praised the NHS's response to the attack, tweeting: "Thank you to our amazing NHS staff for your world-class treatment of those injured in Saturday's horrific attack."
Dr Tunnicliff said when he was alerted of a "major incident" by a phone call at 2.39am, he feared another terror attack could have taken place.
"My first fear was: is this another terror incident? Oh God, what's happened this time?" he said.
Grenfell tower fire

Show all 42
More than 160,000 fires were attended by emergency services in England in 2015-16. House fires were most likely to be caused by cooking and electrical appliances, while fires caused by cigarettes and other smoking materials led to the highest number of fatalities.
According to government statistics, 89 per cent of households have a working smoke alarm, up from 76 per cent in 2001.
People aged 80 years and above are most likely to die in a fire, with elderly patients suffering burn injuries less likely to survive treatment.

Join our new commenting forum
Join thought-provoking conversations, follow other Independent readers and see their replies