Austerity 'derailing progress on life expectancy gap between rich and poor', researchers fear
Stagnant wages and growing financial inequality 'can have a rapid effect on people's mental and physical health'
Katie Forster
Health Correspondent
Wednesday 26 July 2017 20:11 Comments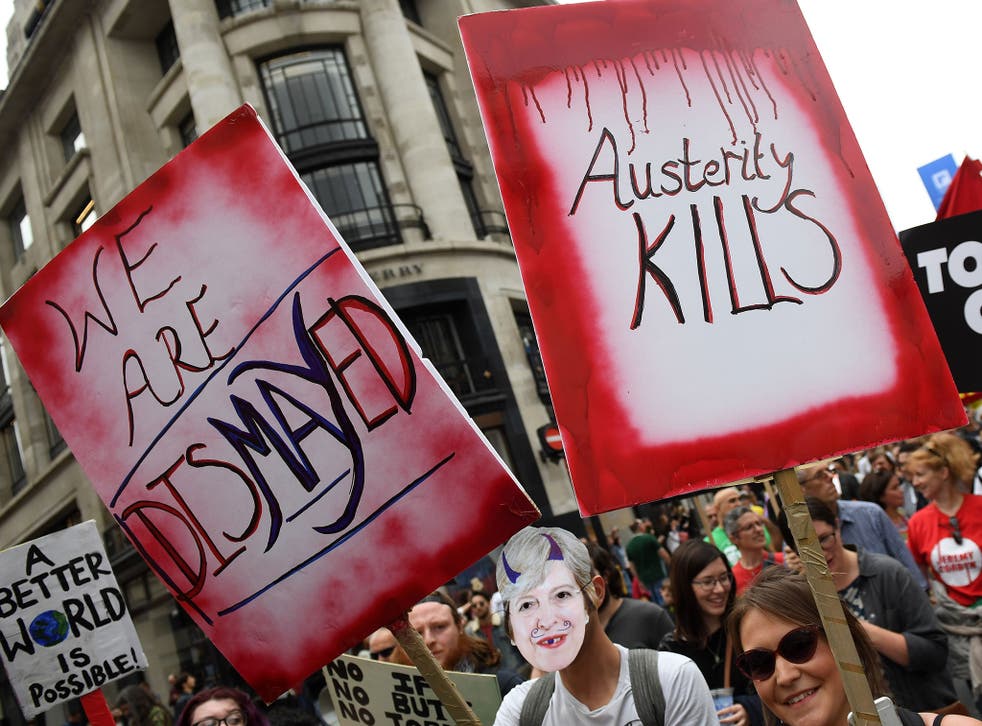 Progress made in reducing the difference in life expectancy between the poorest people in England and the rest of the population may have been derailed by austerity, new research has shown.
An analysis of the health gap between people living in the most deprived 20 per cent of the country's local authorities and those elsewhere in the country found health inequality has increased since 2010, when a national initiative to reduce the gap came to an end.
A team of scientists from the University of Liverpool said the new study "provides the first evidence indicating that the English Health Inequalities Strategy may have reduced geographical health inequalities in life expectancy".
It also "raises concerns that current policies are reversing these gains," they said in the study, published in the British Medical Journal (BMJ).
The news comes after health expert Sir Michael Marmot said last week that improvements in life expectancy in Britain have almost "ground to a halt" since 2010, citing figures from the Office for National Statistics (ONS).
The Health Inequalities Strategy ran from 1997 to 2010 and included broad efforts to improve public health in England's poorest regions by reducing child poverty, regenerating areas and introducing a national minimum wage.
Before this strategy, the gap increased at a rate of around 0.4 months a year on average – 0.57 months each year for men and 0.3 months each year for women, according to the researchers.
After 1997, this trend reversed and the gap in life expectancy for men reduced by 0.91 months each year and for women by half a month each year – but since 2010, it has begun to increase again at a rate of 0.68 months each year for men and 0.31 months each year for women.
In the entire period between 1983 and 2015, life expectancy "generally increased over this period for all groups; however, between 2012 and 2015 life expectancy declined slightly, particularly in the most deprived local authorities," said the study.
"The downturn in life expectancy from 2012 affected both deprived areas and the rest of the country, but this change in trend was greatest in more deprived areas, widening inequalities."
Five nutrition lies ruining your health
The study, led by Ben Barr, a senior clinical lecturer in applied public health, could be explained through delayed effects of the 2008 financial crash and the recession that followed.
But "a more likely explanation is that this is related to the reductions in public spending that occurred since 2010 as part of the Government's austerity programme," they said.
Kate Pickett, a professor in the Department of Health Sciences at the University of York, told The Independent that chronic stress caused by stagnant wages and growing financial inequality "can have a rapid effect on people's mental and physical health".
"Austerity increases people's chronic stress, which is a massive cause of morbidity and mortality. We're seeing increases in stress-related disease," she said.
"Cuts to Sure Start centres that provide real support to parents are harmful and stressful. The social care cuts mean that the elderly are spending longer in hospital than they need to, which is a stressful experience, and their health often deteriorates" she added.
"This one study is part of a growing picture. Things are becoming clearer. There have been similar trends in Spain and Greece of worsening health linked to austerity."
Justin Madders, Labour's shadow health minister, said that "over a decade of progress has been reversed under this Tory Government's extreme austerity programme, culminating in the inequality gap increasing at an utterly unacceptable rate."
But a spokesperson for the Department of Health said: "As the study itself points out, it is impossible to attribute changes in health inequalities to one cause alone – and this Government has taken targeted action with income inequality falling since 2010.
"We are investing more than £16bn in local government services over the current spending period to help tackle public health issues – we also have world leading plans to tackle childhood obesity and smoking – major causes of poor health."
The worst jobs for your health

Show all 10
Following Mr Marmot's claims, Health Secretary Jeremy Hunt challenged the facts on social media, saying that life expectancy was continuing to rise significantly and citing the same statistics quoted by Sir Michael.
"Respect Marmot but his graph shows life expectancy for newborn boy is already 61 minutes longer than it was at time of his Today prog interview," wrote the Health Secretary alongside a diagram from UCL's Institute of Health Equity, led by the professor.
Sir Michael responded angrily to the tweet, writing: "What are you saying? That ONS got its figures wrong and rise of life expectancy has NOT slowed since 2010? If ONS is correct, let's discuss".
Register for free to continue reading
Registration is a free and easy way to support our truly independent journalism
By registering, you will also enjoy limited access to Premium articles, exclusive newsletters, commenting, and virtual events with our leading journalists
Already have an account? sign in
Join our new commenting forum
Join thought-provoking conversations, follow other Independent readers and see their replies