NHS scanner and radiologist shortages contributing to thousands of avoidable heart attack deaths, experts warn
'In many hospitals it is easier for a runner with a dodgy knee to get an MRI than it is for a patient on the verge of a heart attack to get a CT-scan'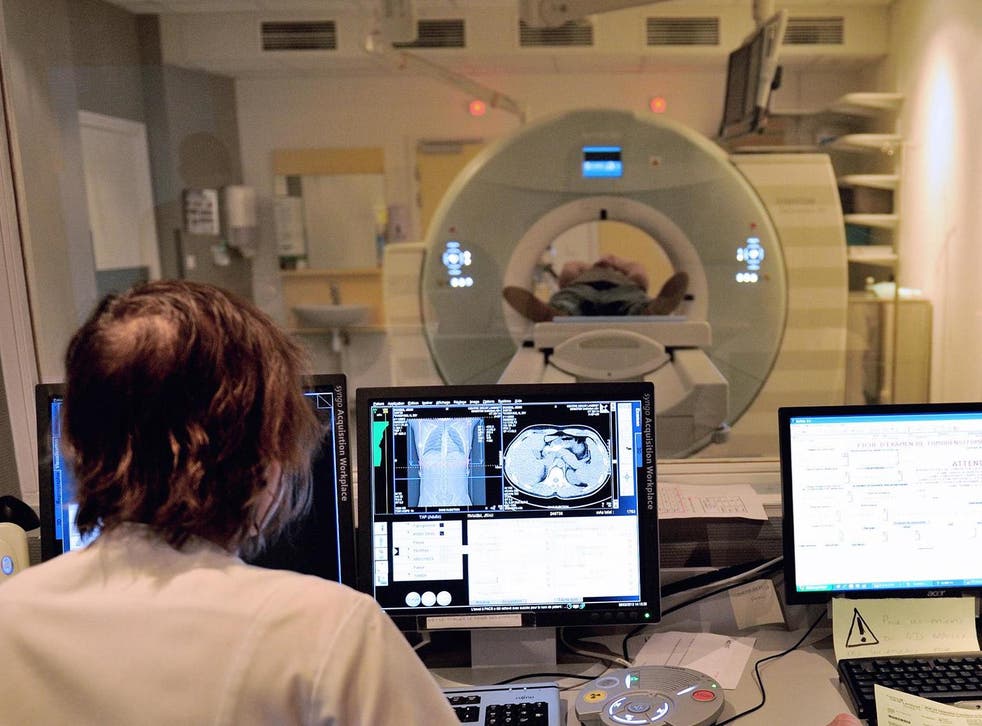 A shortage of modern CT scanners and trained radiologists is contributing to thousands of deaths because patients with chest pains are unable to get recommended checks, experts have warned.
At least 56,289 patients with angina were denied access to CT scans last year despite NHS guidelines saying it should be offered to all patients with stable chest pains, according to data from the Royal College of Radiologists (RCR).
Waiting lists for the test stretch up to 26 weeks in some parts of the UK and the RCR estimates the true number of missed scans last year could top 132,000 patients with angina symptoms.
An early scan can be life saving. A major medical trial earlier in 2018 found it nearly halved deaths and severe heart attacks over the next five years – from 3.9 per cent to 2.3 per cent.
"That's a significant reduction of a large number of people and would, in theory, save thousands of heart attacks and deaths a year if we were properly staffed and equipped," Dr Andrew Beale, the RCR's medical director told The Independent.
With modern equipment, doctors can prioritise patients who need medication and monitoring and those who need surgical interventions to address narrowing of the arteries. But a negative result also has significant benefits.
"With this test I can effectively say 'go home you don't have a heart problem'," Dr Beale added. "That's huge to their mental wellbeing, it means no hospital and GP follow-up, and you can stop medications if you can say you're not going to have a heart attack in the next five years."
Angina, caused by reduced blood flow to the heart, is not usually life threatening but can be a warning sign of heart disease and increased risk of serious cardiovascular issues.
Since 2016, the National Institute of Health and Care Excellence (Nice), which recommends treatments for the English NHS, has said all patients with angina-like symptoms should be offered a computed tomography coronary angiography (CTCA).
However, the UK is currently tied with Hungary for CT scanner numbers, with just nine per 100,000 people, and significantly fewer than Germany – which has 35 per 100,000 – leading to bottle necks in tests.
Under the skin – best of the British Heart Foundation 2018 image prize

Show all 10
Added to this, Dr Beale said, "only around half" of the CT scanners are modern enough to give the assessment recommended by Nice which can prioritise patients for surgery. There is also an issue of who will interpret these scans when the UK has the lowest number of radiologists per head of population of any country in Europe, a fact which "Brexit hasn't helped".
Wales was the area with the biggest gaps, with 4,854 angina patients missing out on scans, 78 per cent of the minimum number estimated by the RCR, this was followed by Scotland (73 per cent) and Northern Ireland (58 per cent).
While England was the best performer, it is the only country where the Nice recommendations explicitly apply, and the RCR estimates 69,865 people missed out on CTCA scanning – 37 per cent of the total angina cases.
This is against a backdrop of cuts to training budgets and repeated government raids on NHS capital budgets, meant for maintenance and equipment, to fund day-to-day running of cash-strapped hospitals.
The Independent revealed in October that trusts have a £3bn, and rising, backlog in the most urgent repairs and equipment upgrades that are deemed to pose a significant risk to patients.
"It is beyond frustrating that we do not have the capacity to provide what should be a routine frontline test for everyone presenting with chest pain," said Dr Giles Roditi, president of the British Society of Cardiovascular Imaging, which compiled the figures along with the RCR.
"Instead, in many hospitals it is easier for a runner with a dodgy knee to get a magnetic resonance scan than it is for a patient on the verge of a heart attack to get a CTCA.
"Deadly cases of heart disease are being missed because we can't deliver these scans properly across the UK."
Support free-thinking journalism and attend Independent events
The call to address the lack of CTCA provision is backed by the British Heart Foundation and the charity's medical director Professor Sir Nilesh Samani said: "It's worrying that there isn't better access to CT scans across the UK, leaving some patients with heart disease without a potentially life-saving diagnosis.
"Research supported by the BHF has shown that when patients with symptoms of angina have a CT scan as part of their assessment, they are less likely to go on to have a heart attack or die."
A Department of Health and Social Care spokesperson said: "We want patients to receive world-class care in world-class facilities and to ensure the NHS recruits and trains the talented staff it needs. We've announced £3.9bn in new capital investment, and our historic long-term plan for the NHS, backed by an extra £20.5bn a year by 2023/24, will put our health service on a long-term sustainable footing.
"The number of clinical radiologists in England is up 29 per cent since 2010 but we want to see numbers continue to rise. That's why over the next three years we are enabling more doctors to specialise in clinical radiology."
Register for free to continue reading
Registration is a free and easy way to support our truly independent journalism
By registering, you will also enjoy limited access to Premium articles, exclusive newsletters, commenting, and virtual events with our leading journalists
Already have an account? sign in
Register for free to continue reading
Registration is a free and easy way to support our truly independent journalism
By registering, you will also enjoy limited access to Premium articles, exclusive newsletters, commenting, and virtual events with our leading journalists
Already have an account? sign in
Join our new commenting forum
Join thought-provoking conversations, follow other Independent readers and see their replies