Large group of HIV 'elite controllers' discovered in Congo could help scientists to find vaccine
Finding so many people who can suppress virus naturally in one region is a first, researchers say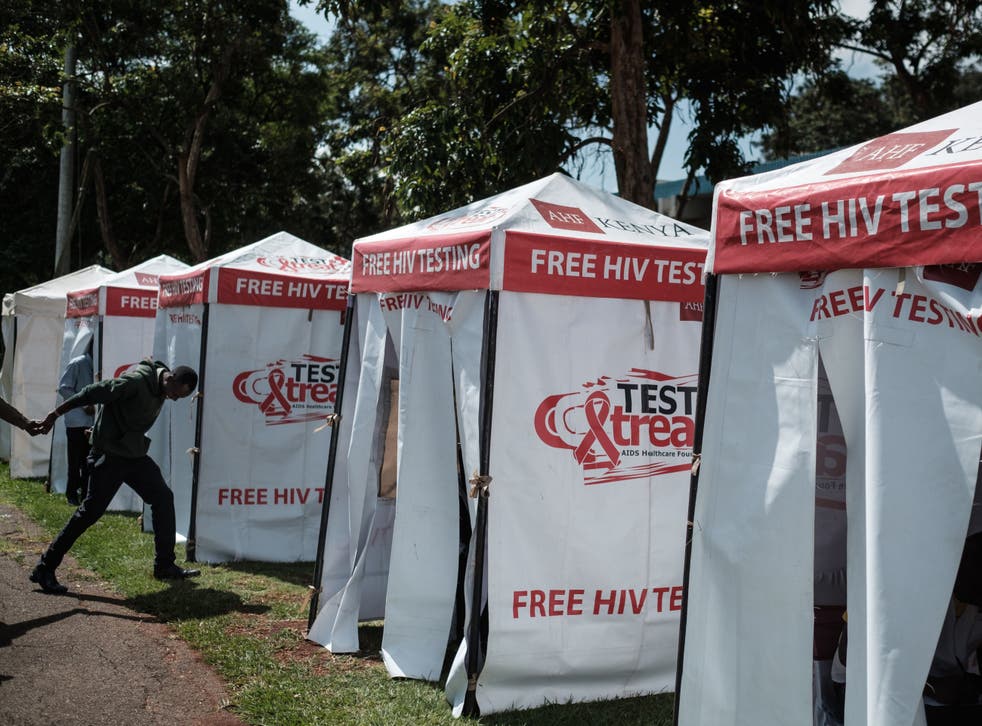 Hundreds of HIV "elite controllers" have been found living in the Democratic Republic of Congo (DRC), in what scientists are calling a "unique opportunity" to potentially advance treatments for the virus.
Elite controllers test positive for HIV antibodies but maintain low or undetectable viral loads for many years and, crucially, do not need antiretroviral therapy (ART).
People with the naturally controlled infection have been known to experts for some time but this new group is the largest to date discovered in one region, it is believed.
The study, published in the journal eBioMedicine, was led by a team including Abbott Diagnostics, the Johns Hopkins School of Medicine in Baltimore, and the US National Institute of Allergy and Infectious Diseases.
Researchers screened 10,457 people in the DRC and found 429 elite controllers – an "unusually high number of people", they noted in the findings.
The prevalence of HIV elite controllers in the DRC was subsequently found to be between 2.7 and 4.3 per cent, compared to a 0.1-to-2 per cent prevalence worldwide.
Previous studies have suggested several things could explain the rare occurrence, including a defective type of HIV and a rare immune response to the virus.
Scientists from the new trial concluded: "Identification of this group of elite controllers presents a unique opportunity to study potentially novel genetic mechanisms of viral suppression."
They also noted that the 429 elite controllers could help uncover links between natural virus suppression and future treatments – potentially leading to the long-anticipated creation of HIV vaccines.
"Global surveillance work is critical to staying ahead of emerging infectious diseases and in this instance we realised we found another piece of the HIV puzzle," Michael Berg, an associate research fellow in infectious diseases at Abbott and lead author of the study, told The Independent.
"By identifying a significantly larger percentage of people in the DRC who can suppress HIV naturally, the global research community now has a chance to study them and potentially find new treatments, including a vaccine, which could possibly eliminate HIV."
World news in pictures

Show all 50
Study author Tom Quinn, director of Johns Hopkins Centre for Global Health and chief of the International HIV/Aids research section of the National Institute of Allergy and Infectious Diseases, said: "The finding of a large group of HIV elite controllers in the DRC is significant considering that HIV is a life-long, chronic condition that typically progresses over time.
"There have been rare instances of the infection not progressing in individuals prior to this study, but this high frequency is unusual and suggests there is something interesting happening at a physiological level in the DRC that's not random."
The National Aids Trust estimated that in 2019 there were more than 105,000 people living with HIV in the UK, 6 per cent of whom were unaware they had the disease at all.
It said 98 per cent of people diagnosed with the virus in Britain were being treated, and 97 per cent of those were virally suppressed, meaning they cannot pass it on.
The vast majority – 91.5 per cent – of those receiving HIV care in the UK in 2019 did so in England, the organisation added.
Dr Michael Brady, medical director at the Terrence Higgins Trust, told the PA news agency on Tuesday: "We need to keep working towards the development of an effective vaccine and, eventually, a cure.
"The more we are able to understand the relationship between the virus and our immune systems, the closer we can get to that goal."
The UK has a current goal of eliminating HIV transmission by 2030 which Dr Noel Gill, head of STIs and HIV at Public Health England, said last year "we are well on our way to reaching".
Register for free to continue reading
Registration is a free and easy way to support our truly independent journalism
By registering, you will also enjoy limited access to Premium articles, exclusive newsletters, commenting, and virtual events with our leading journalists
Already have an account? sign in
Register for free to continue reading
Registration is a free and easy way to support our truly independent journalism
By registering, you will also enjoy limited access to Premium articles, exclusive newsletters, commenting, and virtual events with our leading journalists
Already have an account? sign in
Join our new commenting forum
Join thought-provoking conversations, follow other Independent readers and see their replies