Labour pledges new laws to tackle bad hospital food
'We have allowed a situation where some hospitals, according to the official data, are spending less than £3 a day on patient meal'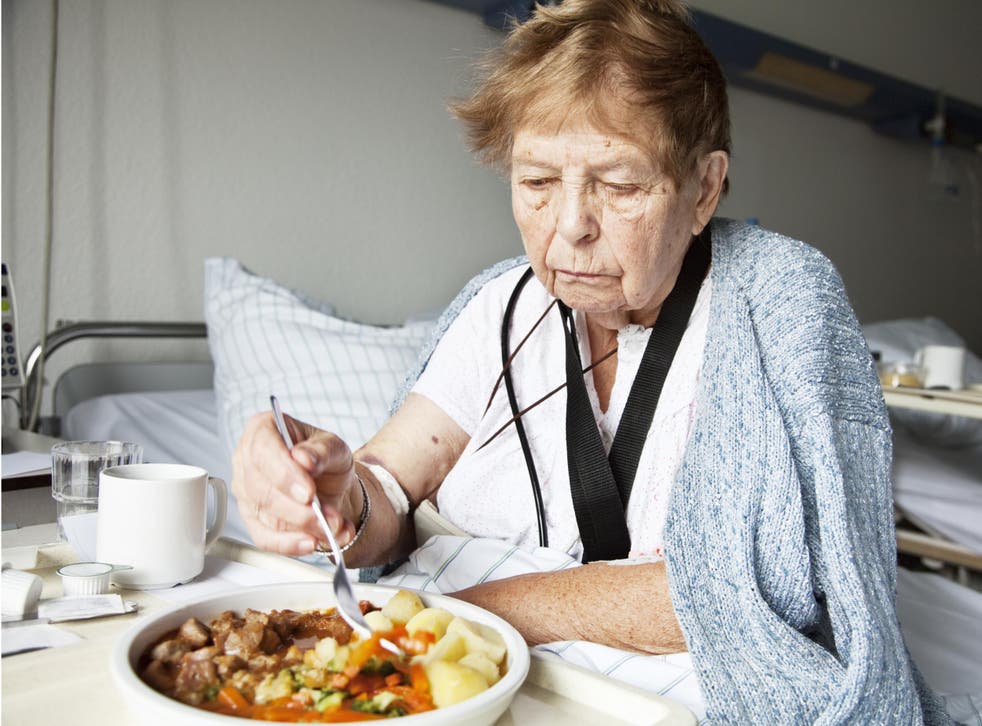 The Labour Party has pledged to bring in new laws to tackle bad hospital food after analysis found huge variations in spending, with some trusts paying less than £3 per patient for a day's meals.
Legislation would introduce "mandatory minimum standards" and enforce existing guidelines which say patients should expect meals that are fresh and nutritious.
Prisons and schools have legal minimum standards for meals but this has been lacking in the health service, resulting in a postcode lottery where some trusts spend substantially more, Labour said.
Currently "at least half" of hospitals do not comply with existing requirements, according to the Campaign for Better Hospital Food.
Campaigners said it was long overdue that political parties committed to act on hospital meals, and called on the government to follow suit.
Data from NHS Digital analysed by the Labour Party shows 144 million meals were requested by NHS inpatients in 2016-17, with average spending of around £11 per patient a day,
However, 13 hospital sites spent less than £5. Gloucester Royal Hospital had the lowest spend, with an average cost of £2.61 for feeding one inpatient per day – spending £1.56m on nearly 600,000 meals a year.
Others, such as Heatherwood Hospital, part of Frimley Health Foundation Trust, report spending £40 per patient per day on meals.
These higher prices are likely to be down to the hospital including staff and equipment costs as well, but this variation is another sign of the lack of scrutiny hospital meals are under, according to Labour.
UK news in pictures

Show all 50
The focus on food comes amid a 122 per cent increase in the number of people admitted to hospital with malnutrition since the Conservatives came to power in 2010.
Worryingly, the most recent Office for National Statistics figures (from 2016) show 351 deaths in NHS hospitals in England and Wales where malnutrition was mentioned, the highest level in a decade.
Howver the ONS made clear this could be due to more deaths of very sick people who have other complications that make eating difficult as general deman o nthe NHS is rising.
The Independent recently showed that hundreds of care homes were also failing to meet inspected food standards, and malnourishment was driving around 36 per cent of admissions to care homes, according to Age UK.
Speaking at a forum of the Hospital Caterers Association tomorrow, shadow health secretary Jonathan Ashworth is expected to say: "Patient care isn't just about medicines, bandages, treatments and surgical procedures, it's about nutrition and hydration as well.
"Yet we have allowed a situation where some hospitals, according to the official data, are spending less than £3 a day on patient meals.
"Labour will place hospital food standards on the same legal basis as school food standards, to ensure hospitals meet mandatory minimum standards for the food served to patients, staff and visitors, and these standards should be independently monitored and enforced."
Amber Jabbal, head of policy at NHS Providers, which represents NHS trusts, said good food was an important factor in patient recovery and staff morale, but added that trusts already "have a duty to ensure they meet patients' nutritional and hydration needs" and that these are inspected by the Care Quality Commission.
"It is important that this is not duplicated through extra requirements which could increase the regulatory burden on trusts," she said.
However, Katherine Button, coordinator of the Campaign for Better Hospital Food, said that despite current standards being in place – "we know that at least half of hospitals are still not complying, and that the current government is failing to encourage progress".
Food writer and Bake-Off judge Prue Leith, an ambassador for the campaign, said: "Finally, a major political party is waking up to the issue of hospital food. For the sake of patients' recovery and for their enjoyment, let's hope the government follows suit and commits to better food in our hospitals."
A Department of Health spokesperson said: ""Whilst food in hospitals is given a rating of 9 out of 10 by patients, we know nutrition is a vital part of recovery. That's why we have already introduced the first ever legally-binding food standards in the history of the NHS, and continue to press for high standards."
Register for free to continue reading
Registration is a free and easy way to support our truly independent journalism
By registering, you will also enjoy limited access to Premium articles, exclusive newsletters, commenting, and virtual events with our leading journalists
Already have an account? sign in
Register for free to continue reading
Registration is a free and easy way to support our truly independent journalism
By registering, you will also enjoy limited access to Premium articles, exclusive newsletters, commenting, and virtual events with our leading journalists
Already have an account? sign in
Join our new commenting forum
Join thought-provoking conversations, follow other Independent readers and see their replies