One ketamine dose could help heavy drinkers reduce alcohol intake, study reveals
'This could be turned into a helpful treatment for excessive drinking, or potentially for other drug addictions,' say researchers
Shaun Lintern
Health Correspondent
Tuesday 26 November 2019 16:43 Comments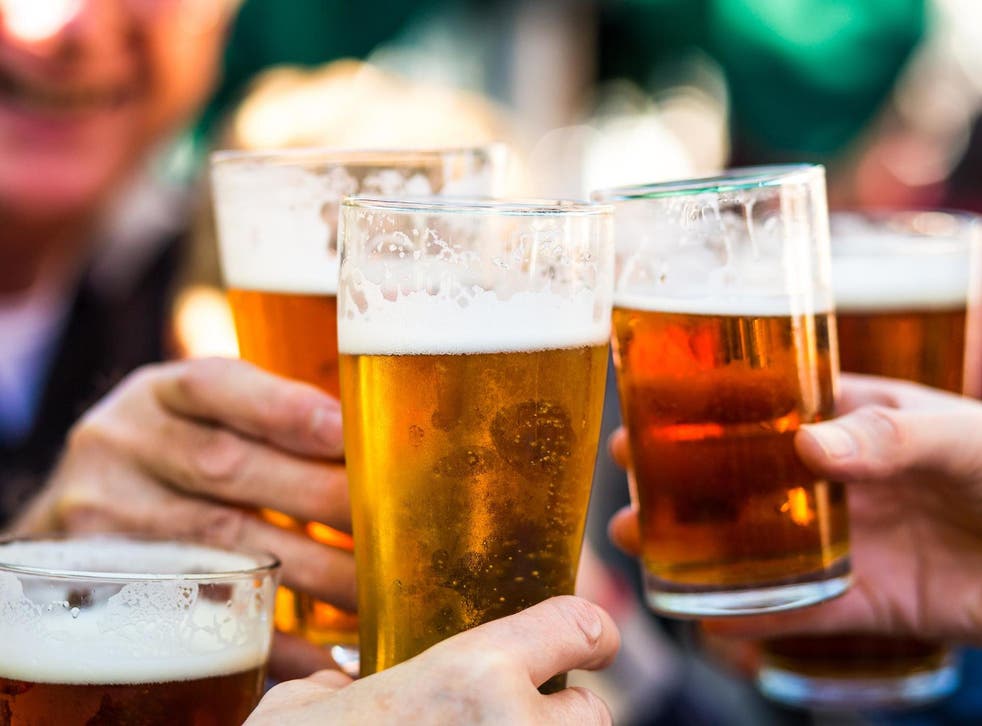 A single dose of the anaesthetic drug ketamine could help heavy drinkers resist temptation by preventing the brain from making memories, according to an experimental study.
Researchers at University College London gave a shot of ketamine to heavy drinkers after reactivating their drinking-related memories.
This led to disassociation between the perceived "reward" of alcohol and drinking, and subsequently a decrease in the urge to drink and longer term reduction in alcohol over nine months.
By removing an anticipated reward of a glass of beer after a task the researchers say they forced volunteers brains to actively restore the pleasurable memory of drinking beer but by using ketamine they were able to block this process.
The study, published in Nature Communications, used 90 volunteers who identified as having harmful drinking of around 30 pints of beer a week, five times the recommended limit.
First they were given a glass of beer after completing a task. They were shown images of beer while rating their desire which activated their memories of drinking.
World's 10 deadliest street drugs

Show all 10
On a second day the glass of beer was taken away unexpectedly triggering the brain to restore the reward memory of beer drinking. A third of the participants were given a dose of ketamine after the beer was taken away, another group received a placebo and a third group were given ketamine but without previously completing the beer drinking task.
After 10 days the group who received the ketamine after the beer drinking task showed significant reductions in their urge to drink, drank less alcohol and drank on fewer days than other members of the study.
The effect was sustained over a nine-month follow up; while all three groups decreased their drinking to some degree those who were given the ketamine and memory retrieval task halved their average weekly alcohol consumption over the nine months.
Only the two groups given ketamine showed a statistically significant reduction in drinking volume, and only the ketamine and memory retrieval group significantly reduced their number of drinking days, and bingeing behaviour.
Dr Ravi Das from University College London said: "Learning is at the heart of why people become addicted to drugs or alcohol. Essentially, the drug hijacks the brain's in-built reward-learning system, so that you end up associating environmental triggers with the drug. These produce an exaggerated desire to take the drug.
"This is a first demonstration of a very simple, accessible approach, so we hope that with more research into optimising the method, this could be turned into a helpful treatment for excessive drinking, or potentially for other drug addictions."
The researchers emphasised the study was experimental and not a clinical trial meaning further research was needed before a treatment could be developed.
Dr Rupert McShane, consultant psychiatrist and spokesperson for the Royal College of Psychiatrists, said: "If the findings of this study were replicated, it could be very important. At its broadest, it could imply that habits of thinking could be provoked and then usefully disrupted by a single ketamine infusion. If proven, this would have many therapeutic applications."
But he warned the three groups of volunteers were not equal in terms of their drinking habits with those receiving ketamine and the memory task drinking the most means the results could be skewed by a tendency for them to reduce their drinking.
He added: "The only way to be confident about the result is for someone else to do the study again. Given the possibilities here, I'm excited to see the result of that replication study."
Register for free to continue reading
Registration is a free and easy way to support our truly independent journalism
By registering, you will also enjoy limited access to Premium articles, exclusive newsletters, commenting, and virtual events with our leading journalists
Already have an account? sign in
Join our new commenting forum
Join thought-provoking conversations, follow other Independent readers and see their replies