Tens of thousands of children suffering long Covid as experts demand vaccine rollout for all over-12s
Any hope of achieving herd immunity is dependent on vaccinating younger adolescents, scientists say
Samuel Lovett
Science Correspondent
,
Adam Forrest
Thursday 05 August 2021 21:09 Comments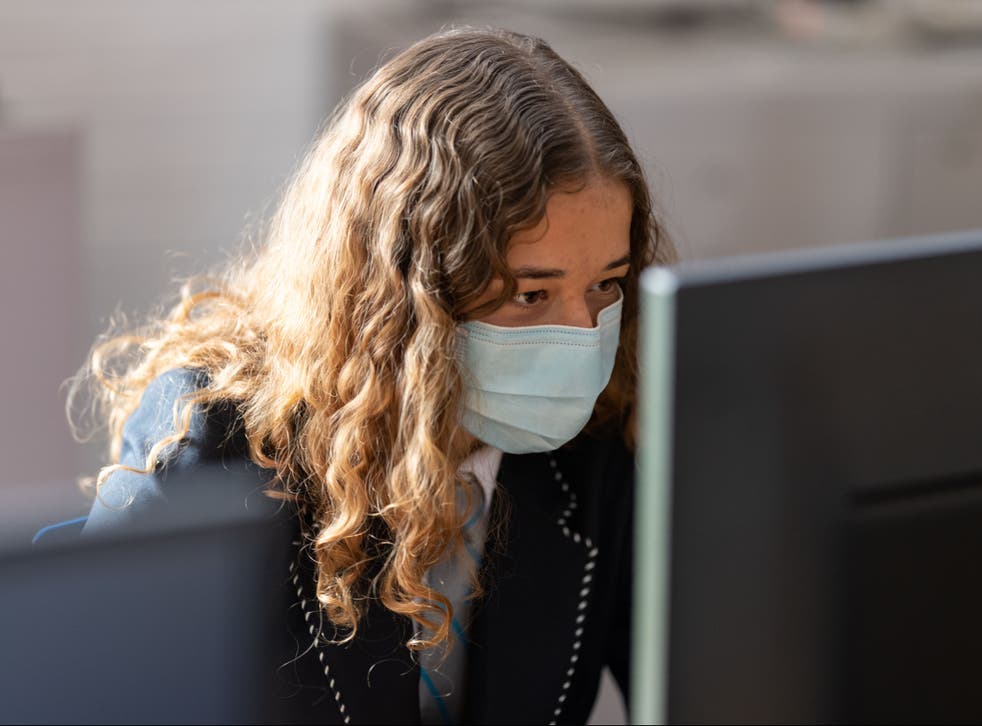 Tens of thousands of children are living with long Covid, new figures show, amid concerns that the vaccination of teenagers is coming too late to stop the spread of the virus in schools from September.
Warnings have also been raised over the continuing refusal to vaccinate all 12- to 15-year-olds. Experts are fearful that children will be left vulnerable to infection and long-lasting symptoms upon their return to school next month, unless the rollout is expanded to this age group.
Any hope of achieving herd immunity through the vaccine is dependent on jabbing younger adolescents too, the experts add.
An estimated 34,000 children in the UK are thought to be experiencing lingering Covid symptoms, such as fatigue and shortness of breath, that have persisted for a minimum of four weeks, according to the Office for National Statistics (ONS).
Dr Elaine Maxwell, a scientific adviser at the National Institute for Health Research (NIHR), said the estimate challenged the assumption that long Covid was "rare" in children – as had been suggested by a study published earlier in the week.
In total, 11,000 two- to 11-year-olds and 23,000 12- to 16-year-olds are suffering from the condition, the latest ONS survey shows. The figure is based on responses collected from people in private households in the four weeks to 4 July and then extrapolated to the rest of the population.
Scientists have meanwhile criticised the "unnecessary delay" in rolling out the Pfizer jab to all 16- and 17-year-olds. The Joint Committee on Vaccination and Immunisation (JCVI) had initially resisted making such a recommendation, but announced on Wednesday that it had changed its guidance following a policy review.
The government has said there is "no time to waste in getting on with this", but Dr Deepti Gurdasani, an epidemiologist at Queen Mary University London, believes many teenagers won't receive a first dose before returning to school at the start of next month.
"We could have had all of this age group [16- and 17-year-olds] vaccinated before September," she said.
The head of one of the country's leading medical colleges described the rollout of vaccines among children as "frankly shambolic", adding that doctors were still "in the dark" over the details.
Along with the 1.4 million 16- and 17-year-olds to be offered a first dose of the Pfizer vaccine in the coming weeks, children as young as 12 who are clinically vulnerable and at higher risk of illness can also receive the jab.
But Dr Camilla Kingdon, president of the Royal College of Paediatrics and Child Health, said the planning for the rollout was not good enough. She said England's national vaccine booking system was still not accepting bookings for anyone under the age of 18.
"Our members are constantly being asked questions by young people or their parents for which they don't have the answers because the systems aren't in place and the detailed advice has not been provided," she said.
Beyond the practical difficulties ahead, Professor Lawrence Young, vice president of Warwick Medical School, said that all children over 12 would eventually need to be included in the rollout for the UK to get a "wall of immunity".
"The statements from the JCVI suggested they were considering it – so why don't we just go for it? It would be morally wrong not to and let the virus rip through our young people. Why would we do that?"
The JCVI indicated on Wednesday that it will be keeping its policy under review and, if the data supports it, could recommend that all children down to 12 be vaccinated. Professor Jonathan Van-Tam, England's deputy chief medical officer, added: "My sense is that it is more likely, rather than less likely, that the list will broaden over time, as more data becomes available."
One of the factors taken into account by the JCVI in deciding to immunise 16- and 17-year-olds is the severity of disease and incidence of long Covid in this age group.
Earlier on Thursday, the new chief executive of NHS England warned that one in five people being admitted to hospital in England with Covid is aged between 18 and 34 - four times the level seen during last winter's peak. Then, about 5.5 per cent of those in hospital were young adults.
The estimate that 34,000 children are meanwhile suffering from long Covid in the UK indicates that the condition is "hardly rare", said Dr Maxwell.
However, she warned that "we need to keep looking at a range of different studies to make sense of what is happening, and it is far too soon to make bold statements about the prevalence and prognosis of long Covid in adults or children".
The latest ONS research also suggests that 380,000 people in the UK have experienced long Covid for at least a year. Overall, a total of 945,000 people are thought to be suffering from the condition – down from 962,000 reported in last month's survey.
UK news in pictures

Show all 50
Prof Young said that widening the rollout remained important to provide greater protection to all age groups against Covid and suppress transmission.
He added: "I think it's about protecting the well-being of children, as well as making sure schools aren't having to shut down, or send home large numbers because of infection. The safety data is there."
Republic of Ireland's health authorities announced on Thursday that children aged 12 to 15 can register to get the Covid vaccine from next week. France, Canada and the US have already started vaccinating those from 12 years upwards.
Urging the UK to follow suit, Dr Gurdasani added: "Even if we do vaccinate more children, it will be quite hard to achieve herd immunity. We don't know quite how much immunity we will get when the variants keep evolving. But we certainly won't have any chance if we don't vaccinate children."
Register for free to continue reading
Registration is a free and easy way to support our truly independent journalism
By registering, you will also enjoy limited access to Premium articles, exclusive newsletters, commenting, and virtual events with our leading journalists
Already have an account? sign in
Join our new commenting forum
Join thought-provoking conversations, follow other Independent readers and see their replies