First monkeypox cases identified in Wales and Northern Ireland as UK total rises to 90
Further eight infections also identified in England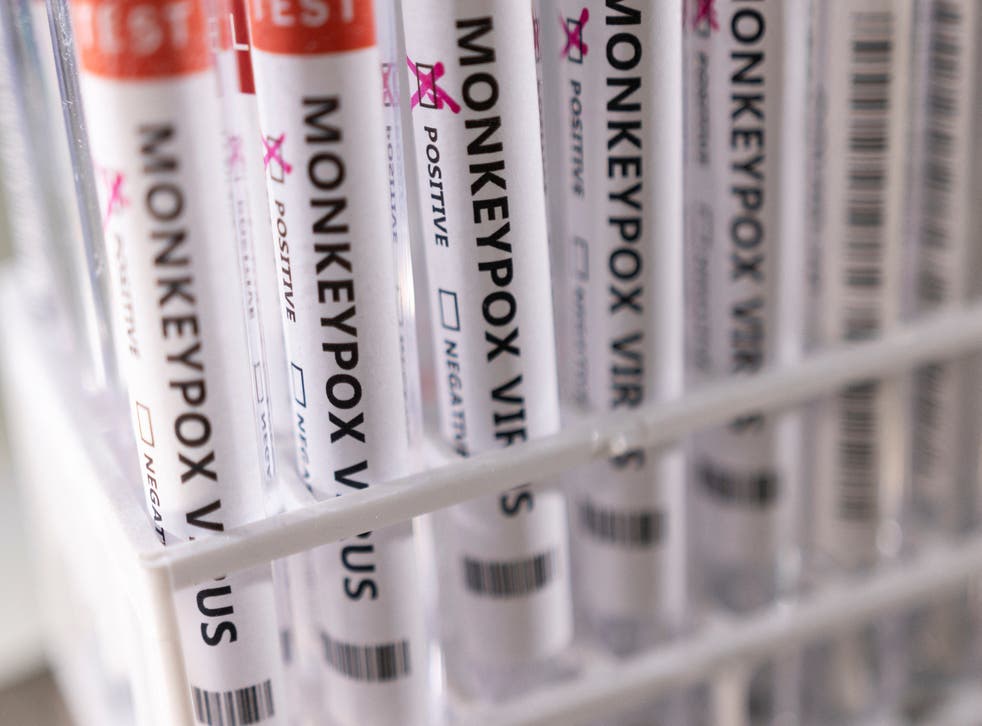 The first cases of monkeypox have been identified in Wales and Northern Ireland, while a further eight have been reported in England, bringing the UK total to 90.
Scotland has detected three infections, while 85 have now been reported across England since 7 May.
In a statement released on Thursday, Public Health Wales (PHW) reported the country's first case and said it was working alongside other British health agencies to respond to the UK's growing outbreak.
"The case is being managed appropriately," said Dr Giri Shankar, director of health protection for PHW. "To protect patient confidentiality, no further details relating to the patient will be disclosed.
"We are reassuring people that monkeypox does not usually spread easily between people, and the overall risk to the general public is low. It is usually a mild self-limiting illness, and most people recover within a few weeks. However, severe illness can occur in some individuals."
Northern Ireland's Public Health Agency said the emergence of an infection in the country "was not unexpected following the presence of monkeypox cases elsewhere in the UK".
It comes as the UK Health Security Agency announced that it has procured more than 20,000 doses of a vaccine typically used to protect against smallpox, which is a similar viral infection to monkeypox.
People who come into contact with infected individuals are being offered the vaccine and asked to isolate at home for three weeks, as the virus has a long incubation time and it can take several weeks for symptoms to emerge.
A notable proportion of the cases identified to date in the UK are among gay and bisexual men, who have been told to be alert to new rashes or lesions that form on any part of their body.
Dr Susan Hopkins, chief medical adviser at UKHSA, said: "We are continuing to promptly identify further monkeypox cases in England through our extensive surveillance and contact tracing networks, our vigilant NHS services, and thanks to people coming forward with symptoms."
Those who suspect they may have symptoms have been encouraged to limit their contact with others and ring 111 or visit their local sexual health service "as soon as possible".
Nearly 20 countries where monkeypox is not endemic have reported outbreaks of the disease, with more than 130 confirmed or suspected infections detected, mostly in Europe.
The World Health Organisation has described the sudden increase in cases as "atypical", but said the outbreak remains "containable" and limited. The fact that cases are being seen in so many different countries suggests the infection may have been silently spreading for some time, the agency said.
Monkeypox is usually found in west Africa, and the virus does not tend to spread easily between people. The illness is usually mild and those who are infected with the virus typically recover in a matter of weeks.
UK news in pictures

Show all 50
Symptoms include fever, headache, muscle aches, backache, swollen lymph nodes, chills and exhaustion. A rash can develop, often beginning on the face, which then spreads to other parts of the body including the genitals.
The first case identified in the UK was in a person who had returned from Nigeria, but other cases are unrelated to travel.
Sir Jeremy Farrar, the director of the Wellcome Trust, said "we have never seen anything like this before, with such a number of cases" in so many countries.
Speaking on Monday, he told BBC Radio 4's Today programme that there have been small outbreaks in the past, with cases recorded in the UK, but "this is different, something has changed" and suggested superspreader events could be responsible.
"The virus may have changed, but I think that's unlikely," Sir Jeremy said. "More likely is, I think, that the niche that this virus now finds itself in has allowed for some superspreader events and those individuals involved in that have then travelled to other parts of the world and taken the infection with them."
The disease can be fatal in up to 10 per cent of infections, but no deaths have been reported among the current cases.
Register for free to continue reading
Registration is a free and easy way to support our truly independent journalism
By registering, you will also enjoy limited access to Premium articles, exclusive newsletters, commenting, and virtual events with our leading journalists
Already have an account? sign in
Register for free to continue reading
Registration is a free and easy way to support our truly independent journalism
By registering, you will also enjoy limited access to Premium articles, exclusive newsletters, commenting, and virtual events with our leading journalists
Already have an account? sign in
Join our new commenting forum
Join thought-provoking conversations, follow other Independent readers and see their replies