Let all festival-goers test their drugs before they take them, say public health experts
Trial at two festivals last year found boric acid and ground-up malaria tablets sold as cocaine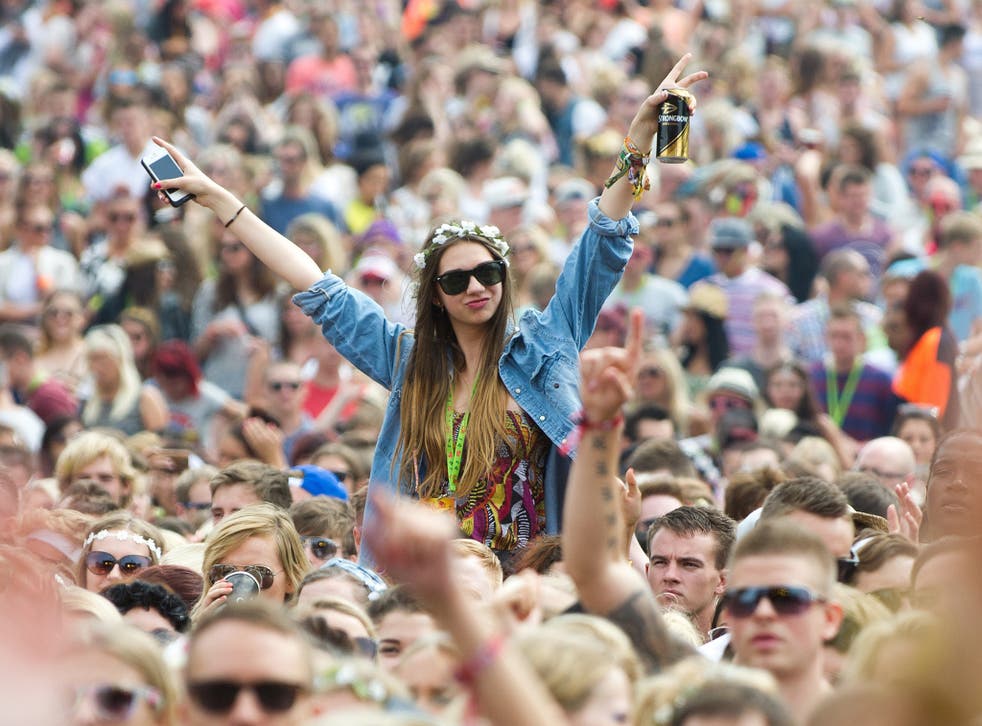 Festivals should let revellers test drugs before they take them to prevent unnecessary deaths this summer, the Royal Society for Public Health (RSPH) has said.
The call for large live music events to provide safety-testing facilities as standard comes after some of Britain's biggest festivals promised to offer drug-testing tents for the first time this year.
Stronger substances and lack of information about what pills and powders contain have contributed to a recent increase in deaths related to recreational drug use, said the RSPH.
The Office for National Statistics (ONS) figures show deaths caused by ecstasy have risen sevenfold, from eight in 2010 to 57 in 2015.
Around eight festivals in the UK – including Reading and Leeds, according to organiser Melvin Benn – are expected to offer pop-up laboratories that can test the content and potency of illegal drugs in 30 minutes.
Advances in technology mean drug testers can determine the purity of a substance with an accuracy of 90 to 95 per cent, said Fiona Measham, head of testing service The Loop.
Professor Measham told The Independent that a trial at two festivals last year found pesticide boric acid and ground-up malaria tablets being missold as cocaine, and denture-cleansing tablets being sold as ecstasy.
"We have good support from police. We are refocusing from criminal justice issues to public health, to try and reduce drug-related harm, and hopefully reduce hospitalisations and deaths," she said.
"If they have bought the drugs, smuggled them on-site and are planning to take them anyway, we can intervene and test and there's some chance they might then not take them."
Glastonbury crowd sings tribute to Jo Cox
According to Professor Measham, the results of the pilot, run at Secret Garden Party and Kendal Calling festivals, were "heartening" as almost one in five users – 18 per cent – chose to throw away their drugs when they knew what they contained.
A survey carried out by the RSPH found 95 per cent of festival-goers backed the proposals to offer drug testing at festivals.
A third (32 per cent) said they would definitely or probably not take their drugs if tests revealed the strength or composition to be different than expected, and 45 per cent said they would take less of the drug or be more careful.
Last year, 17-year-old Lewis Haunch died after taking drugs at Leeds Festival, while in the same year two teenagers died at T In The Park in reportedly drug-related incidents.
Shirley Cramer, chief executive of RSPH, urged events companies to "make these facilities a standard part of the UK festival and clubbing landscape".
"We urge both local and national police and public health authorities to provide the support that will enable this," she said.
Taking the ayahuasca hallucinogenic drug - in pictures

Show all 7
The trial run by The Loop showed how deaths can be prevented by "exposing and reducing the circulation of super-strength or adulterated pills," added Ms Cramer.
Professor Measham said the organisation was discussing rolling testing services out into city centres, so drug users can test substances more regularly.
According to the European Monitoring Centre for Drugs and Drug Addiction (EMCDDA), almost one in three drugs overdoses in Europe were recorded in the UK.
Register for free to continue reading
Registration is a free and easy way to support our truly independent journalism
By registering, you will also enjoy limited access to Premium articles, exclusive newsletters, commenting, and virtual events with our leading journalists
Already have an account? sign in
Register for free to continue reading
Registration is a free and easy way to support our truly independent journalism
By registering, you will also enjoy limited access to Premium articles, exclusive newsletters, commenting, and virtual events with our leading journalists
Already have an account? sign in
Join our new commenting forum
Join thought-provoking conversations, follow other Independent readers and see their replies