Nainika Tikoo: Nine-year-old girl dies from allergic reaction after taking single bite of a pancake
Schoolgirl went 'completely blue' after passing out, her mother says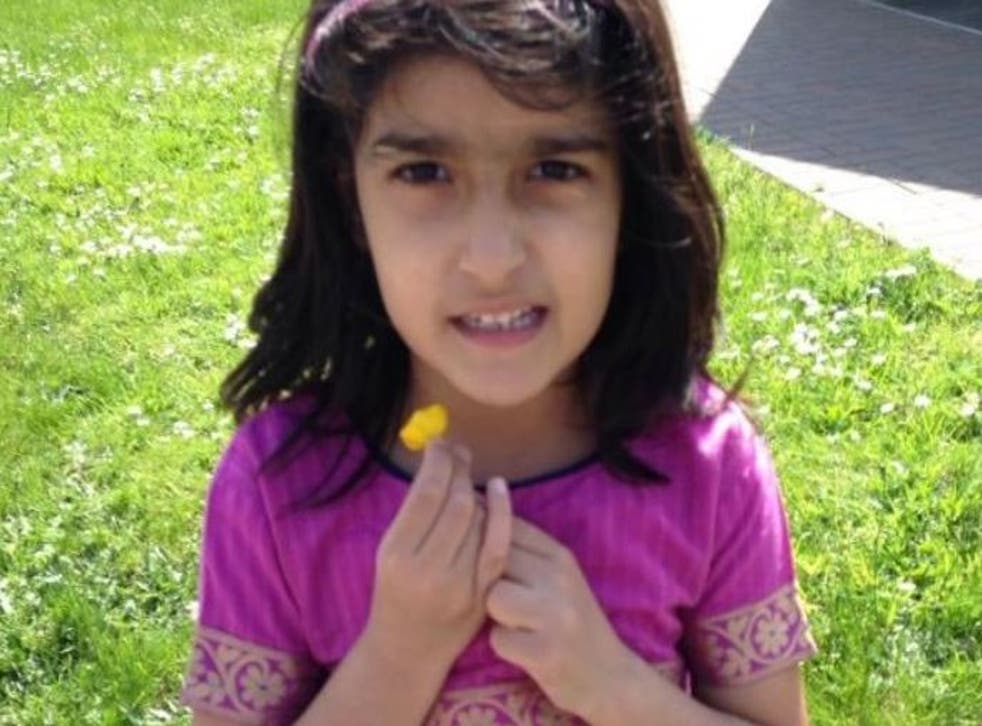 A nine-year-old girl died from an allergic reaction after taking a single bite of a pancake her father had cooked for her.
Nainika Tikoo, who was allergic to dairy, asked her father, Vinod, to add blackberries to her dairy-free pancakes on the morning of 20 May. She had never tried the fruit before.
But after taking just one bite of her breakfast, the schoolgirl turned "completely blue" and passed out.
Her father immediately tried to treat her with an Epipen and paramedics arrived at her home in Harrow, northwest London, within seven minutes.
Nainika suffered a cardiac arrest. She died days later in hospital after her family took the decision to withdraw life support.
Her mother Lakshmi Kaul said her daughter's death was a "nightmare we will live and relive every single moment of our lives remaining"
"We knew she was allergic to dairy and she had asthma so we looked after that for the last 9 years," she wrote on a Just Giving page set up to raise funds for allergy research in the wake of the tragedy. "We had only one major incident in these 9 years with a few minor incidents intermittently.
UK news in pictures

Show all 50
"She had never eaten blackberries before and somehow on Saturday 20th May 2017 morning she wanted to eat blackberries and asked Dad to put them in pancakes.
"Both were busy making dairy free pancakes not knowing what lay ahead. Having taken one bite of the pancake, she immediately reacted and within minutes despite immediate medical attention at home - Epipen and also the paramedics having arrived within 5-7 minutes of the incident, she passed out turning completely blue. She lost her pulse, breathing and had a cardiac arrest."
Ms Kaul has campaigned tirelessly in the wake of the tragedy to raise awareness of allergic reactions, and has begun setting up a charity in her daughter's name.
She said the family wanted to make a contribution to supporting research on allergy care.
"We are saddened to note that one in 3 children are allergic in the UK. Every single one of them is susceptible to severe allergic reaction to something else and potential death," she wrote.
"Both Vinod (Nainika's Dad) and I (Nainika's Mum) are very shaken by this horrible incident and would like to make our little contribution to support research and work done on allergy care in the UK.
"So much remains to be desired in this space and there are many lacuna, a small donation will be greatly appreciated from your end but more importantly, your support in helping build awareness about allergies in children will be able to save a life."
Register for free to continue reading
Registration is a free and easy way to support our truly independent journalism
By registering, you will also enjoy limited access to Premium articles, exclusive newsletters, commenting, and virtual events with our leading journalists
Already have an account? sign in
Register for free to continue reading
Registration is a free and easy way to support our truly independent journalism
By registering, you will also enjoy limited access to Premium articles, exclusive newsletters, commenting, and virtual events with our leading journalists
Already have an account? sign in
Join our new commenting forum
Join thought-provoking conversations, follow other Independent readers and see their replies