NHS crisis: Adult patients put on children's wards as trusts struggle for space over winter
Exclusive: Whole floors of children's hospitals given over to adults while paediatric consultants decry pressures forcing hospitals to consider drastic measure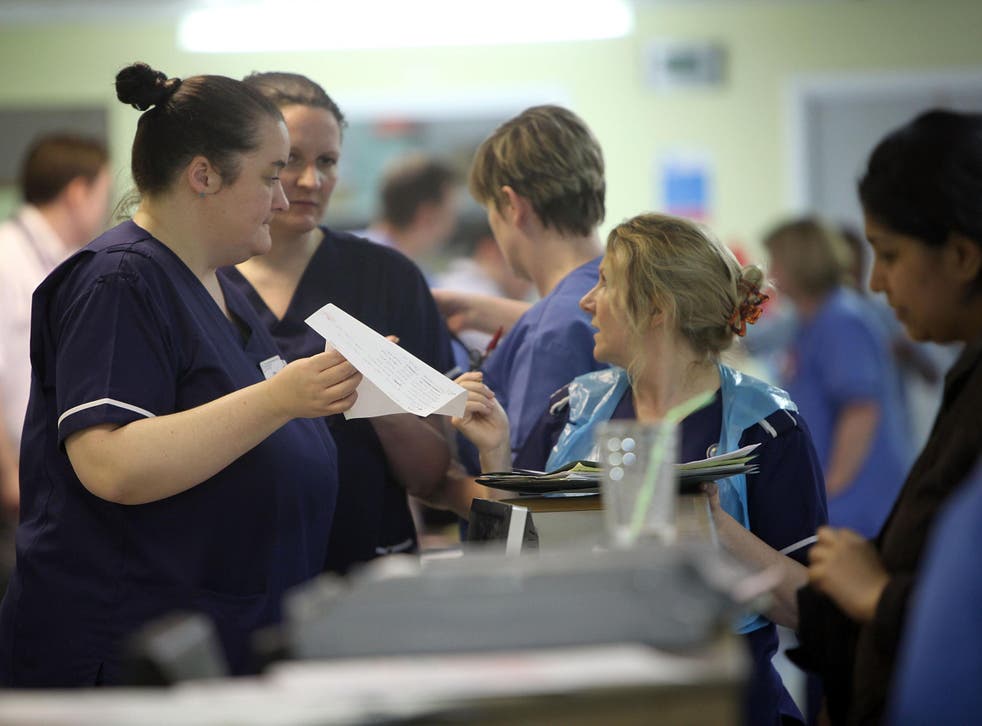 NHS trusts are turning over space on children's wards to care for adult patients, as the health service faces it's most serious winter crisis to date.
The Independent has identified three hospitals which are so full that they are turning over paediatric beds to older patients or have put in plans to do so.
One paediatric consultant said staff were "incredulous" when managers came on to a children's ward to risk assess it for use with adult patients if pressures continued to worsen, as predicted by health economists yesterday.
Professor John Appleby, chief economist of the Nuffield Trust, said: "The sobering reality is that winter for the NHS has hardly started."
NHS England also warned that a cold snap expected in the coming days will heap more pressure on services.
Everyone the Government blames for the NHS crisis – except themselves

Show all 6
Among those converting paediatric wards is Epsom and St Helier University Hospitals NHS Trust, in Surrey, which has closed the day surgery area in Queen Mary's Hospital for Children to make space for adults while the trust deals with "sustained and unprecedented pressures".
The hospital has gone to the highest level of operational pressures, Opel 4 – a "black alert" – and has opened all its so-called escalation beds including those in the children's hospital to adults. The trust said adults and children were on a different floor with a security door separating them.
The adolescents ward in Blackpool Victoria Hospital for 11 to 16 year olds has also been converted into use by adults for the foreseeable future, it emerged yesterday.
A spokesman for Blackpool University Hospitals NHS Foundation Trust said the ward was only declared an adult space on Tuesday, but that this followed a decision in November to better use the space available for a wider range of patients.
"Due to developments in areas such as child and adolescent mental health services (CAMHS) the adolescent ward was an under-used space and the trust made the decision to widen the age range of patients who could be treated on there," a spokesman said.
Meanwhile, Dr Ravi Jayaram, a paediatric consultant in Countess of Chester Hospital NHs Foundation Trust told The Independent that managers were assessing whether paediatric beds could be safely reallocated to adult patients to cope with the escalating winter crisis.
"Managers came on to the children's ward, doing an initial risk assessment in case they were really stuck for beds to put adults in. They were seeing if they could put them here.
"We were incredulous. How has it come to this? It's completely ridiculous that we've got to the point, to have adults nursed on a children's ward."
Dr Jayaram said he had also heard anecdotally of other hospitals using children's wards for adult patients, including one London trust where a doctor told him they have had to use the paediatric ward for the past two weeks.
"If an adult ward gets full, an adult can go to another ward," Dr Jayaram said. "But if our only children's ward gets filled with adults, there's nowhere else for children to go."
The trust's medical director, Ian Harvey, said it had been looking at all areas where it could find extra bed space after seeing "unprecedented numbers" of patients who are either seriously ill or can't be safely sent home.
"When faced with these challenges we have to explore every option to maximise the space available to us.
"This has included having extra beds in areas not normally bedded, but contrary to the implication of the story, mixing adults with children has never been considered, nor would it be."
Dr Mike Linney, Registrar for the Royal College of Paediatrics and Child Health, said: "Although as a college we have not had reports directly of children's wards being used to treat adult patients, all trusts must remember that if they do look at this as a coping mechanism, safety of their youngest patients must not suffer as a result – they must still have capacity to treat any children who require urgent attention."
More than 20 trusts in England have had black alerts this week, meaning there is "increased potential for patient care and safety to be compromised" and trusts must take "decisive action" to protect emergency care.
In the same week figures showed bed availability over the Christmas break fell below even last year's record level – despite Theresa May saying the NHS was better prepared than ever.
It comes as a former Conservative health secretary told The Independent the Government had not adequately prepared the NHS for the winter.
Stephen Dorrell said ministers needed to undertake a major rethink of how all public services are structured and funded – with increased spending at its heart.
Join our new commenting forum
Join thought-provoking conversations, follow other Independent readers and see their replies