NHS considering 'drunk tank' schemes to relieve pressure on A&E services
Health chief Simon Stevens tells public to end reliance on 'National Hangover Service'
Alex Matthews-King
Health Correspondent
Friday 29 December 2017 02:08 Comments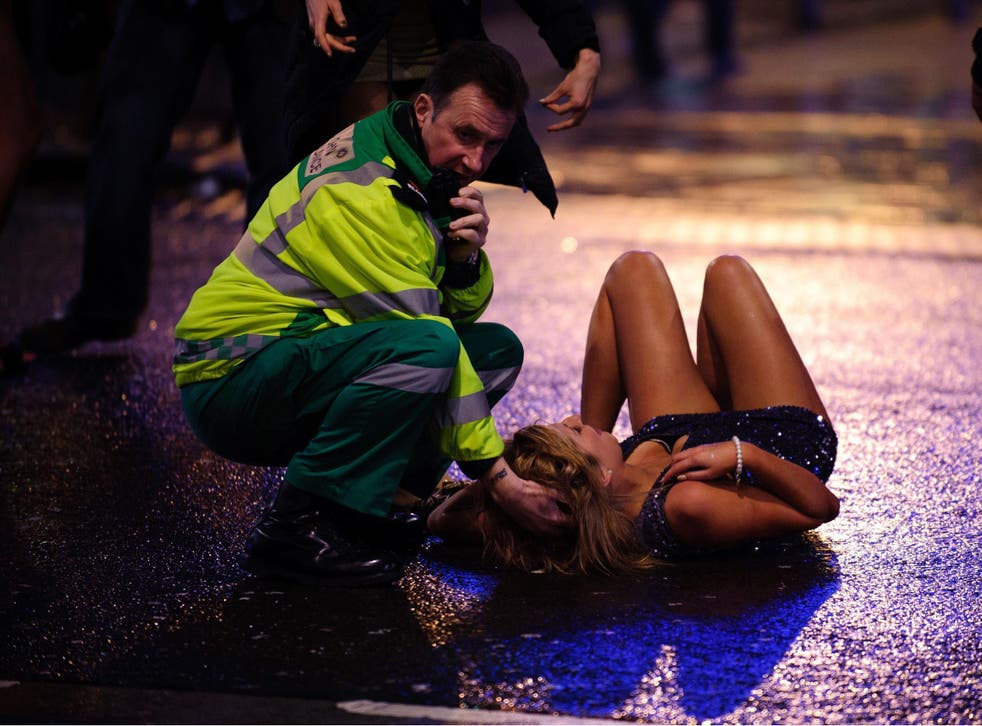 The NHS is considering rolling out supervised "drunk tanks" to major towns and cities across the country in 2018 as part of a bid to relieve pressures on A&E departments.
The performance of cities like Newcastle, Bristol and Cardiff, which already run Alcohol Intoxication Management Services (Aims) during the festive period, will be watched closely by health service chiefs considering making them a routine NHS service.
In an appeal ahead of New Year's Eve celebrations the chief executive of NHS England, Simon Stevens, said it is "selfish" that ambulance crews have to be diverted to care for overindulging revellers.
One estimate in The BMJ identified as many as 15 per cent of A&E attendances as down to acute alcohol intoxication, and Mr Stevens said the NHS is too often seen as a "National Hangover Service".
However, hospital representatives said these cases often had other serious injuries that needed assessment and no policy should be introduced without an evaluation of the evidence base.
"Drunk tanks" tend to be either in city centres or alongside an A&E department, and are led by nurses or paramedics who can assess patients as well providing other services like ensuring patients get home safely.
They also typically have a police presence, although a proposal by former prime minister David Cameron to roll out the schemes to crack down on problem drinking was condemned as unsafe.
Police chiefs have also suggested a £400 exit fee for those who make use of the service.
An evaluation comparing UK cities with Aims programmes to those without is currently being undertaken by the National Institute for Health Research (NIHR).
Current examples include a Newcastle "safe haven" scheme being run over the Christmas period by the North East Ambulance Service and Northumbria Police, with paramedics and police officers based alongside St John's Ambulance in a city centre base.
Bristol launched Britain's first "mobile drunk tank" in 2013 as a joint enterprise between police, ambulance and hospital services.
A preliminary report from the NIHR research group, published in the Emergency Medicine Journal last month, says healthcare systems around the world have explored a "variety of different services" to divert drunk patients from emergency departments.
However, it adds: "Little formal evaluation has been undertaken, particularly in the UK where alcohol misuse is one of the highest in the world."
The NIHR assessment aims to fill that gap and will look at the clinical and cost-effectiveness of these schemes to see whether they should be adopted nationwide.
Would seeing drunk footage of yourself make you change your ways?

Show all 3
A spokesperson for NHS Providers, which represents NHS trusts, including hospitals and ambulance services, told The Independent it is awaiting NIHR's findings but echoed Mr Stevens' comments on responsible drinking.
"It's not always as straightforward as it sounds to simply demarcate these people from other so-called 'more deserving' patients," they said.
"This is not something we would want to see introduced without a solid evidence-base on its likely impact – and the Nihr study should provide this."
Mr Stevens said: "When the health service is pulling out all the stops to care for sick and vulnerable patients who rightly and genuinely need our support, it's frankly selfish when ambulance paramedics and A&E nurses have to be diverted to looking after revellers who have overindulged and who just need somewhere to safely to sleep it off."
Register for free to continue reading
Registration is a free and easy way to support our truly independent journalism
By registering, you will also enjoy limited access to Premium articles, exclusive newsletters, commenting, and virtual events with our leading journalists
Already have an account? sign in
Join our new commenting forum
Join thought-provoking conversations, follow other Independent readers and see their replies