NHS set to ban homeopathy for patients because it is 'not evidence based and any benefits are down to placebo'
Health service currently spends more than £90,000 a year on the natural treatment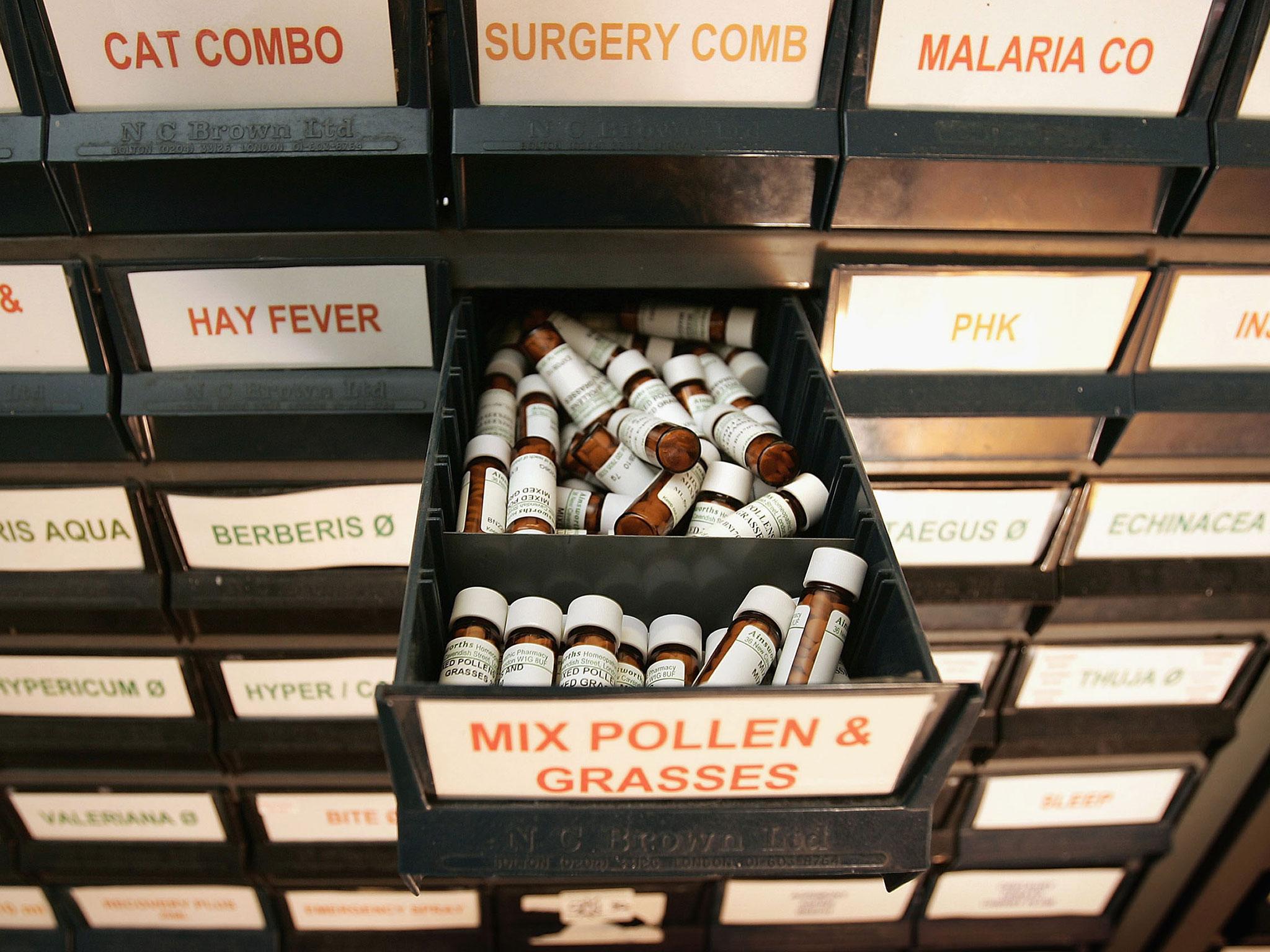 Doctors should stop prescribing homeopathic medicine to NHS patients, the health service has said. The change has been proposed because "at best, homeopathy is a placebo and a misuse of scarce NHS funds which could better be devoted to treatments that work", said Simon Stevens, NHS England's chief executive.
The NHS currently spends £92,412 a year on the natural "treatment", which uses highly diluted doses of natural substances that some claim help the body heal itself.
Recommendations set out in a consultation document categorise homeopathy as a treatment with a "lack of robust evidence of clinical effectiveness" and say GPs should not give it to new patients in a drive to cut prescription costs.
"Often patients are receiving medicines which have been proven to be ineffective or in some cases dangerous," says the document, noting there are often "more effective, safer and/or cheaper alternatives".
Last year 1.1 billion prescription items overall were signed off by GPs at a cost of £9.2bn – an amount health bosses have been tasked to reduce through increased scrutiny of the medicines provided.
The new national guidelines name 18 treatments that should generally not be prescribed and sets out action on limiting the prescription of around 3,200 products, such as eye drops, cough mixture and sun cream, that are commonly available over the counter in chemists and supermarkets.
Other treatments that could soon be banned by the NHS include herbal treatments, lidocaine plasters, omega-3 fatty acids and unlicensed use of the painkiller co-proxamol, which was withdrawn from the market in 2007 due to safety concerns. In March it was revealed that the cost-cutting plans could stop NHS doctors from providing travel vaccinations and prescriptions for hayfever tablets and gluten-free food for coeliacs.
"The NHS is probably the world's most efficient health service, but like every country there is still waste and inefficiency that we're determined to root out," said Mr Stevens. "The public rightly expects that the NHS will use every pound wisely, and today we're taking practical action to free up funding to better spend on modern drugs and treatments."
The plans are at the centre of a formal public consultation aiming to save the health service at least £250m a year.
Professor Helen Stokes-Lampard, chair of the Royal College of GPs, said it was appropriate to take "safe, sensible measures" to reduce prescription costs, which are "a significant expense for the health service".
But she warned that forcing everyone to buy common medical items previously available on prescription risks "alienating the most vulnerable in society".
Health news in pictures
Show all 40
"We know that a number of treatments are of little or no value, and are at best a placebo," she said. "We also know many other medications are available very cheaply over the counter and are much more readily obtainable than when they first became available on prescription, and both GPs and the public should be mindful of this.
"If patients are in a position that they can afford to buy over the counter medicines and products, then we would encourage them to do so rather than request a prescription – but imposing blanket policies on GPs, that don't take into account demographic differences across the country, or that don't allow for flexibility for a patient's individual circumstances, risks alienating the most vulnerable in society."
Join our commenting forum
Join thought-provoking conversations, follow other Independent readers and see their replies