Four out five homes built on NHS land 'will be unaffordable on a nurse's salary'
Report says public land should not be used to boost developer's profits and create 'luxury homes' out of reach for the majority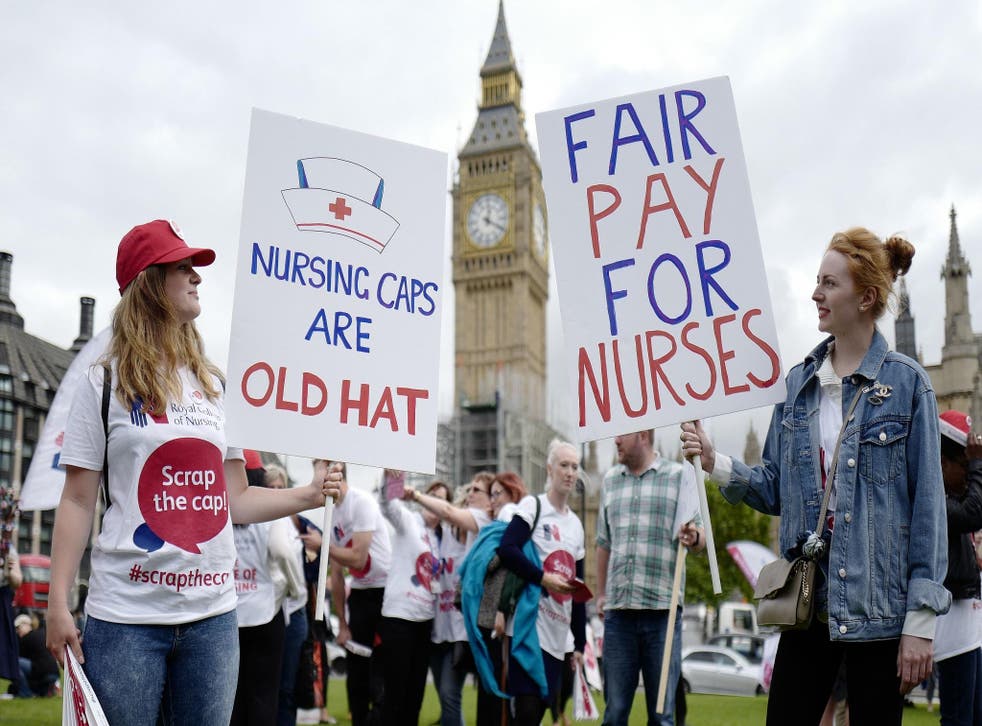 Four out of five homes being built on NHS land will be unaffordable on a nurse's salary, despite the Government's pledge to give NHS staff "first refusal" on new properties, a report has found.
Analysis by the New Economics Foundation (NEF) think tank looked at 59 NHS sites that have been sold off to private developers as part of the Government's Public Land for Housing programme.
It says that commitments to offer affordable homes to NHS staff will be worth little, particularly in places like London where only one site has affordable housing in reach on a nurse's salary.
Instead, public land held by NHS hospitals and organisations is being "flogged off" to provide luxury homes and "massive profits for developers".
Nursing leaders said it was of "great concern" that so many of the houses on former NHS land were out of reach to staff.
Two-fifths of nurses and midwives in London are already being priced out, according to figures from the Royal College of Nursing, and councils are failing to enforce requirements to provide cheaper homes.
In 2017 the Government was accused of running a "fire sale" after doubling the amount of NHS properties and land up for grabs.
To avert more criticism, Health Secretary Jeremy Hunt announced at the Conservative Party Conference that staff would have "a new right of first refusal for affordable housing built on NHS property".
But the NEF analysis shows this is unlikely to be sufficient.
Health news in pictures

Show all 40
Eighty per cent of new homes on NHS land in the UK are up for market sale.
On a nurse's salary the mortgage payments would be unaffordable on four out of five properties being sold, assuming nurses should spend 45 per cent of their income or less on housing.
The average cost of the houses for sale on NHS sites was £315,279.
This is 10 times the salary of midwives and nurses, 12 times a paramedic salary and 17 times that of clinical support staff, according to the report.
In the capital the average cost will be £561,589, which the NEF said would require a nurse to save for 117 years just to afford a 20 per cent deposit.
It has also highlighted how some developers were able to sidestep requirements to build affordable homes by haggling or using "loopholes" in the planning system.
This includes development on the former site of Bucknall hospital in Stoke-on-Trent, where developer Keep Moat are building 201 houses, "not one of which would be classed as affordable".
The developer negotiated a "meagre contribution" to the council, of £209,000 for cheaper homes to be built elsewhere, according to the NEF.
Yorkshire property developer Persimmon Homes – whose chairman resigned in protest at CEO Jeff Fairburn's "grotesque" bonus in excess of £110m – also benefited.
Its development on the site of former Pontefract General Infirmary was required by Wakefield Council to ensure 30 per cent of the homes were affordable.
The NEF report says Persimmon later said the requirement would lead to "financial inviability" and negotiated the requirement down to six per cent – seven out of the 124 homes being built.
Persimmon made pre-tax profits of £775m in 2016, largely on developments subsidised by the Government's Help to Buy scheme.
The NEF report argued that instead of selling land piecemeal to private developers, the Government should instead set up a public "land bank" with land earmarked exclusively for millions of affordable houses.
Thousands of nurses make London protest against pay cap
"Across this Parliament alone, using only public land, the Government could build 320,000 genuinely affordable homes in partnership with communities, local authorities and housing associations," it said.
Joe Beswick, housing lead at the New Economics Foundation, said: "These local NHS sites are community assets – they should be used to deliver community benefits.
"Public land – which is owned by all of us – is being flogged off to developers so that they can make massive profits, while producing a tiny amount of affordable housing.
"The UK is facing an enormous housing crisis, and the Government is making it worse."
Gerry O'Dwyer, senior employment relations advisor at the Royal College of Nursing, told The Independent: "It's obviously of great concern that so much NHS land is being sold off to private developers, with the resulting accommodation priced way beyond the salary of the average nurse."
He said a land bank was an "interesting idea", but added: "If nursing staff were paid fair wages for the extremely demanding work they do, they would be able to get on the housing ladder more quickly."
The Department of Health was approached for comment but did not respond by time of publication
Join our new commenting forum
Join thought-provoking conversations, follow other Independent readers and see their replies