A&E trolley waits over 12 hours could be affecting tens of thousands more than official data suggests
Royal College of Emergency Medicine highlights flaw in NHS England after collecting data on waiting times from 50 NHS hospitals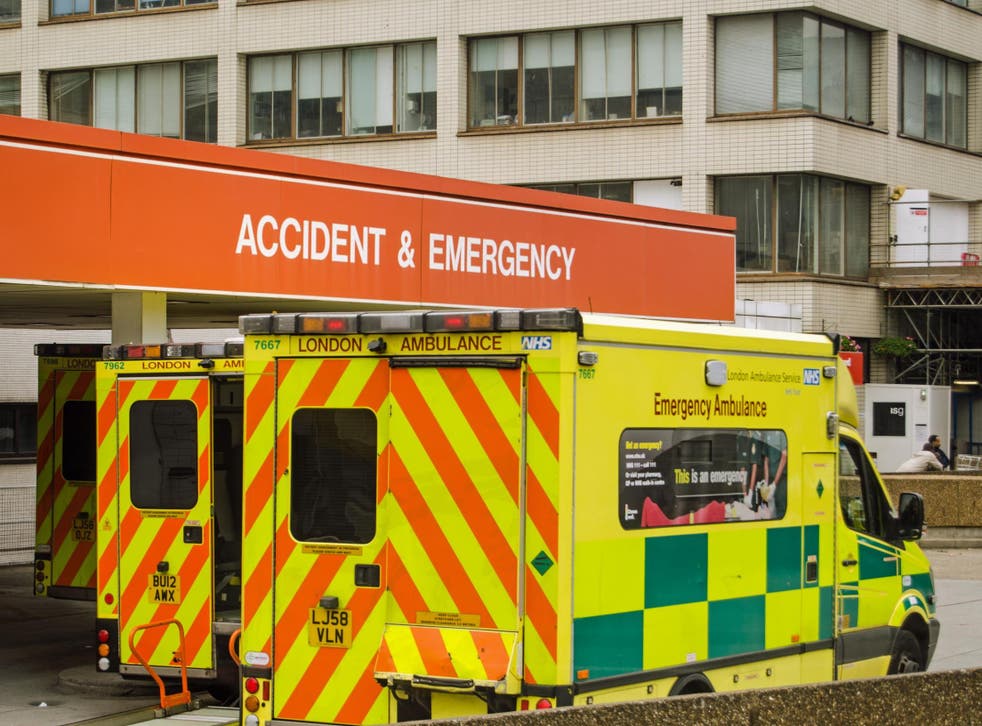 The true number of patients waiting longer than 12 hours in hospital A&Es could be tens of thousands more than official data suggests, it has emerged.
A new study by the Royal College of Emergency Medicine has shown the way the NHS officially counts 12-hour waits in emergency departments masks the true picture.
The college collected data from 50 hospitals since October with results showing for the first week of December more than 5,000 patients waited longer than 12 hours.
From the beginning of October, more than 38,000 patients waited longer than 12 hours for a bed. But the official NHS England data reports on 13,025 patients waiting beyond 12 hours.
The reason is the Royal College counts 12-hour waits from the moment a patient arrives in A&E – which is how it is measured in Wales, Scotland and Northern Ireland – but the NHS official only records 12-hour waits from when doctors make a decision to admit the patient.
UK news in pictures

Show all 50
It comes as one mother has shared a photo of her four-year-old son sleeping on the floor of Leeds General Infirmary due to a lack of beds.
Sarah Williment told the Yorkshire Evening Post, her son Jack was rushed to the Leeds hospital by ambulance with suspected pneumonia on 3 December and spent more than eight hours in A&E. The hospital has apologised.
Dr Katherine Henderson, president of the Royal College of Emergency Medicine (RCEM), said: "In a nine-week period, at only a third of trusts across the UK, we've seen nearly three times the number of 12-hour waits than has been officially reported in eight years in England. This must be fixed.
"The way in which it has historically been reported does our patients a disservice and hides the true scale of the problem of corridor care."
The data will underline the importance of an existing review of NHS waiting times being carried out by NHS England at a dozen hospitals. They are trialling new approaches to A&E waits, referrals for operations and diagnostic tests.
The RCEM report also showed just 69 per cent of patients were seen within four hours across the 50 hospitals – the worst performance in the five-year history of the Winter Flow Project.
Niall Dickson, chief executive of the NHS Confederation, said: "We have to find ways of reducing the demand on our emergency departments – this survey is further evidence of the colossal pressures on staff and the real suffering of thousands of patients. It is small wonder that most leaders say this will be the worst winter ever."
Dame Donna Kinnair, chief executive of the Royal College of Nursing, said: "Nobody wants the image of the 2019 general election to be a patient marooned on a trolley in a corridor for 12 hours – but that is exactly the picture highlighted from the data from these trusts.
"Patients who need to be admitted to hospital from A&E are the very sickest – nurses repeatedly tell us that providing care is hard enough already. But it's no surprise that beds can't be found quickly enough when we currently have 43,000 vacant nurse posts in the NHS, and the figure is still rising."
Register for free to continue reading
Registration is a free and easy way to support our truly independent journalism
By registering, you will also enjoy limited access to Premium articles, exclusive newsletters, commenting, and virtual events with our leading journalists
Already have an account? sign in
Register for free to continue reading
Registration is a free and easy way to support our truly independent journalism
By registering, you will also enjoy limited access to Premium articles, exclusive newsletters, commenting, and virtual events with our leading journalists
Already have an account? sign in
Join our new commenting forum
Join thought-provoking conversations, follow other Independent readers and see their replies