Lack of care available to country's sickest children forces NHS to restore beds to local hospitals
Exclusive: If nothing is done England will be short of 60 paediatric intensive care beds a year, with sickest children forced to travel across the country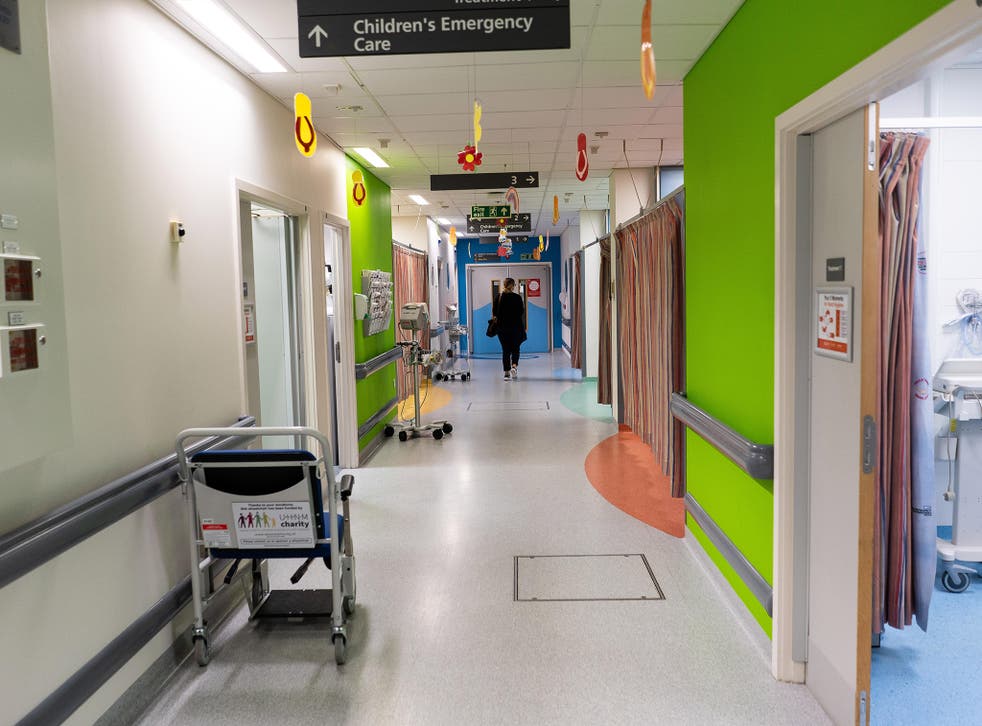 A shortage of beds and staff to care for the country's sickest children has forced the NHS to redesign critical-care services nationwide, The Independent has learned.
Health service bosses will reverse more than two decades of centralisation that have seen many smaller hospitals lose services, with new children's critical-care networks created and hospitals working together to move children closer to their homes, freeing up beds.
During winter, the UK regularly runs out of beds for seriously ill children, with many sent to opposite ends of the country. Now NHS reforms will aim to prevent children having to be transferred hundreds of miles and allow some to be looked after safely in smaller hospitals.
An NHS England report, seen by The Independent, sets out how England is suffering a chronic shortage of specialist beds and staff. It found that if no action is taken, the country would be short of 60 paediatric intensive care beds a year in the face of rising demand.
The report says that many units were operating at 92 per cent capacity in 2016, above the recognised safe level of 85 per cent, adding that these issues meant "patients sometimes having to travel across the country to access a bed and cancellation of operations due to a lack of critical-care beds".
UK news in pictures

Show all 50
It adds: "Projecting recent levels of activity growth without any corresponding changes to the current service model … would require an increase in paediatric capacity by 60 beds a year from current provision to meet future demand."
Efforts to expand services struggled, the report says, "largely because of a shortage of qualified staff to enable more beds to be opened", with staff shortages meaning many units were "limiting the number of patients that they can treat to fewer than their physical bed space".
For general children's surgery, the report says there has been a gradual decline at smaller district general hospitals. NHS England data showed a steady year-on-year shift to specialist larger hospitals of around 6 per cent a year.
NHS England will create care networks covering 1.5 million people in which staff from larger hospitals will train workers at smaller ones. Those smaller institutions will then be able to take on children who have been moved out of intensive care in bigger hospitals.
This is intended to free up the largest number of specialist beds for the sickest children, while delivering care closer to families' homes with staff rotating and working between hospitals to improve their skills and experience.
Peter-Marc Fortune, president of the Paediatric Intensive Care Society, welcomed the new approach and told The Independent: "The focus on centralisation of critical-care services has arguably overshot the mark and done us no favours. What this is seeking to do is to develop a better model of care to enable children and their families to be closer to home."
Dr Fortune, a consultant at Manchester University Foundation Trust, added: "With the current model through which we deliver care, we are short of beds. We have got a significant cohort of children with quite complex support needs who could easily be cared for elsewhere and help the places who don't have the bed space to look after some of these kids who really need it."
An NHS England spokesman said: "To be clear, no facilities are closing as part of this review, but doctors, families and other experts have told us that by connecting up existing services through local networks, the NHS will be able to provide the best possible care for an increasing number of children and their families."
Register for free to continue reading
Registration is a free and easy way to support our truly independent journalism
By registering, you will also enjoy limited access to Premium articles, exclusive newsletters, commenting, and virtual events with our leading journalists
Already have an account? sign in
Register for free to continue reading
Registration is a free and easy way to support our truly independent journalism
By registering, you will also enjoy limited access to Premium articles, exclusive newsletters, commenting, and virtual events with our leading journalists
Already have an account? sign in
Join our new commenting forum
Join thought-provoking conversations, follow other Independent readers and see their replies