Scandal-hit NHS trust admits negligence over death of six-week-old baby
Hospital trust 'truly sorry that mistakes were made in care' of Luchii Gavrilescu, who died after being sent home from hospital with undiagnosed tuberculosis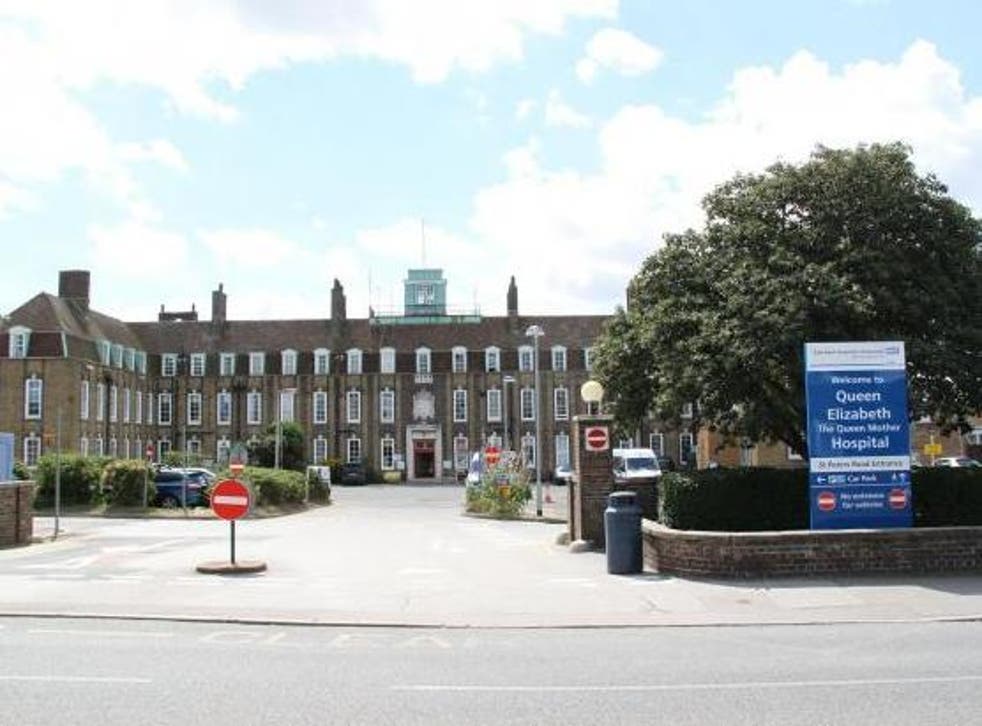 An NHS trust investigated over maternity care failings has apologised after a six-week-old child was found to have died due to mistakes at one of its hospitals.
East Kent Hospitals University Trust was embroiled in a major scandal after The Independent revealed the trust had seen more than 130 babies over a four-year period suffer brain damage as a result of being starved of oxygen during birth.
A report into the trust concluded in April that there had been "recurrent safety risks" at its maternity units.
The trust has now apologised for the death last year of six-week-old Luchii Gavrilescu, who was sent home from the Queen Elizabeth the Queen Mother (QEQM) hospital in Margate with a mottled rash, erratic breathing and reduced feeding on 29 November.
The boy was assessed by a junior doctor who diagnosed him with bronchiolitis - a common lung infection in infants - and sent home without receiving a chest x-ray or blood tests, according to a statement from lawyers for Luchii's family.
UK news in pictures

Show all 50
After erratic breathing and a period of floppiness he was returned to QEQM - where he died hours later of tuberculosis.
Legal practice Fairweathers said a number of failings, including a failure to recognise the seriousness of Luchii's condition and involve a senior doctor at an early stage, a lack of senior paediatric medical staff available in the emergency department, and a delay in administering prescribed antibiotics, had led to the death.
After Luchii's death his father, Vlado Gavrilescu, was also diagnosed with TB. It emerged that an x-ray taken of Mr Gavrilescu's lungs in 2018 at William Harvey Hospital, another East Kent Hospital Trust site, showed that he had exhibited symptoms of the illness that went undiagnosed.
A spokesman for East Kent Hospitals said: "We are continuing to support Luchii's family after his death and are truly sorry that mistakes were made in his care. We would like to reiterate our heartfelt condolences to them on their devastating loss.
"We have shared with the family the findings of an initial investigation into his death, and also into the circumstances surrounding his father's diagnosis of TB."
Mother Laura Cooke said: "Nothing the Trust can ever say or do will bring Luchii back but I am glad that they have owned up to their mistakes and want them now to ensure no family ever has to go through what we have."
An investigation into the Trust's maternity services, led by Dr Bill Kirkup who has overseen multiple high-profile investigations into NHS care scandals, is currently ongoing.
Register for free to continue reading
Registration is a free and easy way to support our truly independent journalism
By registering, you will also enjoy limited access to Premium articles, exclusive newsletters, commenting, and virtual events with our leading journalists
Already have an account? sign in
Register for free to continue reading
Registration is a free and easy way to support our truly independent journalism
By registering, you will also enjoy limited access to Premium articles, exclusive newsletters, commenting, and virtual events with our leading journalists
Already have an account? sign in
Join our new commenting forum
Join thought-provoking conversations, follow other Independent readers and see their replies