More families raise safety fears of scandal-hit NHS maternity service
Independent inquiry is examining services at East Kent Hospitals University Trust after dozens of babies died and more than 130 infants suffered brain injuries during birth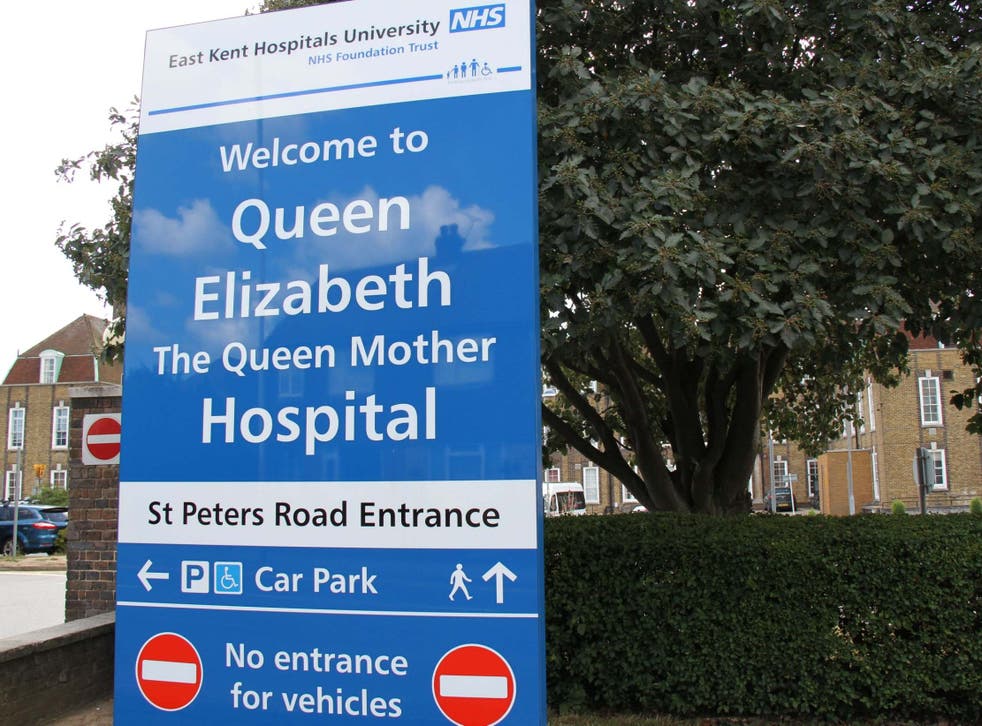 More families have come forward to raise serious concerns about maternity care at an NHS trust now facing an independent inquiry, it has emerged.
Dr Bill Kirkup, who is leading an investigation into maternity services at East Kent Hospitals University Trust, told The Independent more families than were previously known have come forward since the inquiry was launched earlier this year.
A panel of experts will meet for the first time today to help Dr Kirkup, who has led multiple high-profile investigations into NHS care scandals, formulate a plan with families to examine the trust.
A website for the inquiry has also gone live today.
Dr Kirkup said: "We have had more people in contact with us than anybody knew about before so it is necessary that we do this. There clearly is a public demand for this and so far it is working in that we are getting people coming forward to express what looks on the face of it to be very serious concerns about the services.
"When you put them all together, it is more people than anybody has known about previously."
He acknowledged this was a worry but added: "It's a concern about the scale of problems in East Kent but much better that we knew about the scale and the seriousness of the issues at the start."
In a rare move, Dr Kirkup also revealed the panel will be advised by two patient safety campaigners James Titcombe, who helped expose maternity failings at the Morecambe Bay University Hospital, and Nicky Lyon from the Campaign for Safer Births.
The inquiry was commissioned after concerns emerged last year over the standards of maternity services at the trust following the death of baby Harry Richford, who died as a result of catastrophic errors by panicking doctors and midwives in November 2017.
At an inquest into his death in January, assistant coroner Christopher Sutton-Mattocks ruled Harry's death was "contributed to by neglect" and "wholly avoidable".
The Independent learned there had been dozens of deaths and more than 130 babies had suffered brain injuries during their birth at the trust.
Repeated errors and concerns about maternity services at the trust were known to senior bosses as early as 2016, when a previously secret report into the maternity department revealed a catalogue of safety concerns and poor culture.
The report, by the Royal College of Obstetricians and Gynaecologists, said a group of consultants who repeatedly refused to work evenings and weekends were leaving less experienced staff on their own.
These failings were repeated in the case of Harry Richford more than a year later.
In February, the Care Quality Commission warned the trust was still putting babies and mothers at risk weeks after patient safety minister Nadine Dorries had previously said the hospital was safe.
A spokesman for East Kent Hospitals University Trust said: "We welcome this independent investigation and we are doing all we can to assist and support Dr Kirkup and his team."
Register for free to continue reading
Registration is a free and easy way to support our truly independent journalism
By registering, you will also enjoy limited access to Premium articles, exclusive newsletters, commenting, and virtual events with our leading journalists
Already have an account? sign in
Register for free to continue reading
Registration is a free and easy way to support our truly independent journalism
By registering, you will also enjoy limited access to Premium articles, exclusive newsletters, commenting, and virtual events with our leading journalists
Already have an account? sign in
Join our new commenting forum
Join thought-provoking conversations, follow other Independent readers and see their replies