Mental health services 'at risk of deteriorating' despite Government promises, NHS managers say
Services are threatened because the NHS is 'in the middle of the longest and deepest funding squeeze in its history'
Katie Forster
Health Correspondent
Thursday 06 July 2017 17:34 Comments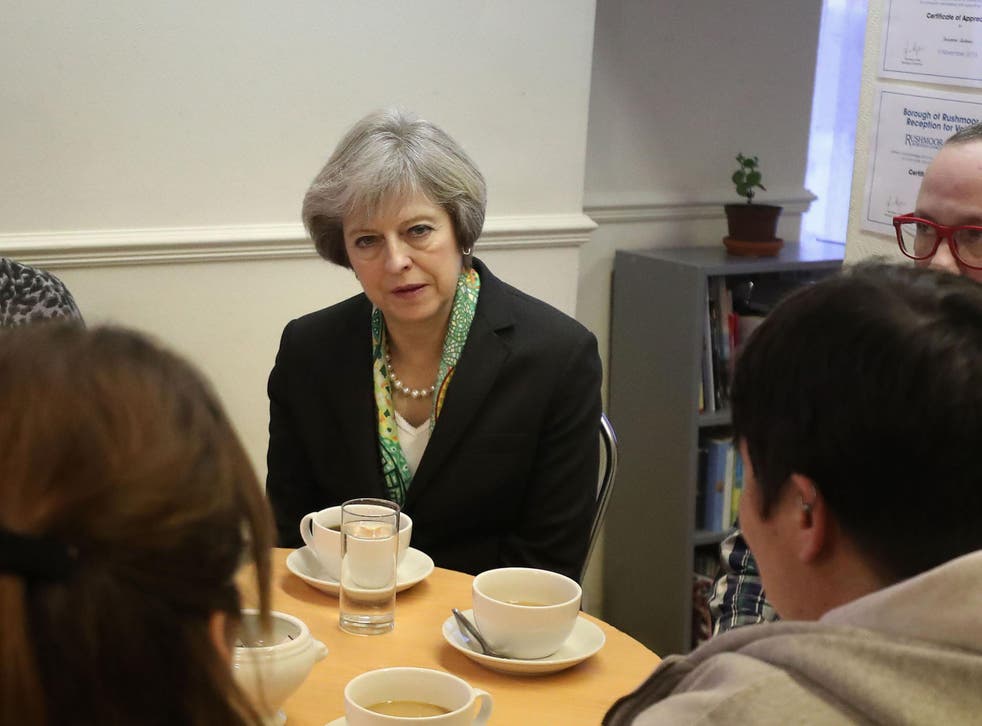 More than half of senior managers working in NHS mental health trusts have said they do not believe access to mental health services in their area will improve, despite Government promises to increase investment, a new report has found.
Theresa May has promised to reform mental health legislation and the Queen's Speech said the Government will "ensure that mental health is prioritised in the NHS in England".
But this commitment is being undermined by the increasing pressure faced by critical mental health services, which are "at risk of deteriorating", according to the organisation NHS Providers.
The group, which represents England's 233 hospital, mental health, community and ambulance trusts, warned that Britain's mental health services are being "overwhelmed" by rising demand, staff shortages and the failure of funding to reach the front line.
It said the NHS is "in the middle of the longest and deepest funding squeeze in its history" and is missing key targets on waiting times for operations and GP referral, ambulance response times and the four-hour A&E wait.
Its survey of 158 chairs and chief executives from 125 trusts found the NHS faces "serious challenges in maintaining standards of care" amid concerns over staffing levels across the health service.
There was a drop in how many managers surveyed said they were confident they were currently able to provide high-quality care, down to 53 per cent from 60 per cent in November.
More than a third, 37 per cent, thought the care given to patients was average, while 2 per cent said it was low quality. Eight per cent said the care offered by their trust was very high quality.
Question Time: I have been waiting since 2015 for NHS mental health counselling
The report welcomed the Government's plans to ensure patients with mental health conditions are treated with the same urgency as those with physical health conditions.
However, "as with physical health, and indeed social care, the level of financial investment in core mental health services – against a backdrop of rising demand and costs – is failing to keep up with rapidly rising demand," it warned.
Mental health trusts are under pressure to make savings, often of around 4 to 6 per cent each year, it said, while extra money allocated by the Government for mental health is not getting through to services as it is used to plug funding gaps elsewhere.
Of the 43 bosses from 37 mental health trusts who participated in the study, eight in 10 said they were concerned about whether their trust would receive enough funding in the next year to meet expectations set out for the NHS, while 54 per cent said they were not optimistic their services would improve.
"The ambition to improve mental health service services will only be met if we have the right workforce with the right skills in the right place," said the report.
"However, as with other parts of the NHS, our survey shows that mental health trusts are struggling to find enough staff with the right skills to deliver existing services to the right quality, let alone being able to find new staff to extend services to new users or create new services."
The report said while the extra funding promised in the Conservative manifesto is welcome, spending on health will still significantly fall as a percentage of national wealth until 2022/23.
The survey found that 57 per cent of managers questioned were worried or very worried about their ability to maintain the right numbers of staff, both clinical and non-clinical, to deliver high-quality care.
Health news in pictures

Show all 40
The NHS is committed to the following four key targets: 75 per cent ambulance response within eight minutes; 95 per cent A&E four-hour waiting times; 92 per cent 18-week elective surgery and 85 per cent of patients seen in hospital within 62 days of GP referral.
Dr Phil Moor, chair of NHS Clinical Commissioners Mental Health Commissioners Network, said mental health must be central to plans to to reform local health services.
"We have heard from some of our members that they have faced pressure to spend money on stabilising the acute sector, rather than investing in mental healthcare and so share the concerns on this raised in today's report," he said.
"Investment in mental healthcare for children and young people is highlighted as a particular issue – we would again repeat the call we made last year for the money promised in the March 2015 budget for this vulnerable group to be ring-fenced given the historical under-investment in this vital area combined with the sheer number of financial pressures on our budgets."
A Department of Health spokesperson said the Government is "committed to seeing mental health services improve on the ground".
"We expect NHS England to ensure the record amount of funding we're giving to mental health reaches the frontline, with an extra £1billion a year by 2021," they said.
"We will continue to push forward change as we reform outdated mental health laws and have created targets to improve standards of care, including ending out of area placements by 2020."
Register for free to continue reading
Registration is a free and easy way to support our truly independent journalism
By registering, you will also enjoy limited access to Premium articles, exclusive newsletters, commenting, and virtual events with our leading journalists
Already have an account? sign in
Join our new commenting forum
Join thought-provoking conversations, follow other Independent readers and see their replies