Coroner criticises NHS after death of patient with broken neck who was shunted between hospitals three times
'I just want to make sure it doesn't happen to anyone else. I don't want anyone else to lose their loved one like I had to'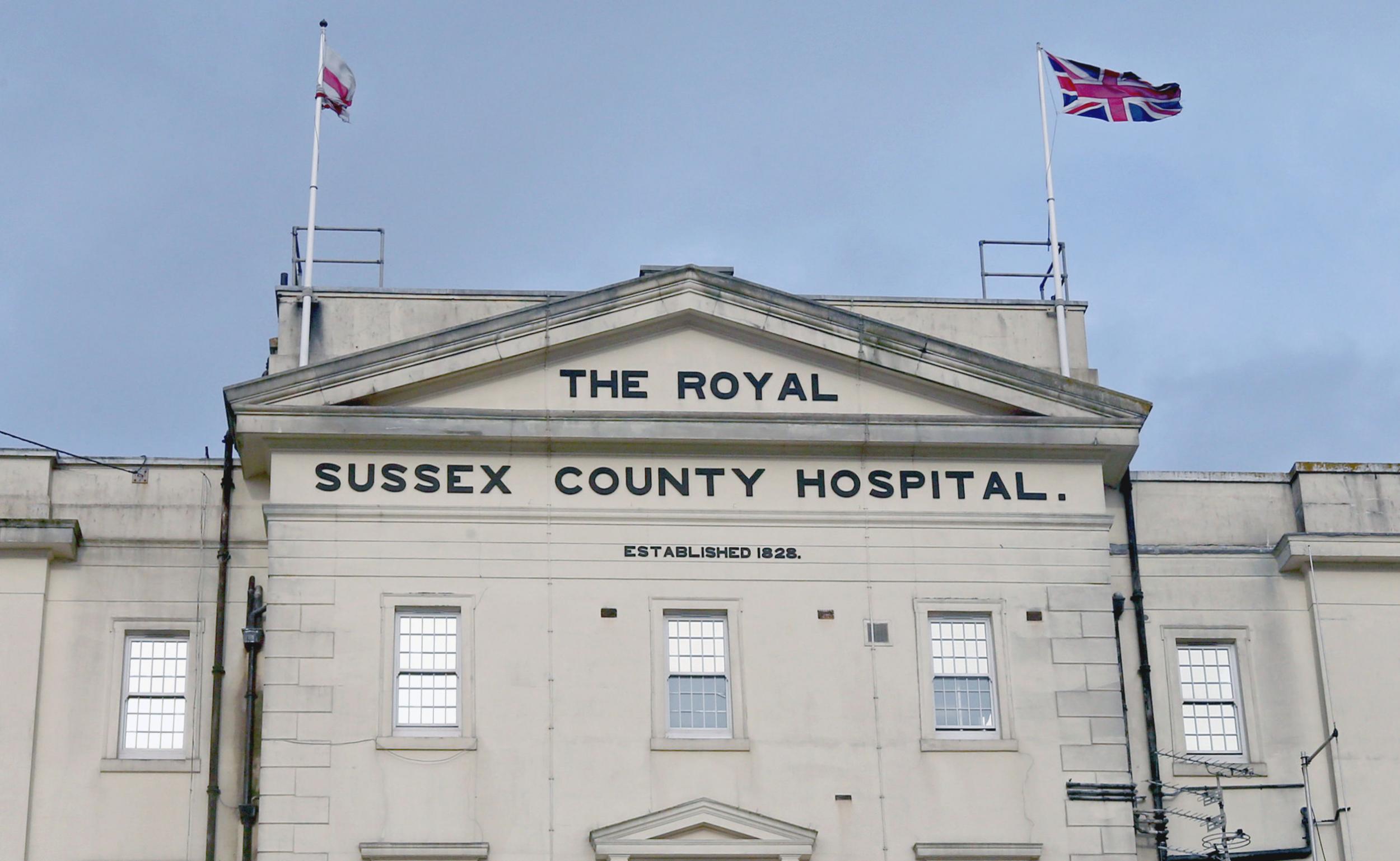 An 88-year-old woman with a broken neck died after being transferred three times between two hospitals in the space of just 48 hours, The Independent can reveal.
The death of Jean Waghorn, who died after contracting pneumonia in hospital, sparked criticism from a coroner who said the NHS trust had ignored earlier warnings over moving patients between hospitals.
Senior coroner Veronica Deeley had issued two official alerts to Brighton and Sussex Hospitals Trust last year after the deaths of frail elderly patients who were wrongly shuttled between hospitals.
But despite this, in June this year Ms Waghorn, who broke her neck after falling at home, was repeatedly transferred between the Princess Royal Hospital in Sussex and Brighton's Royal Sussex County Hospital. She caught pneumonia and died two days later.
The coroner has now sent a third warning, known as a regulation 28 report, to the hospital but questioned what the point was "if the trust ignores them".
She has also sent the warning to Matt Hancock, the health secretary, and Simon Stevens​, the chief executive​ of NHS England.
Ms Waghorn's daughter said her mother should not have been moved and criticised the care she received after the pensioner was forced to go to the toilet in her hospital bed on two occasions.
Jacqui Moore, who lived with her mother in Burgess Hill for two years, told The Independent when her mother arrived at the Princess Royal: "They didn't have any hard collars so they rolled blankets around her neck and taped her to the bed."
Because of her fracture she was taken to the Royal Sussex County Hospital A&E where she faced a long wait.
Ms Moore said: "She asked to go to the toilet quite a few times. I kept saying she needs to go to the toilet but the staff just kept saying, 'In a minute.' She couldn't hold on any more and in the end she just had to go. She felt pretty degraded and I was quite angry."
Her mother was still in A&E in the early hours of the next day when she was sent back to the Princess Royal Hospital, but Ms Moore said staff there did not know how to look after patients with a hard collar.
The pensioner was then transferred back to Brighton Hospital where she was eventually put on a ward where she started to show signs of infection.
For the second time Ms Waghorn was forced to go to the toilet in the bed when staff wrongly assumed she only wanted to urinate.
"It was awful. They didn't listen to her. We all have our dignity, especially the elder generation. I asked three or four times for a bedpan. She did have a catheter and that was all they kept saying but she didn't want to use that. I could tell she was upset," said Ms Moore.
Her mother's condition deteriorated and she died hours later.
Her daughter said: "I am not saying the outcome would have been different but it really wasn't a good experience for my mum. When someone has a serious neck injury they shouldn't keep being moved, especially if they're an older person.
"Why didn't they check the ward could look after her? Fair enough if they needed to move her, but the nurses there didn't know how to look after her.
"I just want to make sure it doesn't happen to anyone else. I don't want anyone else to lose their loved one like I had to. She was a big part of my life and I miss her so much."
In July last year, Ms Deeley, a senior coroner for Brighton, sent two reports to hospital bosses after the death of Rita Giles and Ronald Harman, who were both wrongly moved between hospitals.
Following an inquest into Ms Waghorn's death, the coroner, who recorded a narrative verdict, said: "This lady was transferred between hospitals three times in just over 48 hours."
She said the first transfer to Brighton A&E was correct but the following two were not, adding: "I cannot say that they contributed to her death, however, she developed pneumonia from which she died within two and a half hours of her arrival back in Brighton on 25 June."
Ms Deeley expressed her frustration saying the trust's transfer policy was "effectively ignored" and this had been the case in the two earlier deaths. "What is the point of the regulation reports if the trust ignores them?"
The hospital, which is rated good by the CQC, has now apologised and said it has learned lessons from the case. A spokesperson said it did take action following the previous warnings and added that work was ongoing to ensure the changes were consistently applied.
Chief nurse Carolyn Morrice said: "I would like to offer my deepest sympathies and apologies to Ms Waghorn's family. The trust has carried out a thorough investigation into her care and I would like to reassure her family that we have learnt valuable lessons and made a number of improvements to ensure this does not happen again.
"I do understand this must be a very difficult time for the family but would welcome the opportunity to meet them and share details of all the improvements we have made."
Join our commenting forum
Join thought-provoking conversations, follow other Independent readers and see their replies