The Independent's journalism is supported by our readers. When you purchase through links on our site, we may earn commission.
NHS plans to borrow £10bn from hedge funds called 'desperate' by health campaigners
Health bosses seek Treasury approval for private investment but critics say this is 'yet another cynical handover of public assets to the private sector'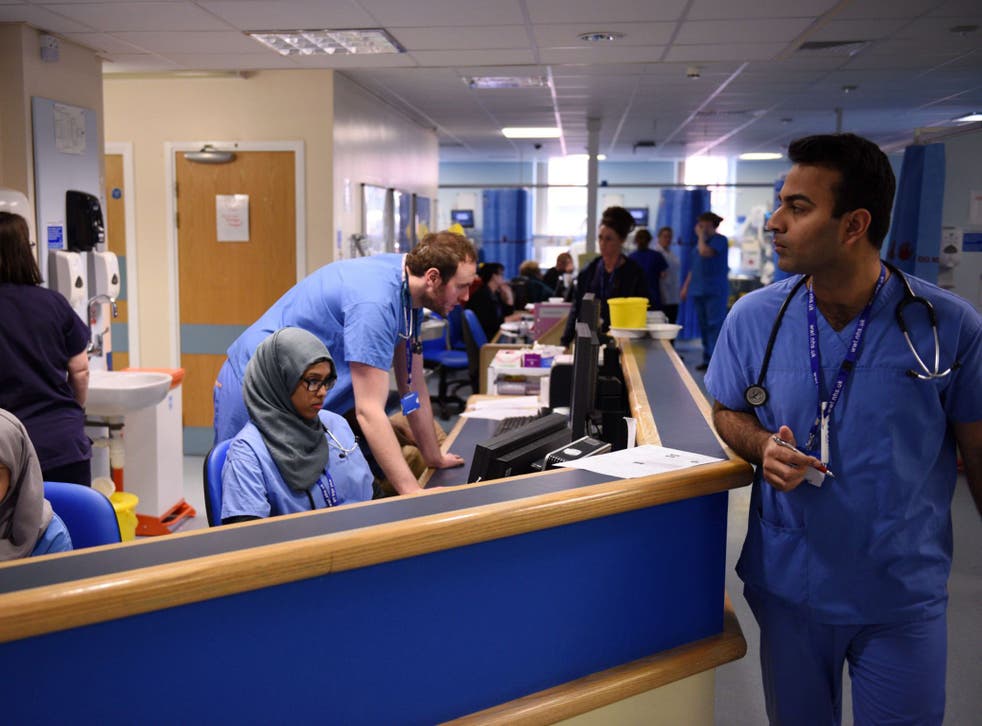 The NHS is hoping to borrow up to £10bn from private investment companies to pay for hospital repairs and equipment, it has been revealed.
Anti-privatisation campaigners said plans to seek hedge fund investment show how "desperate" NHS finances have become.
Health bosses will ask the Treasury to approve loans to create a new NHS infrastructure fund, according to The Times.
Tentative deals have been drawn up with a number of hedge funds and investment companies, reported the newspaper – but these can only go ahead with Government approval.
The NHS plans to modernise GP services, with more than 800 projects singled out for investment by 2019, according to a recent report on the future of the health service.
Better buildings and equipment including up-to-date IT systems are needed to allow family doctors to provide quicker testing and better care to improve treatment for cancer and mental illness as well as the challenges posed by an ageing population.
But a review into NHS property highlighted a £10bn infrastructure funding gap and said without investment, it "will remain unfit for purpose and will continue to deteriorate".
Sir Robert Naylor, former head of the University College London Hospitals Foundation Trust and author of the report, told ministers that "substantial capital investment" was needed to improve NHS services.
Philip Hammond claims the Tories are 'the party of the NHS' during Budget 2017
On top of money from the Treasury, funds could be raised through land sales and private capital for changes to GP surgeries to help keep elderly people out of hospital, he said.
Clive Peedell, a consultant clinical oncologist and co-founder of the National Health Action Party, said: "How can it be cheaper to borrow from hedge funds rather than fund directly from Treasury? NHS finances are desperate."
Interest rates are currently at a record low, making it a good time for the NHS to use private cash to help boost funding for infrastructure projects, said Jim Mackey, chief executive of NHS Improvement, the body which regulates health service finances.
"Historically low interest rates are a golden opportunity for the NHS but we are constrained by rigid rules around borrowing that prevent us from taking action," Mr Mackey told The Times.
"We have to be realistic because we are not going to get a £10 billion cheque to pay for all the transformation under way and the massive maintenance backlog."
Deborah Harrington, also of the National Health Action Party, told The Independent: "There is nothing good about this plan. The cheapest and most effective way to fund public services is directly from the Treasury.
"It's not that the Government can't, it's that they won't. It is yet another cynical handover of public assets to the private sector... now we will have hedge funds joining the feeding frenzy."
Everyone the Government blames for the NHS crisis – except themselves

Show all 6
The British Medical Association called for the Government to act, with the union's head Mark Porter saying the move "shows how desperately the health service needs more funding".
And shadow health secretary Jonathan Ashworth said it was "shocking" that NHS leaders were in negotiations with hedge fund bosses.
"Theresa May has refused to respond to the needs of crumbling hospitals, ageing equipment or provide the necessary investment in community facilities," he added.
Join our new commenting forum
Join thought-provoking conversations, follow other Independent readers and see their replies