Tens of thousands to march against government austerity cuts on week NHS turns 70
Demonstration comes as NHS officials announced plans to cut back on 17 'unnecessary or risky' procedures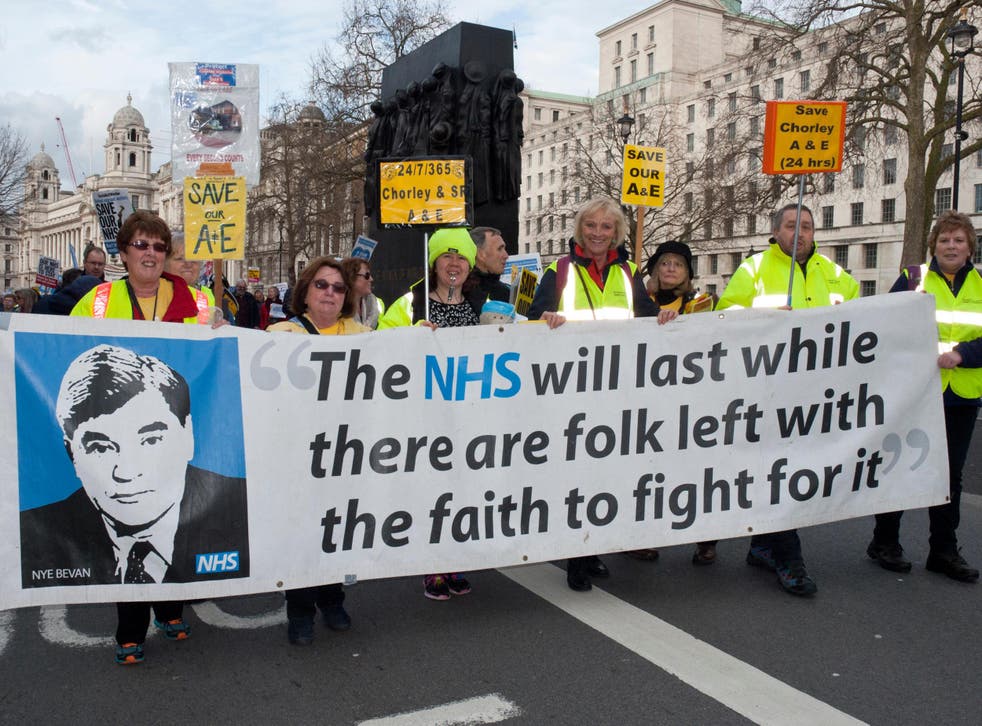 Tens of thousands of people are travelling to London on Saturday to take part in mass demonstrations against the "deliberate" underfunding of the NHS,
Nurses, doctors, actors and musicians will be among the masses marching on Whitehall on the week the health service turns 70.
NHS staff have travelled from as far afield as Lancaster to take part in the demand to end the cuts and the "ruinous" privatisation of NHS services.
They hope to ensure that the founding principles of the NHS, that it is free at the point of use and available to all, are not undermined by budget pressures which have meant long waits for treatment and rationing of services in parts of the country.
NHS at 70: demonstration and celebration march to mark anniversary

Show all 18
The march falls on the same morning that NHS officials said they were considering axing 17 routine but unnecessary procedures, such as back pain injections and varicose vein treatment in a bid to save £200m.
Others who couldn't attend the event in person have taken to social media to show their support.
Labour leader Jeremy Corbyn, who will address the demonstration, said: "It is almost 70 years since the NHS was founded by a Labour government and it's still our proudest achievement.
"What the Conservatives have done to our NHS, first under David Cameron, and then Theresa May, is appalling.
"Deliberate underfunding of services, and squeezing the pay of our brilliant doctors, nurses and health staff, has pushed our NHS to the brink.
"Every day there are shocking stories of unacceptable waiting times, ambulance delays and patients left on trolleys in corridors, and they've spent years selling off and contracting out our NHS bit by bit, leaving the NHS to be sued by private companies, like Virgin.
"Labour will end privatisation because our NHS should be about healthcare for all, not profits for a few.
"Last week, the government finally announced some more money for our health service, but it's simply not enough to make up for the last eight years of slashed budgets and worsening standards, falling morale and loss of staff.
"In fact, it would barely keep the NHS at a standstill."
Research by the TUC showed "widespread" shortages of GPs in England, with 43 per cent fewer doctors than needed in Milton Keynes and Luton.
No area of the country has enough GPs to meet demand, with even the best-provided area of Dorset having a 4 per cent shortfall, said the TUC.
NHS at 70: Pride and worry as free health service celebrates birthday

Show all 18
General secretary Frances O'Grady said: "Underfunding has left the NHS on the critical list. There are too few doctors, too few beds and too few healthcare staff.
"The best medicine for the NHS is the extra funding it needs, but the government is giving it too small a dose to bring it up to full health.
"We're sending a message to the government today that our NHS needs a better deal and it must be publicly owned and provided so that every penny goes to patient care and not to private profits."
The GMB union said the three year pay deal for NHS workers would lead to a real terms pay cut of up to £2,500 for some staff.
The GMB is the only health union to have rejected the deal.
National officer Rachel Harrison said: "Jeremy Hunt has some cheek imposing a real terms pay cut of thousands of pounds on hard-working NHS staff.
"On the NHS's 70th birthday, the Health Secretary has soured the mood with his party pooper of a pay offer."
Saturday's protest is being organised by groups including the People's Assembly and unions.
A Department of Health and Social Care spokesman said: "As part of our long-term plan for the NHS we will increase funding by an average 3.4 per cent per year – meaning that by 2023/24 it will receive £20.5 billion a year more than it currently does."
Register for free to continue reading
Registration is a free and easy way to support our truly independent journalism
By registering, you will also enjoy limited access to Premium articles, exclusive newsletters, commenting, and virtual events with our leading journalists
Already have an account? sign in
Register for free to continue reading
Registration is a free and easy way to support our truly independent journalism
By registering, you will also enjoy limited access to Premium articles, exclusive newsletters, commenting, and virtual events with our leading journalists
Already have an account? sign in
Join our new commenting forum
Join thought-provoking conversations, follow other Independent readers and see their replies