NHS 'straining at the seams' and struggling to cope, damning review finds
Watchdog says entire health service is 'at full stretch'
Benjamin Kentish
Tuesday 10 October 2017 00:10 Comments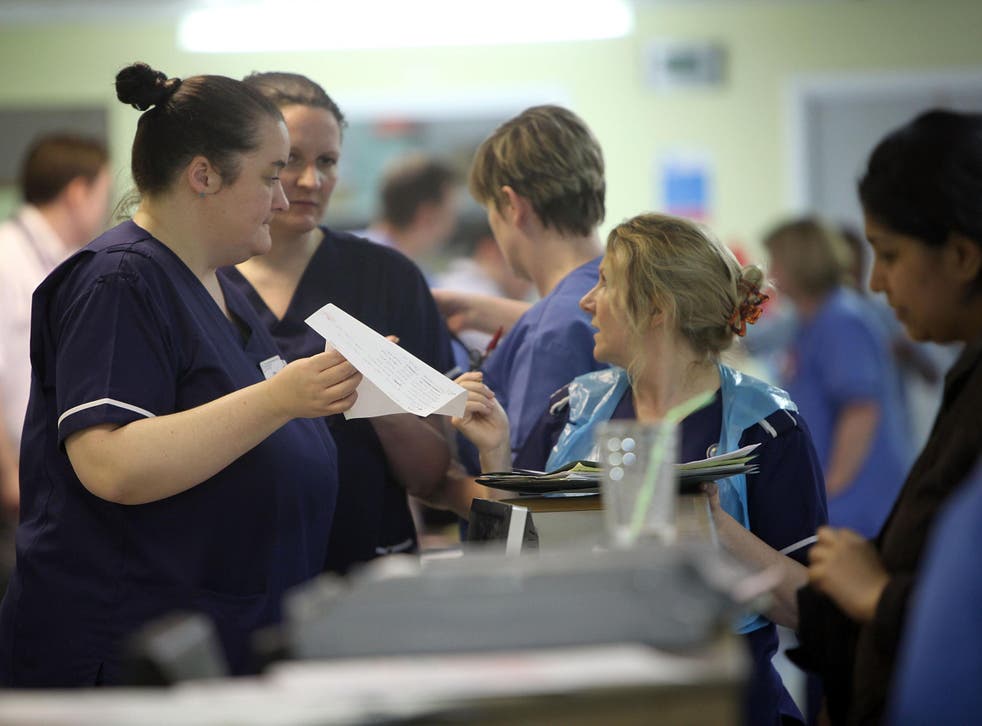 The NHS is "straining at the seams" and is woefully ill-equipped for dealing with 21st Century health problems, a damning report by the health standards watchdog has said.
The Care Quality Commission's (CQC) annual review of health and social care in England found staff shortages, underfunding and "unprecedented" demand are forcing the NHS to operate at "full stretch".
Services are at breaking point and the quality of future care is at risk, the report said, because the health system is "struggling to cope with 21st Century problems" including illnesses such as obesity, heart diseases and dementia.
The problems arise as resources are increasingly unable to match rising demand. Hospital beds have reached record levels of occupancy, while the number of beds in nursing homes has fallen by 4,000 in just two years, despite a surge in people needing them.
The CQC said NHS staff are operating under "huge pressure", patients are experiencing longer waits for treatment and hospitals are constantly facing "severe pressures" of the type that were previously only seen during winter.
The report says: "With the complexity of demand increasing across all sectors, the entire health and social care system is at full stretch.
"The impact on people is particularly noticeable where sectors come together – or fail to come together, as the complex patchwork of health and social care strains at the seams."
Between 2011 and 2017, the number of available NHS hospital beds fell by 8 per cent, despite a 16 per cent rise in the number of patients requiring admission. At 91 per cent, bed occupancy between January and March 2017 was the highest ever recorded, and significantly above the 85 per cent target.
NHS wards have been over-occupied since 2012 and the problem is getting worse, the report found.
The lack of resources means more people are waiting longer than the four-hour target to be seen in A&E units. Around 2.5 million people waited longer than four hours in 2016/17 – up by 39 per cent in the last year alone. In total, two-thirds of hospital A&Es were deemed to be substandard for patient safety; 11% were rated as inadequate and a further 55% told they needed to improve.
Everyone the Government blames for the NHS crisis – except themselves

Show all 6
Patients are also having to wait longer for cancer treatments and to rearrange operations that have been cancelled. Almost a fifth (19 per cent) of people with cancer now do not receive treatment within two months – up from 13 per cent in 2013.
The report is based on assessments of almost 29,000 hospitals, ambulance services, GP surgeries and adult social care services.
Across the board, it report found that the NHS is struggling to cope with a surge in the number of people suffering modern-day illnesses such as heart disease and diabetes.
Sir David Behan, Chief Executive of the CQC, said: "As people's health and care needs change and become more complex, a model of care designed for the 20th Century is at full stretch and struggling to cope with 21st Century problems.
"The NHS was created in the middle of the 20th century when the big issues it was attempting to deal with were diseases like TB and polio.
"Today, the NHS and social care are dealing with obesity, diabetes, coronary heart disease, cancers, dementia. All of which are driven less by those diseases of the middle of the last century and more by lifestyle choices.
"We are living longer but are not living healthier so I think what we are signalling is that the system now and into the future has got to deal with those increased numbers of older people who are going to have more than one condition."
Jeremy Corbyn blasts Theresa May's NHS record
Sir David admitted that the NHS is currently failing to cope with demand and said patient safety could suffer.
He said: "We are going to see a fall in the quality of services that are offered to people and that may mean that the safety of some people is compromised.
"There are some areas where there are clearly insufficient staff - I'm calling out the availability of nurses in nursing homes. But some of this is not just about the quantum of staff available but it is about how your staff are deployed and made available.
"These are staffing issues which are making an impact on quality of care."
Labour said the report was "damning evidence of the Government's inability to maintain health services at the standard which patients expect."
Jonathan Ashworth, the Shadow Health Secretary, said: "The NHS is now running at 'full stretch' with hospitals full to unsafe levels, and on-going problems in staffing and recruitment which Tory ministers have failed to grasp.
"The Government must step in and give our health and care system the resources needed to provide the best possible care. With services already straining at the seams, patients will be increasingly at risk if Ministers refuse the NHS the support it needs. Next month the Chancellor in his budget must finally put the NHS on a secure financial footing for the long term."
The NHS at 60: has the dream been matched by reality?

Show all 19
The problems particularly affect the elderly, with the report saying "the future of care for older people and the adult care system is one of the greatest unresolved public policy issues of our time".
In some areas the number of nursing home beds has fallen by more than 20 per cent. It means that one in eight older people in England are not receiving the care they need.
In total, 1.2 million people now have "unmet" social care needs – up 20 per cent in the last year alone.
The CQC also concluded that the NHS has a problem in recruiting and retaining staff at a time when a Government-imposed cap on public sector pay has hit health workers even as demand for services has soared.
The number of vacancies across the NHS has risen by 16% since 2015. 60 per cent of GP vacancies remain unfilled for at least three months, while more than one in ten adult social care roles - amounting to 90,000 positions - are currently unfilled. The number of psychiatric nurses has fallen by 12% since 2010.
John Major: The NHS is about as safe with Tory Brexiteers as a hamster is with a phython
Staff shortages were one of several reasons why thousands of services were rated as sub-standard. 37% of NHS acute core services were deemed to require improvement, as were 24% of NHS mental health core services, 19% of adult social care services and 6% of GP practices.
Many services had got worse in the last year: 26% of mental health services and 23% of adult social care services dropped at least one rating, as did 18% of acute hospitals.
However, the CQC said the quality of most services had been maintained despite the problems. Overall, there was a rise in the number of GP practices, adult social care services, acute hospital core services and mental health core services rated as good.
Niall Dickson, chief executive of the NHS Confederation, which represents a range of healthcare organisations, said: "It would be a tragedy if the NHS's 70th birthday was remembered as the year England's care system collapsed, but today's report reveals real concerns that mental health and social care services are not sustainable.
"Today's report is unequivocal - the quality of services is in a fragile state as the system strains to treat and support more older people with complex conditions."
However, NHS England said the report was a sign of "progress". Professor Jane Cummings, Chief Nursing Officer for England, said: "It's good that the CQC has found widespread improvements across the NHS, with many more hospitals, mental health services and GPs rated good than last year.
"Progress in the face of great pressure is a testimony to NHS staff. The CQC rightly highlights the rising health and social care needs of elderly and vulnerable people of all ages, which clearly require a sensible funding solution."
Register for free to continue reading
Registration is a free and easy way to support our truly independent journalism
By registering, you will also enjoy limited access to Premium articles, exclusive newsletters, commenting, and virtual events with our leading journalists
Already have an account? sign in
Join our new commenting forum
Join thought-provoking conversations, follow other Independent readers and see their replies