NHS staff should be able to jump the queue to access mental health support, health secretary proposes
'Huge amount of work to do to achieve the ambitions in this report' warn mental health experts as government unable say if pledges will become reality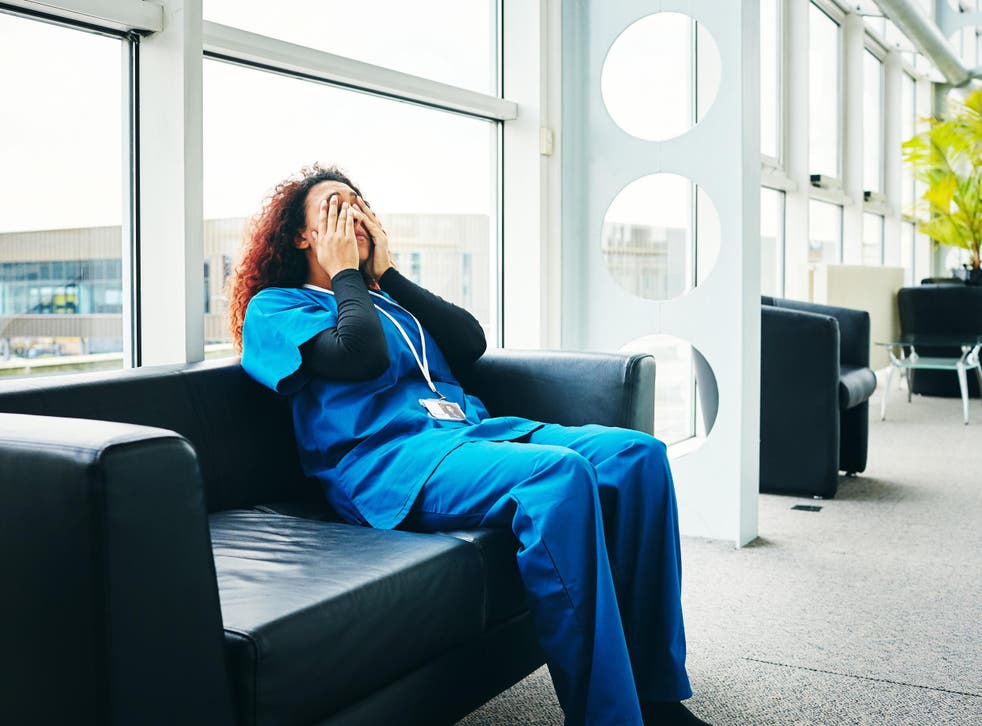 Doctors, nurses and other frontline NHS staff should be allowed to jump long queues to access mental health treatment ahead of the general public, according to proposals backed by the health secretary.
Matt Hancock has pledged "immediate access" to mental health support for NHS staff and on Wednesday will set out his priorities from a new report. This includes "fast-tracked mental health referrals for NHS employees" if they're identified as a priority by a GP or an occupational health clinician.
Mr Hancock said the mental and physical wellbeing of NHS staff was an "utmost priority" but the Department of Health and Social Care could not say when or if the proposals would be implemented.
Mental experts said patients are also put at risk if staff are struggling, but warned the proposals alone would not address widespread staff shortages and underfunding which are driving burnout.
The recommendations come from a report by the Health Education England NHS Staff and Learners' Mental Wellbeing Commission, set up by former health secretary Jeremy Hunt last year.
Nurse who loved the NHS let down

Show all 5
It comes after the NHS staff survey found fewer than a third of staff thought their organisation was taking steps to look after their mental health.
Theresa May has said mental health is one of her top priorities. However shortages of psychiatrists and mental health nurses mean people with serious mental health needs can wait up to 14 weeks just to be assessed, according to charity Rethink Mental Illness, and many struggle to access support in the community.
The NHS long term plan, released last month, pledges £2.3bn for mental health improvements, in addition to a commitment to making the NHS a better employer to work for. But critics have said key pressure points, like workforce, were left unaddressed.
"Many staff, often young staff, see the horrors of extreme trauma; they see the aftermath of major road traffic accidents, suicide, and they see children in distress or dying and they help families cope with the loss of a loved one," the Mental Wellbeing Commission report said.
"The emotional labour required to manage this rollercoaster for NHS staff and those learning in the NHS is often taken for granted by the individual and by the NHS itself."
Mr Hancock's priorities which he envisioned would make up a future mental health scheme include a 24-hour mental health support service, assessments or peer support after traumatic event, and a workforce wellbeing guardian in every NHS organisation.
Support free-thinking journalism and attend Independent events
There is also a call for basic facilities such as lockers, or space for staff to rest and shower when they're on call.
The Commission said it was "concerned by the extent to which the provision of basic support...has been eroded over time" and said NHS capital budgets should earmark funding for staff facilities. These budgets, intended for buildings and equipment, have been raided by the government in each of the past four years in order to keep frontline services running.
"Failure to properly prioritise [NHS staff] mental wellbeing can have dire consequences that affect service users and employees, said Paul Farmer, chief executive of Mind, welcoming the recommendations.
"None of its promisis will become reality unless we invest not only in the mental health of current staff but also recruit a larger workforce," he added.
The proposals will now be considered as part of a wider review of NHS workforce, and if supported would need funding at the next spending review, the Department of Health confirmed.
"I'm so proud of the service NHS staff give, so the mental and physical wellbeing of the people who work in our health service must be our utmost priority," Mr Hancock is due to say in London later on Wednesday.
"Today's important report helps guide how we can do that, from creating the right culture of support to giving everyone somewhere to turn in the toughest times."
Register for free to continue reading
Registration is a free and easy way to support our truly independent journalism
By registering, you will also enjoy limited access to Premium articles, exclusive newsletters, commenting, and virtual events with our leading journalists
Already have an account? sign in
Register for free to continue reading
Registration is a free and easy way to support our truly independent journalism
By registering, you will also enjoy limited access to Premium articles, exclusive newsletters, commenting, and virtual events with our leading journalists
Already have an account? sign in
Join our new commenting forum
Join thought-provoking conversations, follow other Independent readers and see their replies