Violence against NHS staff rockets as cuts cause 'hostile' environment, warns report
Biggest increases in violence were at trusts with the largest waiting lists for treatment and the most stretched financial position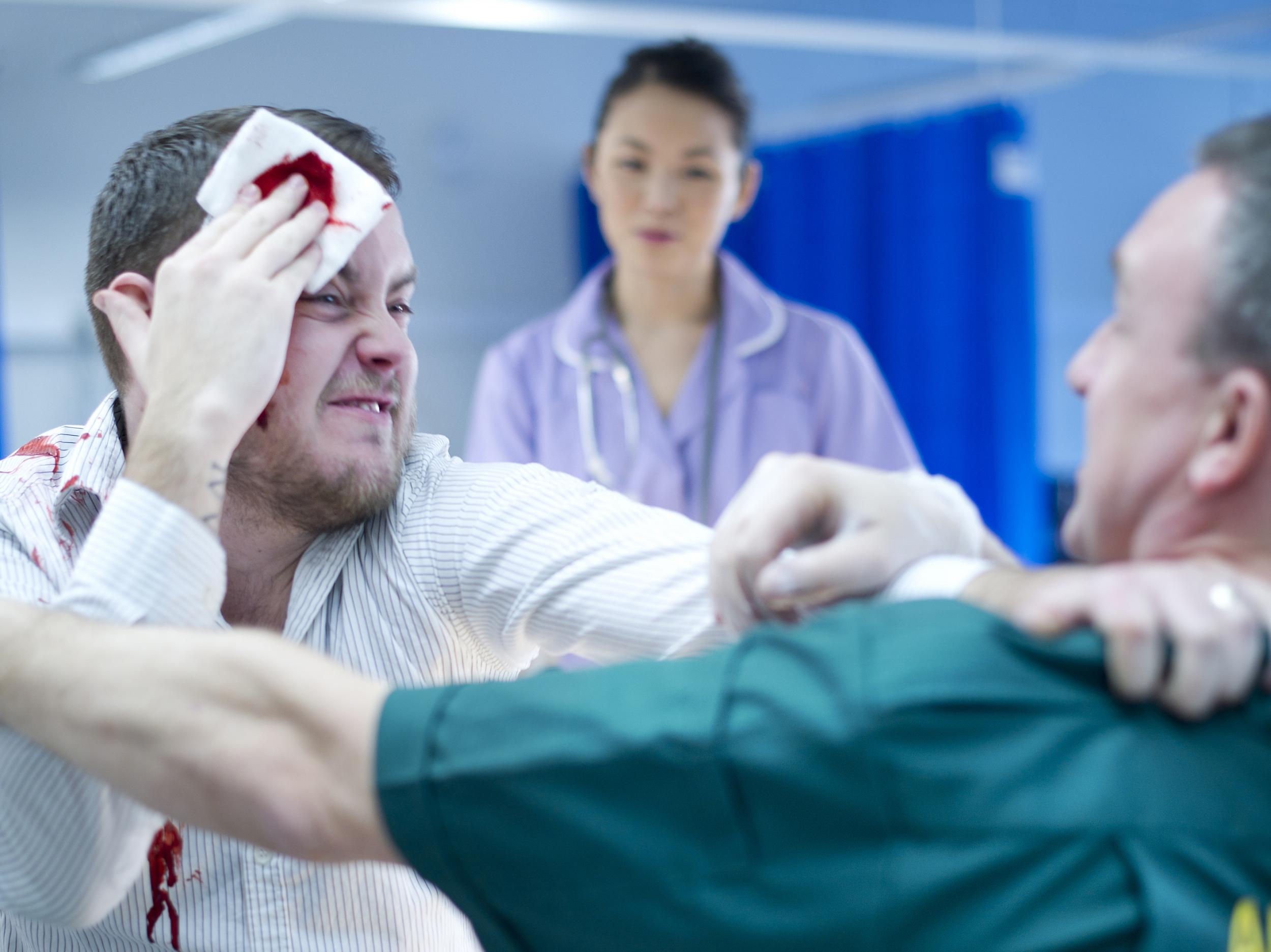 Tens of thousands of NHS workers faced physical violence from patients and the public last year as a new analysis shows pressure from funding cuts and staff shortages has created a "hostile atmosphere" for staff.
An investigation commissioned by trade union Unison found assaults were up 10 per cent across all hospitals, ambulance services and mental health providers.
In community hospitals and hospitals with A&E departments, which have not hit national four hour waiting time targets since 2015, violence against staff was up 21 per cent.
However the biggest surge in violence, was at trusts facing the most serious budget deficits and those with worst performance against national 18-week treatment targets, where assaults increased more than a third.
"Across the entire NHS, staff shortages are harming patient care and helping to create a hostile environment where health workers are increasingly at risk of being assaulted," said Unison head of health Sara Gorton.
Earlier this year, NHS England chief executive Simon Stevens told ambulance service leaders it is "completely unacceptable" that a third of staff report they had been on the receiving end of violence by patients and the public.
Mr Stevens said he encourages health service employers, the police and relevant authorities to pursue prosecutions to stamp out this behaviour.
But MPs have criticised the government for allowing a "dangerous blind spot" by failing to measure and act on attacks against staff.
The latest findings were compiled from Freedom of Information requests by the Health Service Journal after the NHS scrapped the collection of national figures on assaults.
In its report for Unison, the analysis found there were 56,435 attacks against staff reported by NHS trusts in 2016/17, compared to 51,447 in the previous year.
However the investigation only received responses from 181 of the 244 organisations in England so the true scale could well be higher.
While mental health units accounted for the majority of incidents, with 33,280 physical assaults reported across 39 organisations – the rate of increase has been slower than in the wider NHS, growing by just five per cent.
But the report notes that two trends "stand out strongly" when looking at the surge in attacks.
Among the 35 trusts which treated fewer than 90 per cent of patients within the national target of 18 weeks after being referred by the GP there was a 36.2 per cent increase in the total number of attacks.
While the 26 trusts that reported a financial deficit of more than £20m at the end of the 2016/17 financial year the total number of attacks rose 23.1 per cent.
Thousands protest in London over NHS crisis
The authors of the investigation note that this trend cannot prove organisation pressures caused the increase, but it adds "In the 37 trusts reporting financial surpluses over £5m surplus at year end, attacks increased by just 1.5 per cent."
"It's no accident that trusts where the pressures seem the most extreme – where there are huge financial deficits or where it's a struggle to meet growing demands on services – have seen the steepest rise in the number of attacks," Ms Gorton added.
"This desperate situation is only set to worsen as the squeeze on resources gets tighter."
An NHS England spokesperson said: "It is completely unacceptable that a nurse, paramedic, porter or any member of NHS staff should be assaulted physically or verbally as they care for patients.
"NHS England continues to work with trusts and any of our staff affected, to help the police and other authorities do everything needed when an assault takes place."
A spokesperson for the Department of Health and Social Care said: "NHS staff work incredibly hard in a high-pressure environment and it is completely unacceptable for them to be subject to aggression or violence.
"We are making crucial legal changes to ensure those who are violent face the full force of the law and NHS employers should have no hesitation in involving the police if their staff are subject to aggression or violence."
Join our commenting forum
Join thought-provoking conversations, follow other Independent readers and see their replies