Anti-NHS think-tank with links to new health secretary Matt Hancock under investigation by charity commission
Claims that Institute of Economic Affairs has breached political independence rules being looked at by watchdog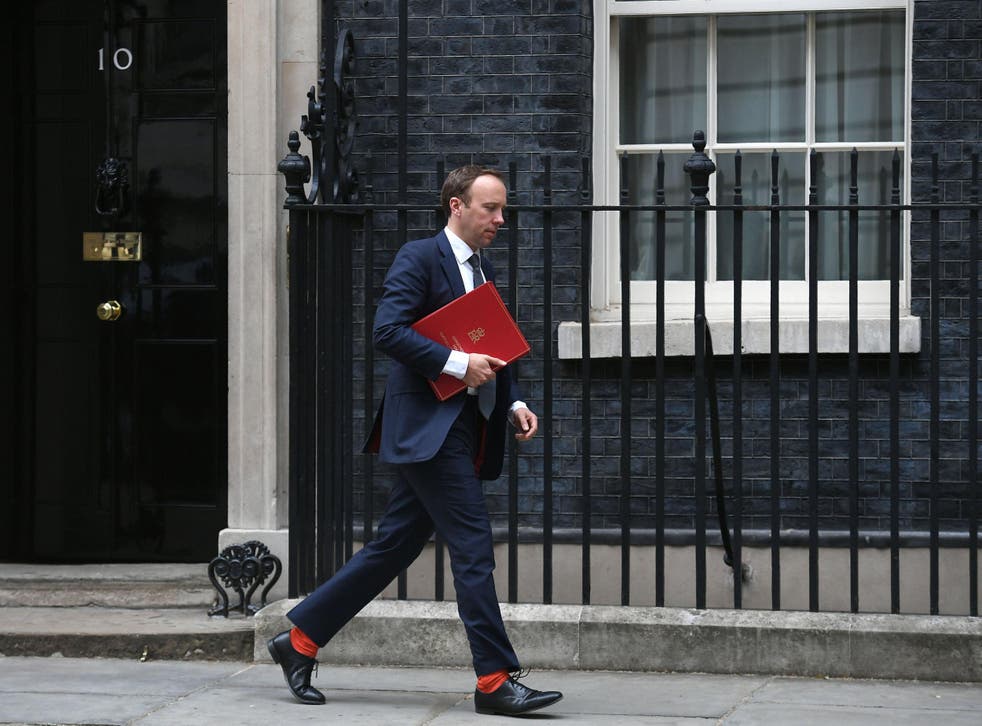 An anti-NHS think tank whose chair has donated thousands of pounds to the new health secretary is being investigated on whether it breached rules on political independence by the Charity Commission.
Concerns were brought to the watchdog about the Institute of Economic Affairs which is registered as an educational charity but has ties to the Conservative Party and the Brexit movement.
Matt Hancock, who replaced Jeremy Hunt this week, has received £32,000 since 2010 from the chair of the IEA's board, Neil Record who has also donated to the government.
The commission did not provide any details on the problems raised with it and a spokesperson said it was "currently assessing this information."
The IEA said it was confident it is acting within the regulations and its mission is to help the public understand UK institutions and the role of financial markets in solving problems with them.
To keep its tax exemptions and benefits of its charitable status organisations must be run principally for the public benefit and cannot be seen to have overtly political objectives.
The IEA has been a regular critic of the NHS, calling it one of the most "overrated, inefficient systems in the world" and championing an insurance based model instead.
A recent piece took aim at the soft Brexit deal agreed by the Prime Minister and her cabinet at Chequers last week, which sparked the resignations of David Davis and Boris Johnson.
UK news in pictures

Show all 50
The article by its director of International Trade and Competition Unit, Shanker Singham said Mr Davis was right to have concerns about the plan.
A number of key figures in the Brexit campaign have moved on to positions at the IEA, including Vote Leave treasurer Jon Moynihan, who sits on its board, and Darren Grimes, the fashion student who received a £625,000 donation from the campaign.
It has also previously been credited for the government's introduction of a "gagging clause" which bans charities from political lobbying, after receiving an anonymous donation to raise the issue.
A Charity Commission spokesperson: "Our job is to hold charities to account against the charity law framework. Concerns about the political independence of the Institute of Economic Affairs have been brought to the Commission's attention, and we are currently assessing this information. We assess all concerns brought to us in line with our risk framework in order to determine if there are regulatory issues that require engagement."
Stephanie Lis, director of communications at the IEA, told The Independent: "We are confident that the IEA is acting in accordance with Charity Commission regulations. The IEA's mission is to improve understanding of the fundamental institutions of a free society by analysing and expounding the role of markets in solving economic and social problems.
"We are totally confident that our output is rigorously independent and free from any conflicts of interest."
She added: "In fact, engagement with members of political parties is a relatively small part of our work. A far larger part of our budget is spent on work with sixth-form teachers, students and undergraduates at university."
Register for free to continue reading
Registration is a free and easy way to support our truly independent journalism
By registering, you will also enjoy limited access to Premium articles, exclusive newsletters, commenting, and virtual events with our leading journalists
Already have an account? sign in
Register for free to continue reading
Registration is a free and easy way to support our truly independent journalism
By registering, you will also enjoy limited access to Premium articles, exclusive newsletters, commenting, and virtual events with our leading journalists
Already have an account? sign in
Join our new commenting forum
Join thought-provoking conversations, follow other Independent readers and see their replies