Dozens of NHS trusts fail key targets on waiting times for a year
NHS Providers chief warns this winter likely to be even more challenging than last year
Jane Dalton
Tuesday 20 November 2018 21:54 Comments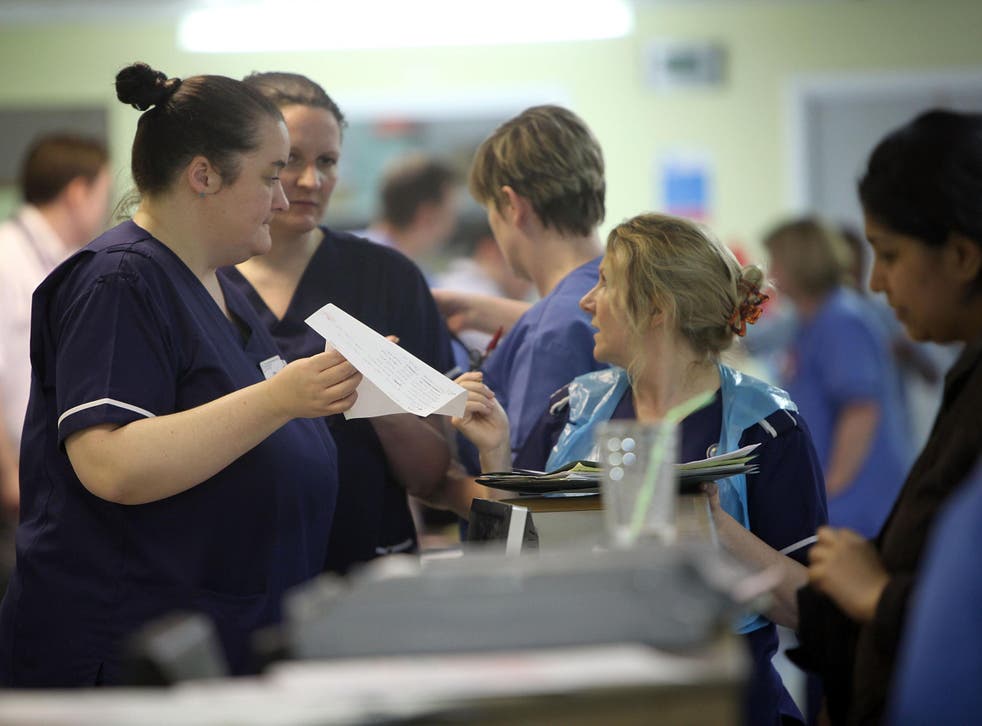 Nearly one in five NHS hospital services has failed to hit any key national waiting-time targets in the past year, analysis shows.
Some 29 hospital trusts and boards out of 157 had not hit a single target for 12 months running, an investigation by the BBC found.
The figures will almost certainly reignite rows over NHS funding and the use of private contractors by the health service.
But health department chiefs said they were putting more money into the service and treating more people in response to rising demand.
The analysis focused on waiting-time targets for three key areas – accident and emergency, cancer and routine operations.
It found that 16 out of 131 NHS trusts in England missed all three of the monthly targets, while all five in Northern Ireland failed to meet them every month, making it the worst performing nation.
Three out of Scotland's 14 health boards and five of Wales's seven boards failed to hit any of the three standards.
Earlier this year a report by NHS Providers warned that NHS performance and savings targets were "beyond reach" for most hospitals.
In response to the new findings, NHS Providers chief executive Chris Hopson warned the coming winter was expected to be even more challenging than last year.
He said: "The pressure on A&E services and the knock-on impact this is having in other parts of the health and care system, coupled with higher levels of staff vacancies, will put services under significant strain this winter.
"If NHS trusts are to recover their performance against key targets, we must be realistic about the time and resources this will take, and how much of a focus this should have against competing priorities within the long-term plan."
Hospitals were warned by NHS England earlier this year they would need to start using private providers to bring down waiting lists if they could not cope. Trusts that were forced to cancel non-urgent appointments last winter and had since failed to bring down their waiting lists were told in a letter they should start sending patients to neighbouring or private hospitals.
The number of patients in England forced to wait six months or longer for NHS treatment has risen by nearly 70,000 in a year, official figures show.
NHS leaders said the service was facing a difficult winter but stressed that demand was much higher than last year.
The Department of Health and Social Care said there were 840,000 more accident and emergency attendances in England in the past 12 months than the previous year.
A spokesman said the £20.5bn by 2023-24 promised in the Budget would improve frontline services.
He added: "Despite an extra 840,000 people going to A&E, hard-working NHS staff have seen nearly half a million more people within four hours over the last 12 months than compared to last year.
"We have given the NHS £1.6bn this year to improve performance and cut waiting times, as well as £420m in additional winter support." This money was to redevelop A&Es, improve emergency care and help patients get home more quickly, he said.
NHS at 70: Pride and worry as free health service celebrates birthday

Show all 18
The last time any target was met on a national level was in August 2017 in Scotland, while Wales has met none of its three key targets for at least five years.
Under the targets, patients are meant to be seen within four hours of arrival at casualty, and either admitted to hospital or treated and discharged.
Cancer patients in every country are expected to start their treatment within 62 days of an urgent referral, but there are differences in the way each nation measures that.
On non-emergency treatments, such as knee and hip replacements, patients in England and Scotland are meant to be seen within 18 weeks compared with 26 weeks in Wales.
Northern Ireland only measures part of the patient's wait once they are under the care of a hospital doctor, which means any waiting for tests and scans is not counted in the 13-week target.
PA contributed to this report
Register for free to continue reading
Registration is a free and easy way to support our truly independent journalism
By registering, you will also enjoy limited access to Premium articles, exclusive newsletters, commenting, and virtual events with our leading journalists
Already have an account? sign in
Register for free to continue reading
Registration is a free and easy way to support our truly independent journalism
By registering, you will also enjoy limited access to Premium articles, exclusive newsletters, commenting, and virtual events with our leading journalists
Already have an account? sign in
Join our new commenting forum
Join thought-provoking conversations, follow other Independent readers and see their replies