NHS waiting lists for lung and bowel treatments double since Conservative-led government came to power, analysis shows
Patients waiting for treatment thoracic medicine, used for lung cancer, asthma and tuberculosis, up 128 per cent since 2011, as waits increase across the board
Alex Matthews-King
Health Correspondent
Wednesday 12 December 2018 01:00 Comments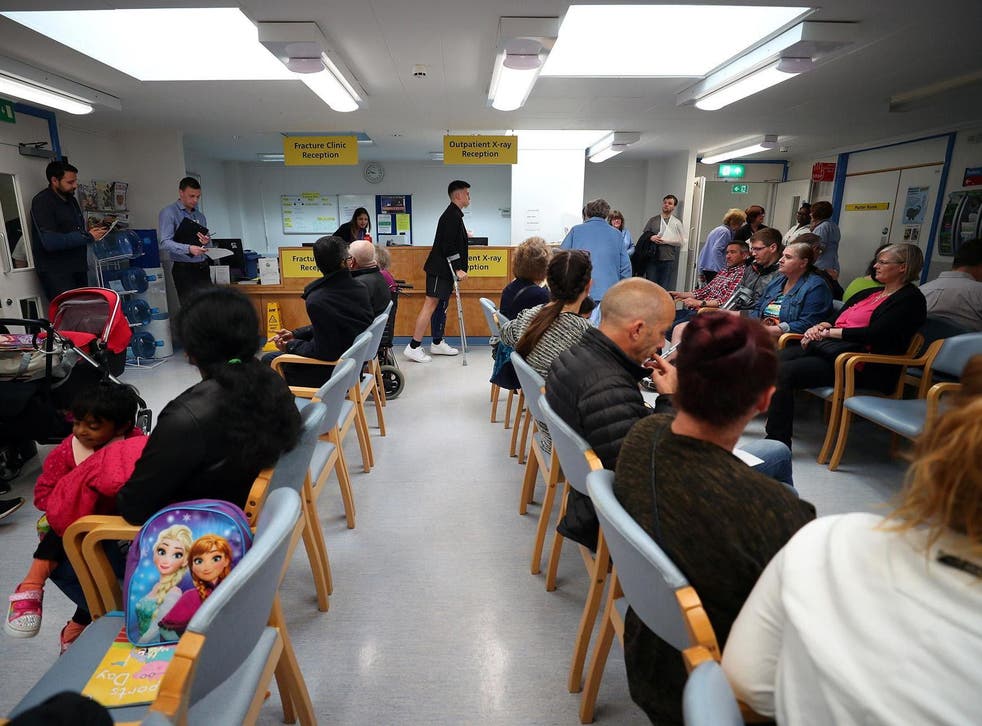 NHS waiting lists for patients in "excruciating pain" or with life-threatening conditions including lung cancers and bowel disease have doubled since the Tories came to power in 2010, analysis shows.
As the health service faces unprecedented budget squeezes and more than 100,000 jobs are unfilled, the overall waiting list has ballooned from 2.6 million in 2011 to 4 million this year.
Specialist treatment has been worst affected, with patients awaiting treatment for lung diseases – the UK's third biggest killer – up by 128 per cent since September 2011 to almost 100,000.
Critics blamed the lack of funding, which – despite much-trumpeted investment of £20.5bn from 2019 – is growing at just a quarter of the rate that the NHS has relied on for decades.
"We risk returning to the days of unacceptably long waits for elective surgery – indeed, for some patients those days are clearly here again already," said Rachel Power, chief executive of the Patients Association.
"Patients needing lung or heart treatment will be in pain and discomfort, and facing the risk of their condition worsening because of their lengthy wait, or the results not being as good as they might have been with earlier treatment."
She added that waits of more than six months were "worryingly high" and a sign of the strain the NHS has come under.
Since its inception the NHS has relied on average annual growth of around 4 per cent, which was increased in the early 2000s as part of a drive to bring down record waiting lists.
But austerity policies brought in by the Conservative-led coalition government meant NHS funding – and staff salaries – grew at just 1 per cent for much of the last decade at a time when it is seeing more patients than ever.
Waiting lists fell to a low of 2.4 million in 2009-10, but have climbed since and currently average 4.3 million in the first six months of 2019-20, the latest analysis by the Labour Party shows.
The spike has been most dramatic in treatments for stomach and intestine, lung, and joints disorders – which each increased more than 100 per cent from September 2011 to September 2018.
UK news in pictures

Show all 51
These three sectors are seen as key challenges for the NHS, with the rise of obesity and respiratory diseases and an ageing population putting more pressure on services.
"We know that thousands of people with arthritis are enduring excruciating pain for longer than they need to," said Tracey Loftis, head of policy and public affairs at Versus Arthritis.
"Any delay in providing life-changing joint surgery can have a huge impact on the quality of life of people with arthritis, limiting their ability to move freely without pain, live independently and work."
Respiratory disease is one of the priorities of the NHS long-term plan, which is expected to be published before Christmas.
"The enormous increase in patients on waiting lists for lung disease treatments is awful, but it's not surprising," said Dr Penny Woods, the British Lung Foundation's chief executive.
Support free-thinking journalism and attend Independent events
Dr Woods chairs the charity's Taskforce for Lung Health, which released a report last week showing that staff shortages in diagnostics and treatment were rife.
Respiratory consultant numbers have "remained constant for 10 years", during a time in which demand has grown, and 40 per cent of trusts have at least one consultant vacancy and one in ten a radiologist vacancy, she added.
The long-term plan will set out how the health service will invest the £20.5bn a year by 2023-24 promised in the budget, with an emphasis on returning performance standards.
However Labour warns it will only unpick the damage done by eight years of austerity.
"These are staggering increases in waiting lists. Let's be clear, this means patients waiting longer and longer in pain, distress and anxiety," said Jonathan Ashworth MP, Labour's shadow health and social care secretary.
Health economists have said the additional funding is only enough to keep the NHS above water, and won't cover the drastic improvements it requires.
A Department of Health and Social Care spokesperson said: "Every single month over a million patients start NHS treatment and nearly 15,000 fewer people are waiting over a year for non-urgent operations compared to eight years ago."
Register for free to continue reading
Registration is a free and easy way to support our truly independent journalism
By registering, you will also enjoy limited access to Premium articles, exclusive newsletters, commenting, and virtual events with our leading journalists
Already have an account? sign in
Join our new commenting forum
Join thought-provoking conversations, follow other Independent readers and see their replies